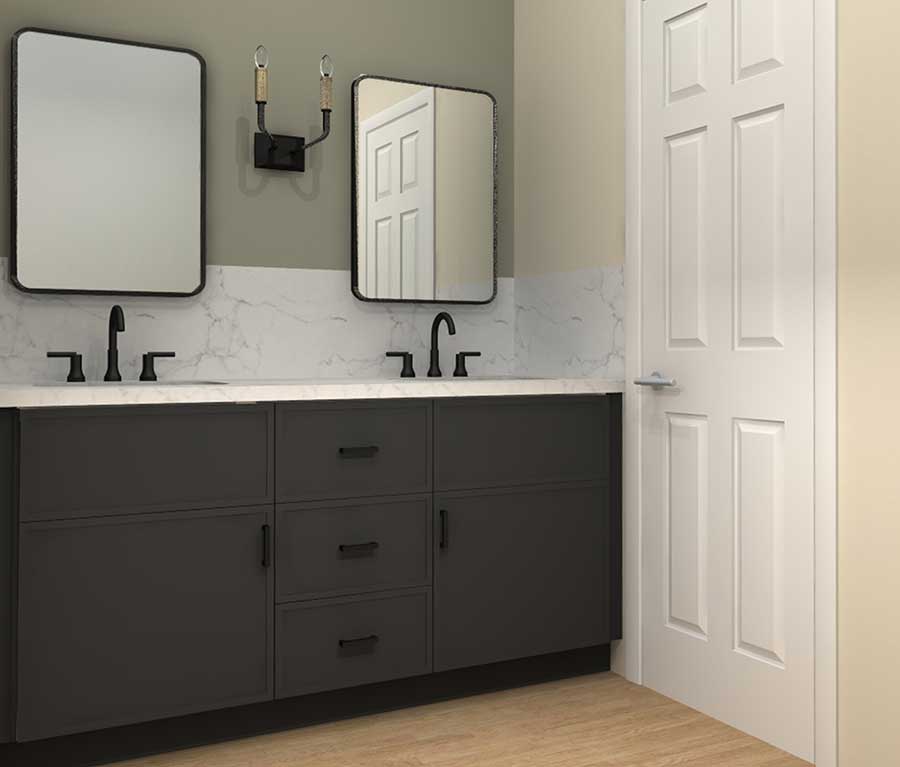 Creating a built-in look is possible when using custom cabinet doors.
Many IKEA customers may think the master bath is straightforward: It's a space to get in and get out. Yes it's a utilitarian space which needs to be sturdy, efficient and safe. However it's more than that. As a team of IKEA kitchen (and other room) design specialists who've designed more than 3,000 IKEA projects, we can tell you there's actually custom design opportunities in master baths as well. Using two recent master bath remodel projects as examples we'd like to showcase how cabinet doors from third-party custom cabinet door suppliers, such as Semihandmade (SHM), can create a furniture-style look with enough custom storage that you may never want to leave!
"Custom doors and drawer fronts from Semihandmade provide great design opportunities in any master bath remodel. SHM doors combined with IKEA cabinets create a unique look that is ideal for his-and-hers configurations. They also work seamlessly to create storage options in a bath layout," says IKD designer Albert.
The two following master bath remodels — one for Nicole from Las Vegas, NV and the other for Sara from Martinez, CA, respectively — are both very unique. Each project features custom SHM cabinet doors and drawers; dual sinks and plenty of storage. Nicole was looking for a custom configuration that fit the needs of her children (and fit her home layout) while combining IKEA's SEKTION kitchen system and SHM's Quarterline DIY Tricorn Black doors in her 30 square foot space. Meanwhile Sara from Martinez, CA chose SHM Supermatte Shaker White door style to create a dramatic, yet light, design theme in a major remodel.
Remember you can also have a custom IKEA master bath that is affordable. Both Nicole and Sara's projects were completed for well under their original budgets without sacrificing any design elements from their wish lists.
Let's take a look!

We'll Design Your Ideal IKEA Bathroom Easily, Affordably, and Online


Our IKEA Bathroom Design Package is everything you need to complete your new bathroom with confidence.
IKEA Master Bath for the Whole Family
When your master bath is meant specifically for your children, then custom options are required. This was the case for Nicol, who combined IKEA's SEKTION kitchen system with SHM cabinets for the design.
"This bathroom was for my two sons. They don't use a ton of products but I wanted suitable storage for bulkier items like toilet paper and bath towels in the cabinets, so they could use the drawers for any of their hair and cleaning products," she explains.
The upstairs bathroom is unique as it features two entrances and nearly 8' ceilings. It was also part of a major remodel that required removing the lighting; mirrors and designing the custom vanity with two undermount sinks. Along with IKD designer Albert she selected SHM's Quarterline DIY Tricorn Black doors and MAXIMERA drawers for the base cabinets and vanity. Inspired by the IKEA MODERO double vanity combo Nicole liked the idea of drawers in the middle with cabinets on each side. The custom vanity measures 24" (w) x 30" (h) x 24" (d) and it features one false front measuring 23-7/8" (w) x 9-7/8″ (h) and one standard door measuring 23-7/8" (w) x 19-7/8″ (h) along with two 18" undermount sinks. [Designer's note: Two undermount sinks are a great option for children's spaces. Here, it creates a unique his-and-hers layout style which looks great; reduces arguments between the children in the space and makes getting ready much more efficient]. The MAXIMERA drawers are crucial to the layout as they provide ample storage for her children's items — and frees clutter from the 12 square feet of white quartz countertops with veining.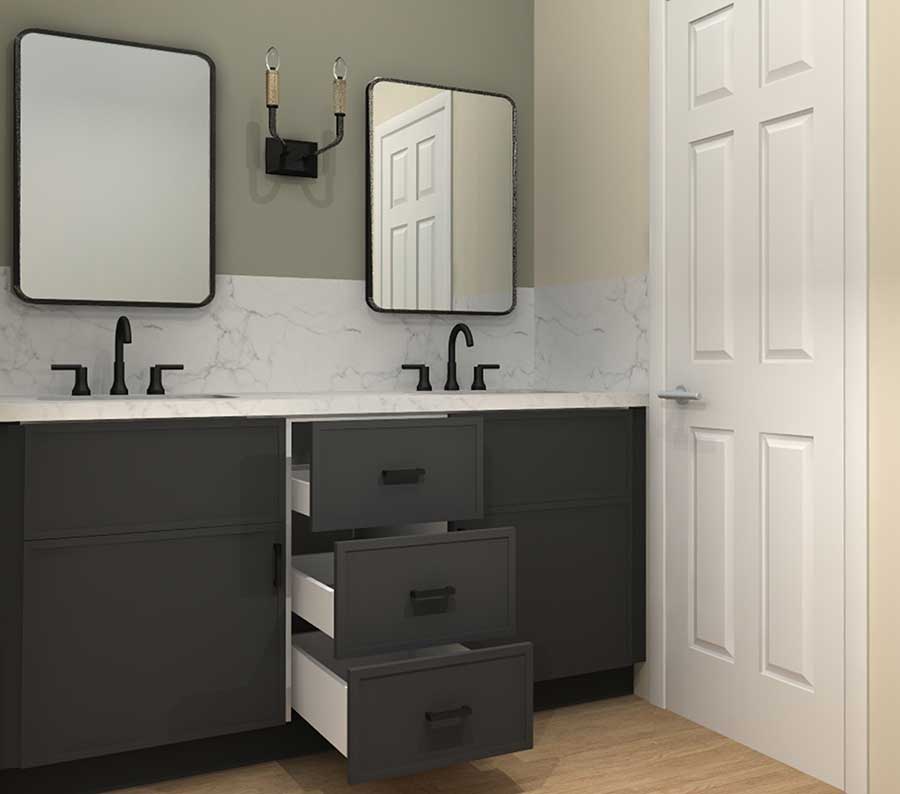 "We love how the light countertops and black door fronts create a warmth and balance. This IKD design is a big upgrade from our previous master bath that had poor lighting; limited counter space; no cabinet storage and was so cluttered!" Sara says.
The product lineup is rounded out with IKEA FORBATTRA toe kicks; IKEA FIXA countertop supports and IKEA UTRUSTA hinges with a built-in damper. In total Nicole's new master bathroom features three cabinets for a total cabinet and extra items list cost of $760 — well under her original budget of $3,000!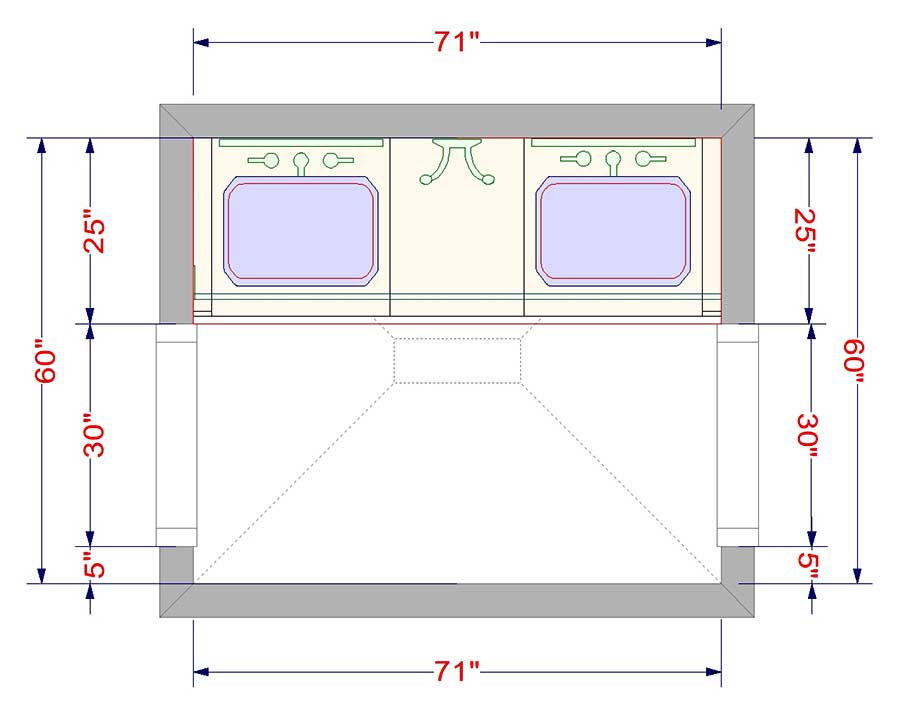 Project Numbers
| | |
| --- | --- |
| $586 | IKEA Cabinet Cost |
| $174 | Extra Items Cost |
| $760 | Total Cabinet and Extra Items Cost |
A New Look, Traditional Master Bath
Starting from scratch gives you an opportunity to incorporate many custom options in your master bath. A recent design created for Sara from Martinez, CA gave her the chance to re-imagine her 67 square foot bathroom space.
"Our original bathroom was so inefficient! We had no counter space at all. My husband disliked all my beauty products taking up so much space — and I did too. We have very distinct routines and needed separate areas. The answer was custom options. Our designer did a great job incorporating enough counter space and the SHM doors," Sara says.
Working with a budget of $2,000 Sara and IKD designer Merari combined IKEA's SEKTION kitchen system with SHM's Supermatte Shaker white door fronts, MAXIMERA drawers and 24 square feet of counter space. This creates storage options for Sara and her husband, specifically with the under sink storage and the open shelving near the window. Additional open shelving is located directly across the room as well, ideal for candles or other decorative items.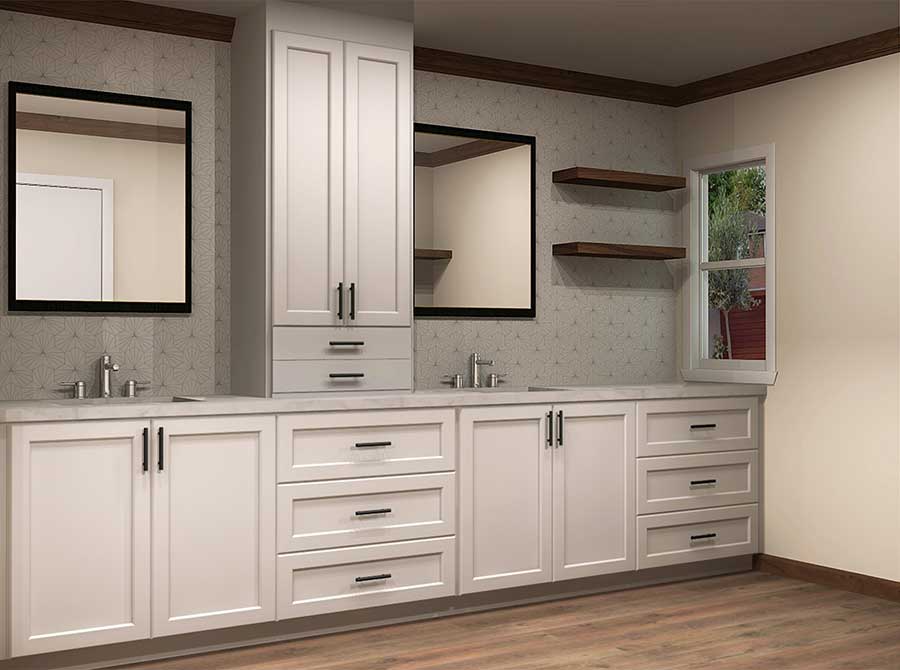 The traditional look is punctuated by separate 21" undermount sinks and a dynamic upper cabinet (which runs to the top of the 95-3/8" ceiling) in the middle and separates each section. The upper cabinet stores towels and beauty products and also features two custom drawers underneath as storage for hand towels. Each of the cabinet doors feature IKEA's GRIBBOL black handles as well to create a sense of warmth. The design theme is complemented by two large mirrors and natural wood flooring.
The product lineup is completed by IKEA UTRUSTA hinges with built-in damper; an IKEA FORBATTRA toe kick; an IKEA drill template and a galvanized SEKTION suspension rail, among others. In total Sara's master bathroom features six cabinets and two panels, coming in under her budget at $1,812.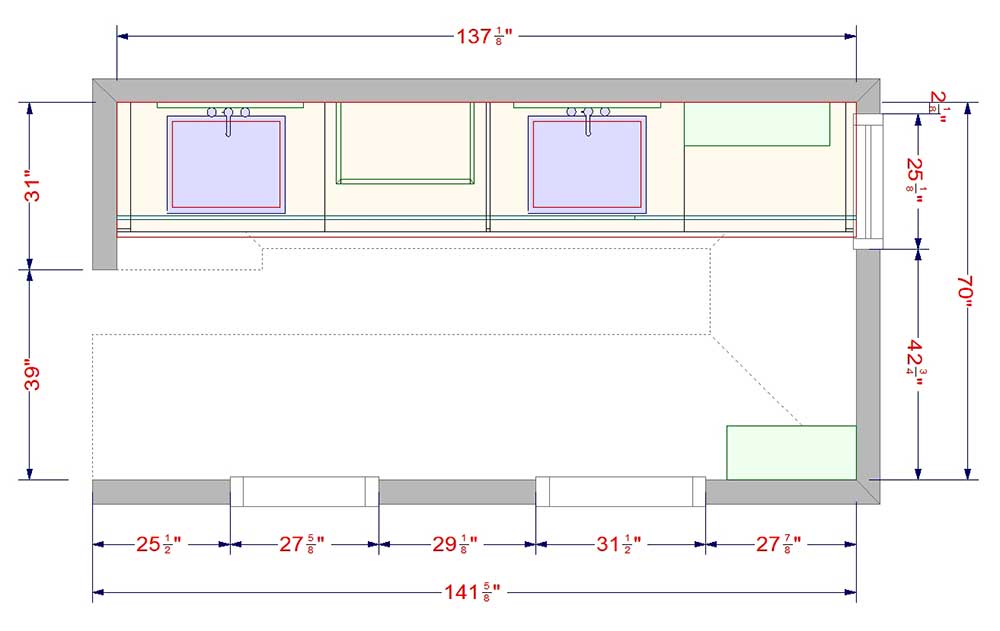 Project Numbers
| | |
| --- | --- |
| $1,561 | IKEA Cabinet Cost |
| $251 | Extra Items Cost |
| $1,812 | Total Cabinet and Extra Items Cost |
These two master bath projects are great examples of the results from using SHM door styles with IKEA cabinets. As you can see, there are many custom design options regardless of your budget, design theme or storage needs. Our team is here to guide you through the design and product selection process for your master bath project. Let's get started!

Get a Professional IKEA Bathroom Design – All Online


Work with our certified designers to get a personalized bathroom designed around your needs and vision. If you're interested in learning more about our service, make sure to check out our IKEA Bathroom Design Services.