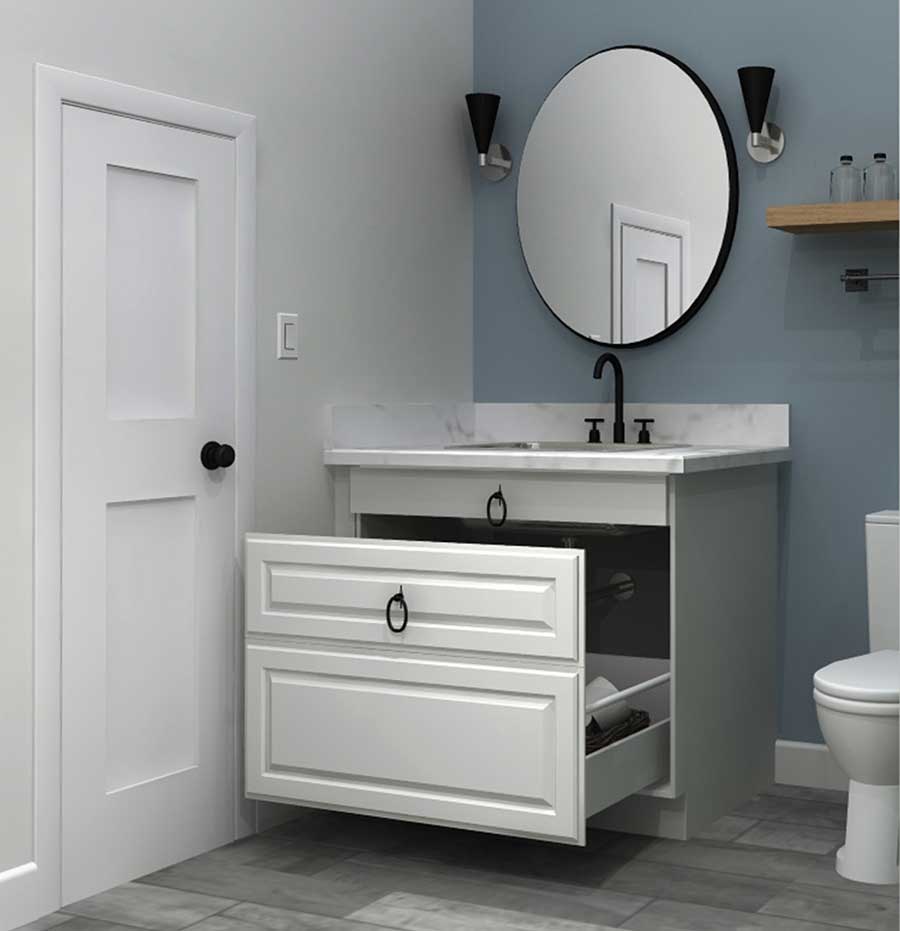 Even master baths with limited space can provide efficient storage options.
You want to build a new master bath with IKEA cabinets but space is limited. And we don't just mean limited — it's inefficient. A smaller layout poses a lot of design challenges: Lack of viable storage; cabinet doors that obstruct movement when opened (not the best in an area prone to accidents!); narrow countertop space; and the lurking sense that with less space comes less choices. It's a tight fix! Fortunately your design choices aren't as restricted as you think.
"Smaller master bath footprints provide unique design opportunities whether it's a remodel or new construction project. It's so important to review every detail and explore what inspires your choices. That way you can get the most from your IKEA cabinets and the accessories you choose," says IKD designer Merari.
Two recent IKD IKEA master bath designs for single homeowners are great testaments to this. The results are notable for the use of clever space-saving — and cost-saving — design ideas. This includes a transitional-style master bath for Michelle from Minneapolis, MN, who combined IKEA's SEKTION kitchen system along with IKEA's BODBYN off-white base cabinets with a false front and a pull-out drawer front style unit and open shelving to find storage and style for her 8′ (w) x 5′ (l) layout. This was critical because as a busy professional she needed a master bath that enabled her to get ready stress-free in the morning — and unwind easily at night. Then there's Chandra from Miami, FL, who combined IKEA's GODMORGON furniture series with four drawers featuring Shinnoki Milk Oak doors and integrated pulls. Natural wood shelving (including an open cubby) creates a sleek, almost Asian-style flair to the space. The raised vanity area adds a unique touch as well that works seamlessly as part of her new home construction.
And each of these full bathroom projects were completed for less than $4,000!
For IKEA customers needing inspiration the takeaway here is simple: Space limitations are not obstacles — they're opportunities. So, yes, you can incorporate IKEA cabinets into smaller master baths and create a layout you'll fall in love with, just as the following IKEA master baths will show.
Let's take a look!

We'll Design Your Ideal IKEA Bathroom Easily, Affordably, and Online


Our IKEA Bathroom Design Package is everything you need to complete your new bathroom with confidence.
Master Bath for a Busy Professional
Michelle set up the master bath precisely to suit her busy life.
"I get to work early and I need a very efficient routine when I'm getting ready. I chose IKEA BODBYN off-white base cabinets with drawers instead of doors so I could more easily see items and get things off the countertops. The idea of having a cluttered countertop in my master bath was stressing me out," she says.
Working with IKD designer Merari (and a total bathroom area budget of $4,000) she selected IKEA's SEKTION kitchen system with three IKEA MAXIMERA drawers; black IKEA EDVALLA drop pulls; a 19″ (w) x 16″ (d) undermount sink and granite countertops. The design fits in seven square feet of counter space which are complemented by the base cabinets. Impressively Michelle installed the base cabinets herself. This provided plenty of accessible pullout storage with the MAXIMERA drawers (featuring slow, soft close) for her beauty and health products. This reduces the need for her to bend to search for elusive items — especially when getting ready in the morning or dressing down for the night. The large vanity mirror with a matte black frame gave a slight nod to the retro style she likes and blends with the matte black frame on the walk-in shower. It also opens up the room and gives the impression of larger space.
"I opted for open wood shelving rather than upper cabinets to let the space breathe and create a natural feel. I love that the designer was able to match the wood shelving to the wood flooring in the shower. That was really cool," she says.
In total, Michelle was able to complete her master bath for well under her original budget!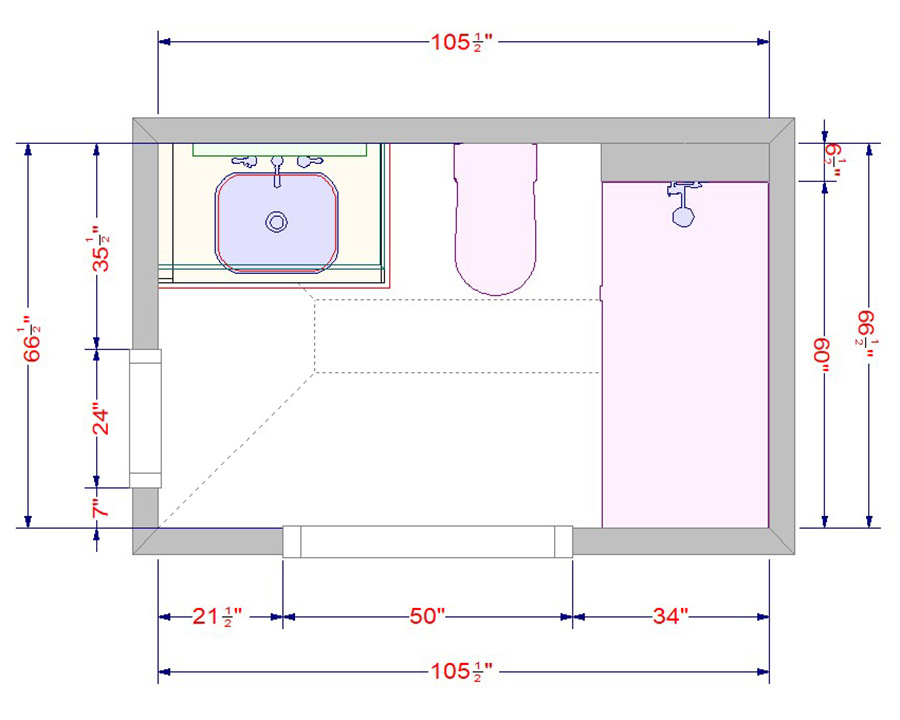 Project Numbers
| | |
| --- | --- |
| $335 | IKEA Cabinet Cost |
| $118 | Extra Items Cost |
| $453 | Total Cabinet and Extra Items Cost |
Master Bath with Organized Storage
Chandra's master bath says one thing: When you know what you like, grab it.
"During my online research with HOUZZ I fell in love with IKEA's GODMORGON series. It looked great, fit well with what I was looking to do and was perfect for my budget. I insisted on pullout drawers because I've had base cabinet doors before and it was frustrating to move around in that space. Plus I tend to be really unorganized. The IKD designer did a great job incorporating all my ideas into a somewhat smaller space," she says.
With a 12′ (w) x 6′ (l) space to work with Chandra recruited IKD designer Meyer and together they selected IKEA's GODMORGON vanity sink cabinet with four drawers. This provided plenty of pullout storage options for her beauty products and hair dryer and combined with the Shinnoki Milk Oak doors and integrated pulls, creates a clean, custom look. The design theme is enhanced with a rectangular white ceramic trough undermount sink and IKEA MYRVARV LED dimmable light strips.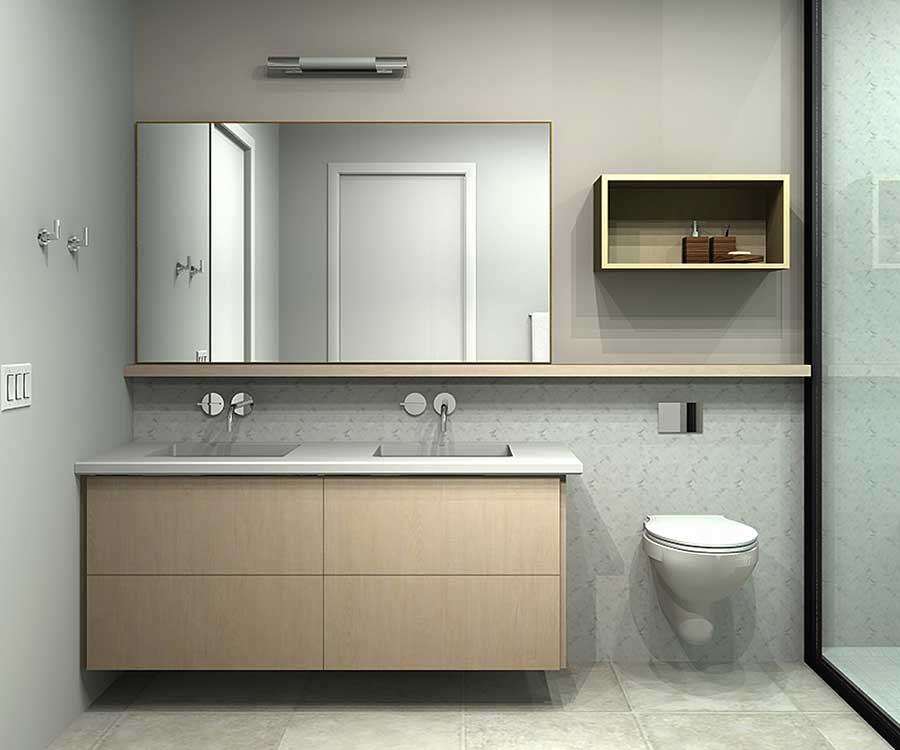 Chandra originally wanted a medicine cabinet instead of the large flat mirror she chose. However she cites an interesting reason why she decided against it.
"During my research I read somewhere that we're not supposed to keep medicine in the bathroom. The moisture, steam and change in temperatures are not good for the potency of the medication. Who knew! Plus a medicine cabinet has doors that open out. So if I didn't want doors for the base cabinets I definitely didn't want them opening up at eye level where I would have to duck out of the way," she says.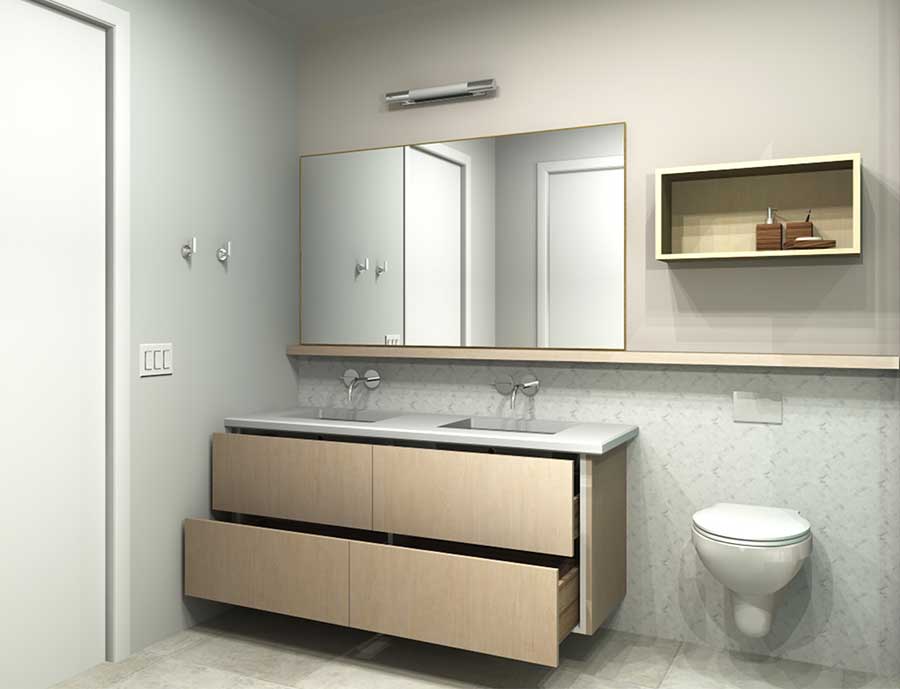 With 96″ ceilings to work with Chandra opted to add more storage with an open cubby above the toilet. This is ideal for towels or to hold candles for a relaxing mood while taking a shower. The look is further pulled together with neutral-toned, large slab matte porcelain tile flooring from Portrait Ivory. The flooring also blends well with the white tiles in the adjacent walk-in shower as well as the natural feel of the wood shelving under the vanity mirror. In all, Chandra was able to incorporate her IKEA cabinet design for only $359.00!
As these two master bath projects show, there are many design options available even if you are working with limited space. And the best part is that with IKD guiding your design process, you won't have to compromise on style or budget either. Let's get started!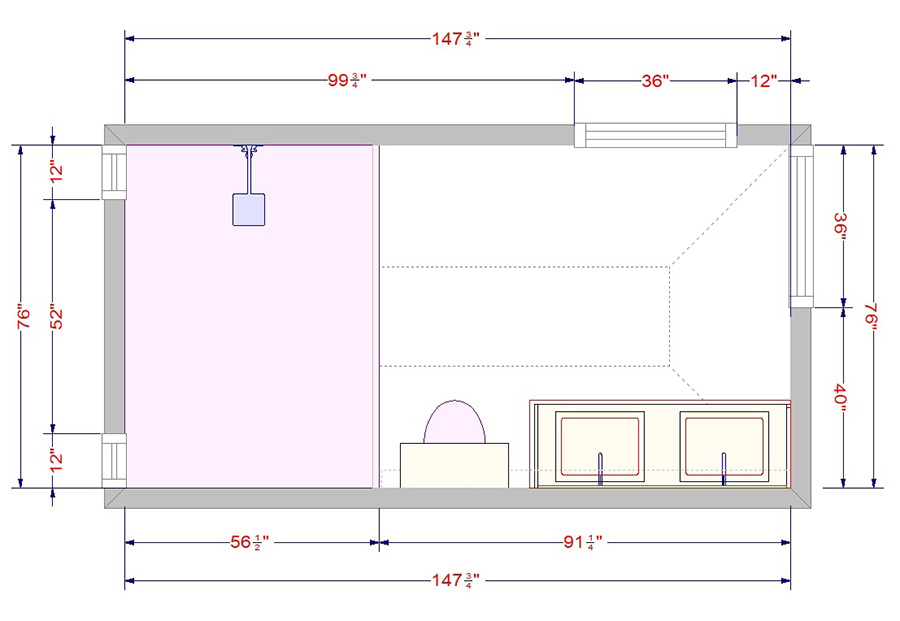 Project Numbers
| | |
| --- | --- |
| $349 | IKEA Cabinet Cost |
| $10 | Extra Items Cost |
| $359 | Total Project Cost |

Get a Professional IKEA Bathroom Design – All Online


Work with our certified designers to get a personalized bathroom designed around your needs and vision. If you're interested in learning more about our service, make sure to check out our IKEA Bathroom Design Services.