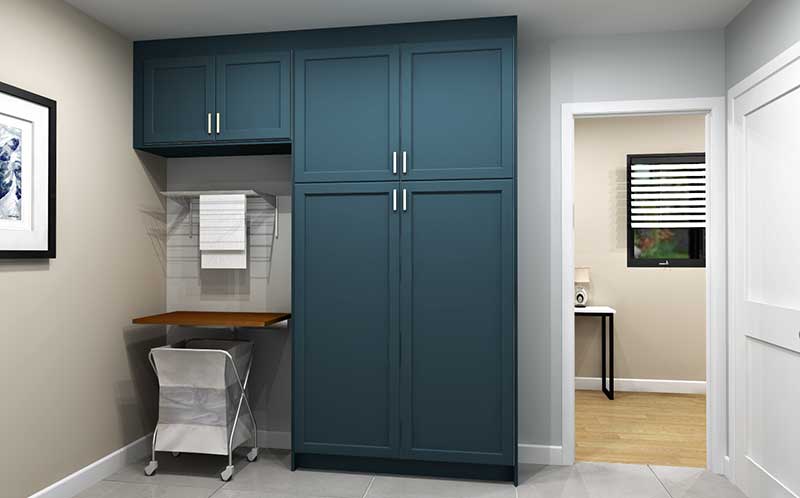 Hint: awful laundry experiences had plenty to do with it.
Does the thought of seeing mounds of your family's dirty laundry completely ruin your day? If so, we understand. The good news is that your laundry room — when designed well with IKEA cabinets —will provide extra functionality and customized style – making things a whole lot easier for you!
Recently, our design team designed three IKEA laundry rooms that reflect diverse design motivations using IKEA SEKTION cabinetry framework and IKEA cabinets.In this blog, we'll look at laundry rooms designed for Priscilla from Los Angeles, CA, who built a new home and decided to include a small laundry room that inspired her; as well as Annie (and her children)from Brooklyn, NY, who needed a budget-friendly, yet durable laundry space; and lastly, Steve from Portland, OR, who requested a mixed laundry room/mudroom area with enough storage to accommodate the needs of his twin five-year old children. (Note: The three laundry rooms featured all were completed for under $4,000.
Let's take a look and see if these unique IKEA laundry rooms motivate you as well.

We'll Design Your Ideal IKEA Laundry Room Easily, Affordably, and Online

Our IKEA Laundry Room Design Package is everything you need to complete your new laundry room with confidence.
1. New Construction IKEA Laundry Room
For Priscilla her laundry room was about building something new.
As I was beginning the new construction, I realized the home floorplans didn't show a full laundry room area.So,we decided to incorporate an IKEA laundry room design that featured a lot of bright colors and organization," Priscilla notes.
Working with IKD designer Paulina she elected to eliminate a large guest bath that happened to be adjoining the kitchen. With this new found space, she combined IKEA SEKTION cabinetry framework with Semihandmade (SHM) Shaker Night Sky door cabinet fronts. Notably, the SHM tall and upper cabinets are featured to the top of the 99" ceiling, providing additional storage options and a dynamic look.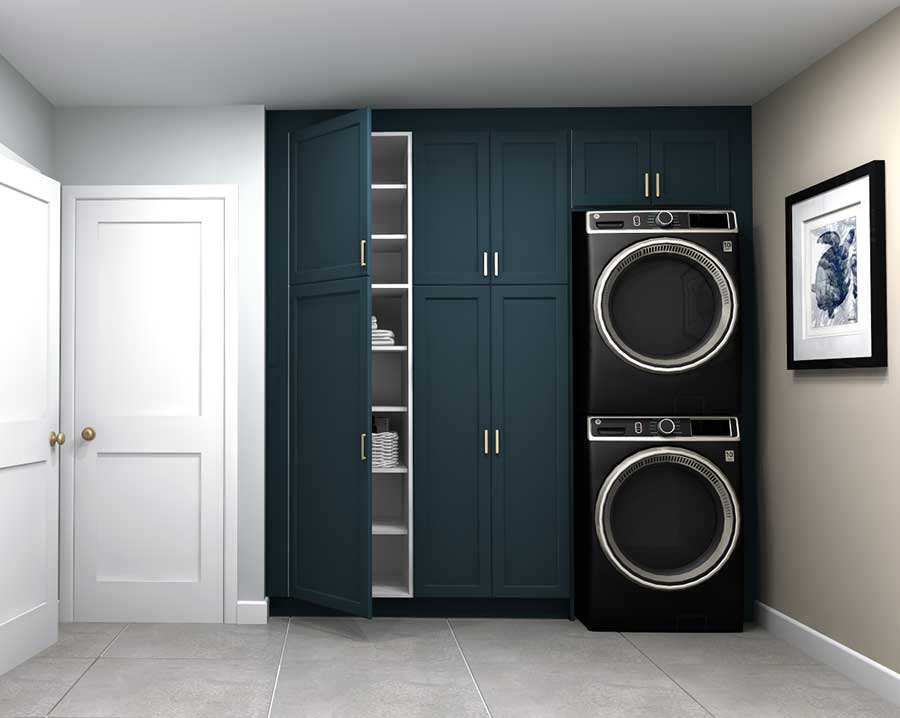 I found that my past laundry rooms always seemed dank and depressing. I hated doing laundry in them for that reason! I really love the 'verticality' (that's the word I use) of the tall cabinets and how practical the laundry room is with that additional storage option," she adds.
One of the other unique aspects of this laundry room is that Priscilla felt countertops would make the room look messy, therefore the space doesn't have any. She also didn't want a side by side washer dryer — concerned it would disrupt the workflow. So, Paulina recommended a 27″(W) x 39″(H) washer and dryer combo and incorporated a 36″ Drop Leaf table and an IKEA BOAXEL 24″ drying rack on the adjacent side of the room, adding versatility and efficiency.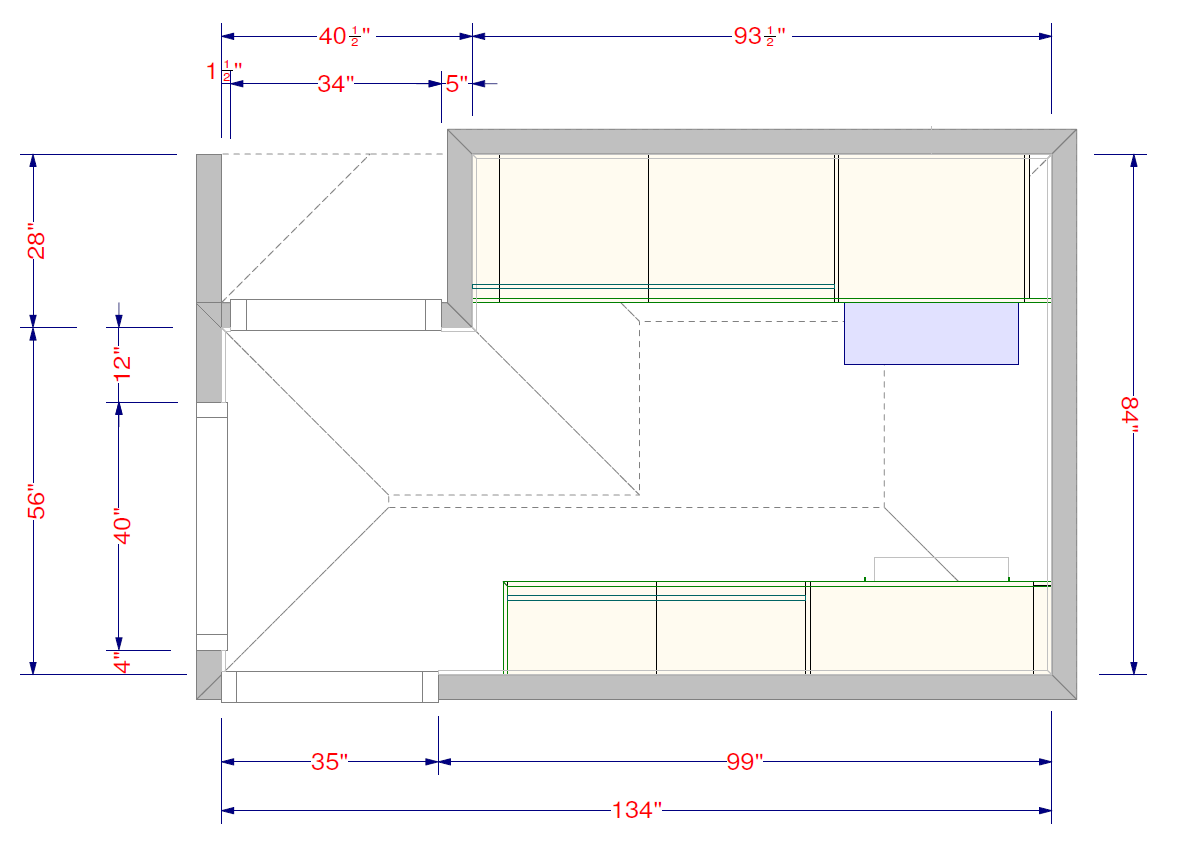 Project Numbers
| | |
| --- | --- |
| $5,119 | Semihandmade's Shaker Night Sky |
| $1,126 | Total IKEA cabinet Cost |
| $178 | Total IKEA Extra Items |
| 71 sq ft | Room Area |
2. Low Cost IKEA Laundry Room
The next laundry room — designed for IKD customer Annie and her family — was all about getting more bang for her buck.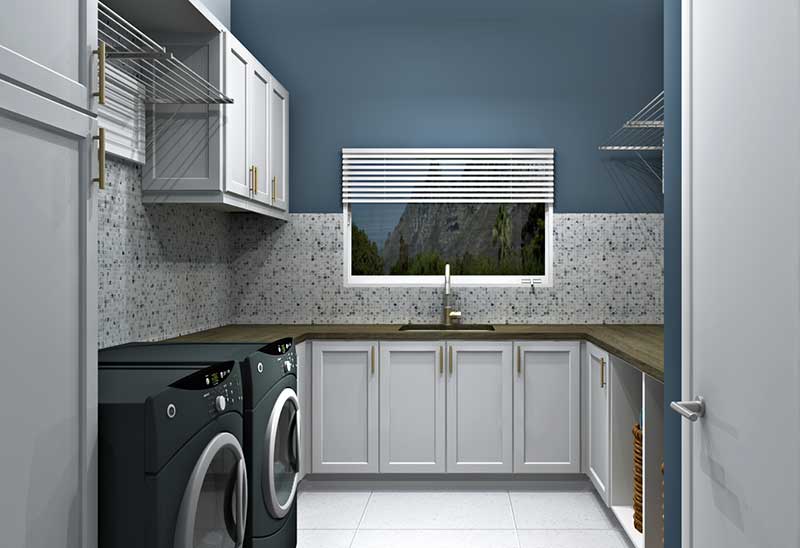 Our main motivation was low cost. We have a large family so it was important this laundry room was used only for laundry. No frills. We really didn't want to spend too much. However, I did request using false cabinet doors to make the exposed cabinet sides appear more integrated," she says.
To that end, Annie worked with IKD designer Javier to create an eye-catching laundry room combining IKEA's SEKTION cabinetry framework with IKEA's LERHYTTAN base and upper cabinets in light gray (complemented by IKEA's ENRYDA brass cabinet pulls). The laundry room also features some 39 sq. ft. of Silestone Miami Vena quartz countertops — ideal for folding, sorting and piling the family's laundry.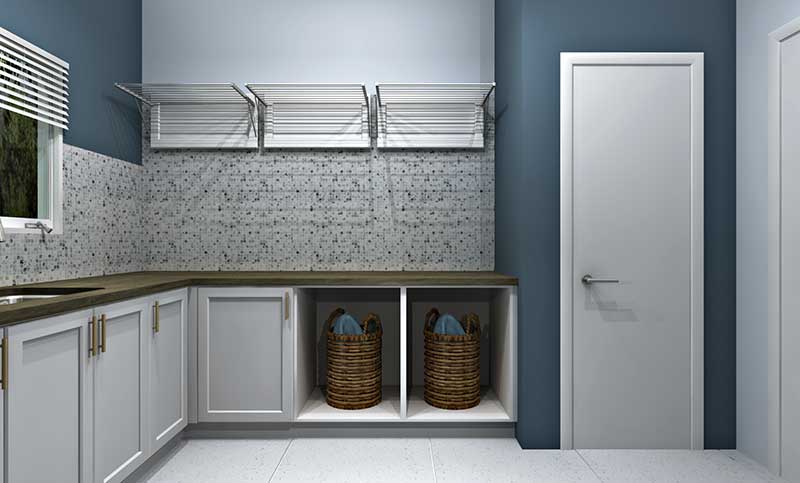 We love our IKEA laundry room and all of the available storage. The MAXIMERA drawers make it such a pleasure to use — especially for our children when they are helping with the laundry," Annie offers.
Completing the laundry room are five IKEA BOAXEL drying racks used for delicate laundry items, as well as a top mounted washer and dryer, which Annie already owned.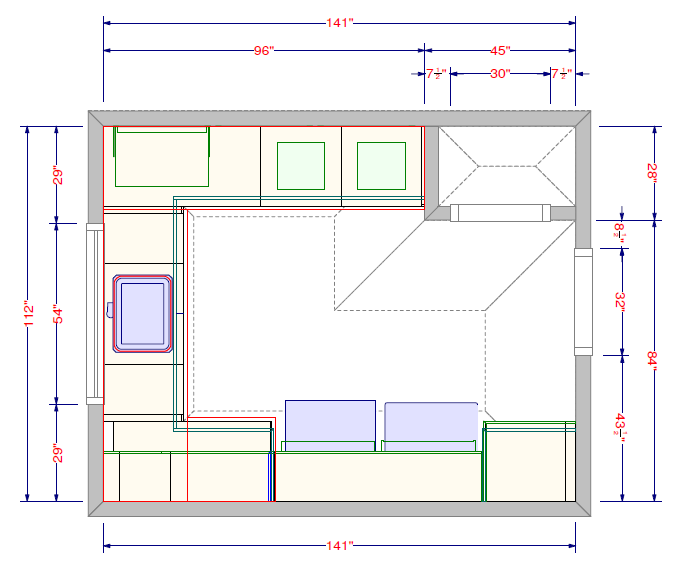 Project Numbers
| | |
| --- | --- |
| IKEA door Style | Lerhyttan |
| $2,073 | Total IKEA Cabinet+Door cost |
| $1,078 | Total IKEA Extra Items cost |
| 102 sq ft | Room Area |
3. Versatile Laundry Room
Lastly, is a room that puts versatility on display.
Designed for IKD customer Steve, the motivation for his laundry room project was to create a mixed laundry room/mudroom.
"We wanted a small bench with extra storage for our children's things and a place to hang their jackets. I also requested a wide, tall unit for the vacuum cleaner — I could never find a suitable spot to store it," Jamie says.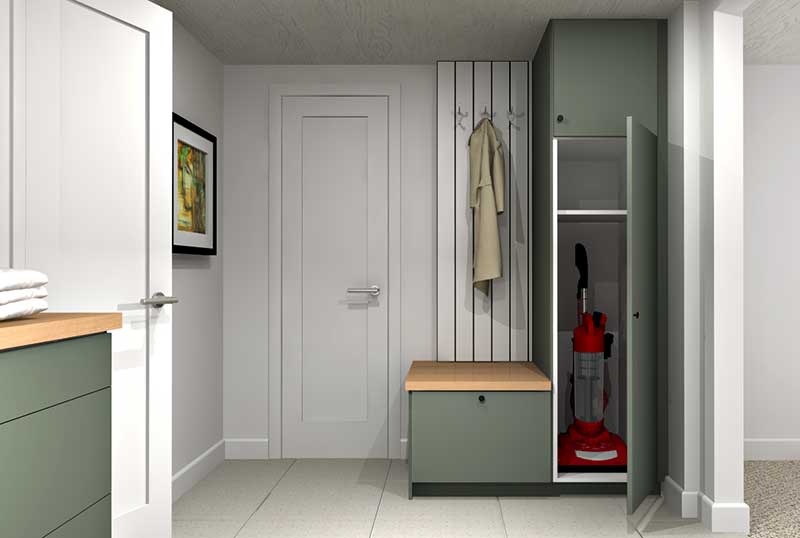 Working with IKD designer Merari, the couple chose IKEA's BODARP doors in gray-green, including tall cabinets which reach the top of the 84″ceiling. This establishes plenty of storage options (including space for the vacuum cleaner near the requested bench area.) Overall, the laundry room features five IKEA cabinets and eight side panels.
To complement the layout are a stacked 27″(W) washer and dryer combo, along with some 21 sq. ft. of countertops, ideal for folding and sorting the family's clothes.Since Steve wanted drawers rather than doors for the base cabinets, he opted for IKEA MAXIMERA drawers with the BODARP doors.
Merari offers: "The small bench area in this laundry room was an IKEA cabinet hack made from 30″ high wall cabinets reduced to 15″ high. Steve didn't want a base cabinet 'dead corner,'so we hacked a 36"(W)x15"(D)x30"(H) wall cabinet with a 18"(W)x30"(H) door to create plenty of access."
Punctuating the laundry room design is a colorful area rug as well as coat hooks featured just above the bench area as a convenient place for the children's coats.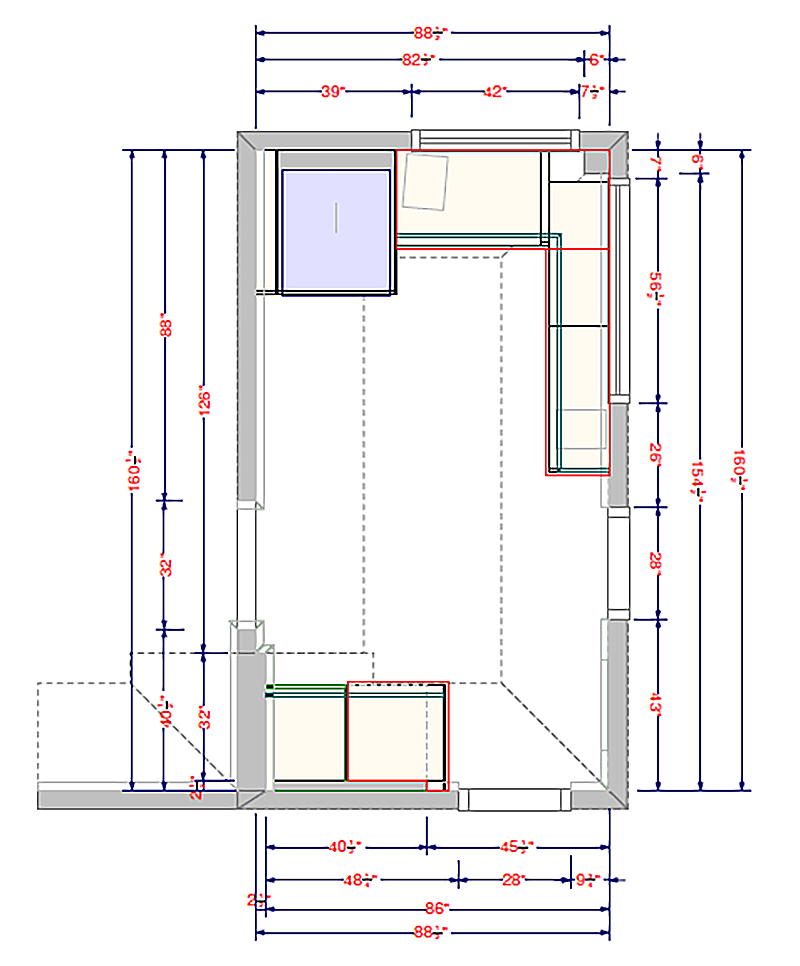 Project Numbers
| | |
| --- | --- |
| IKEA door Style | Bodarp gray-green |
| $1,270 | Total IKEA Cabinet+Door cost |
| $1,063 | Total IKEA Extra Items cost |
| 65 sq ft | Room Area |
As these IKEA designs show, understanding your design motivation — and working with design professionals— are two important steps in achieving your laundry room design. Of course, our team is here to guide you through the design process. Remember, a well-designed IKEA laundry room can be as delicate or as rough and tumble as you want it to be!

Get a Professional IKEA Laundry Room Design – All Online


Work with our certified designers to get a personalized laundry room designed around your needs and vision. If you're interested in learning more about our service, make sure to check out our IKEA Laundry Room Design Services.