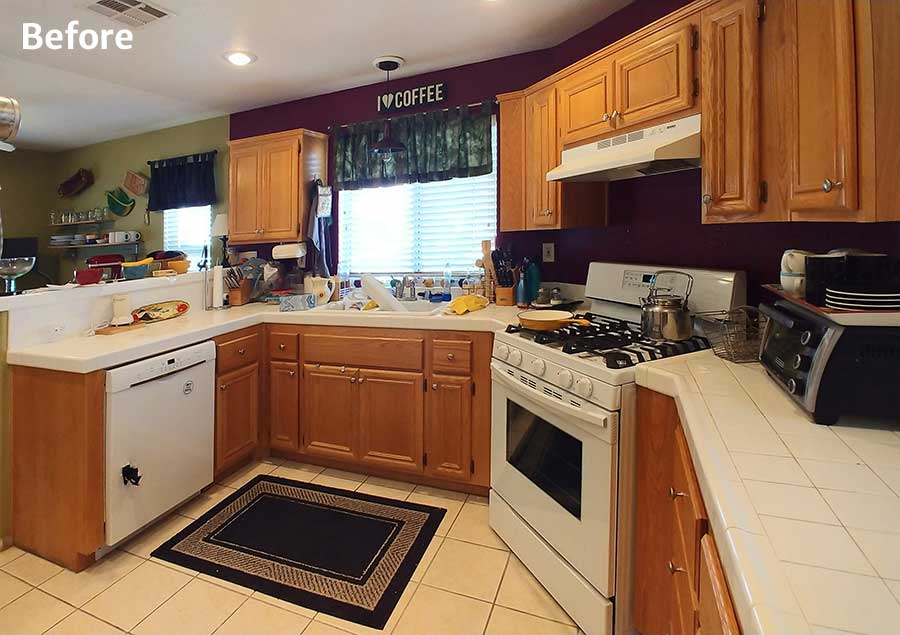 Redesigning a U-Shaped cabinet design into L-shaped – to the Letter
Do you ever want to switch things up? Maybe try a new hairstyle or splurge on new clothing because your current style has gotten a little.. outdated? Maybe just because? Or maybe sometimes you need to tear things down in order to build it back up. Debbie from Las Vegas, NV knows the feeling. That's why she recently decided to remodel. Her inefficient,U-shaped kitchen layout was not working for her present cooking workflow needs or her future concerns and she wanted to make changes to an IKEA farmhouse style kitchen — big changes.
She explains: "I had a U-shaped kitchen [with a kitchen breakfast bar completing the U shape] and I wanted to convert it into an L-shaped kitchen. This required removing the breakfast bar, which housed the dishwasher, light switches and electrical outlets."
She also wanted her new design to provide aging-in-place storage options; feature lots of wood elements (such as the oak vinyl-plank laminate flooring and open wood shelving); and incorporate a fireclay farmhouse sink from Sinkology.
After researching IKEA farmhouse kitchens online Debbie found IKD designer Meyer to design her kitchen remodel. With a budget of $25,000 (for labor, IKEA cabinets, appliances, lighting and other materials), Debbie selected IKEA's SEKTION kitchen system with IKEA Dark Gray AXSTAD base cabinets (and the cabinets above the refrigerator) as well as AXSTAD Matte White wall cabinets — including using IKEA's VAXMYRA LED spotlights for dramatic effect. The product lineup is complemented by white appliances purchased from local retailers (RC Willey and Lowes), as well as Lusso quartz white countertops which feature veins of charcoal, bronze and light beige, among others.
There were some challenges though. One obstacle was that Debbie's layout was small (about 250 sq. ft.) and she fretted over fitting enough cabinets plus a dining table. She also wanted to avoid reach-in lower cabinets. She preferred drawers so she could pull them out and see everything clearly. And she insisted on a combination of task lighting; decorative lighting; and under-cabinet and interior glass cabinet lighting.
Overall Debbie spent $4,649 for her IKEA cabinets. Combined with her other purchases (ie: appliances) and hiring the contractor and an electrician, she was able to complete her project on time and under budget.

We'll Design Your Ideal IKEA Kitchen Easily,
Affordably, and Online


Our IKEA Kitchen Design Package is everything you need to complete your new kitchen with confidence.
A Professional Job
Debbie's project certainly needed professional design and installation help.
"I'm definitely a DIYer, but this project was way beyond my scope. I knew I was going to hire out much of it. I decided to hire professionals to complete the entire installation. Finding a good contractor and installer were key to confidently hand my project over to them."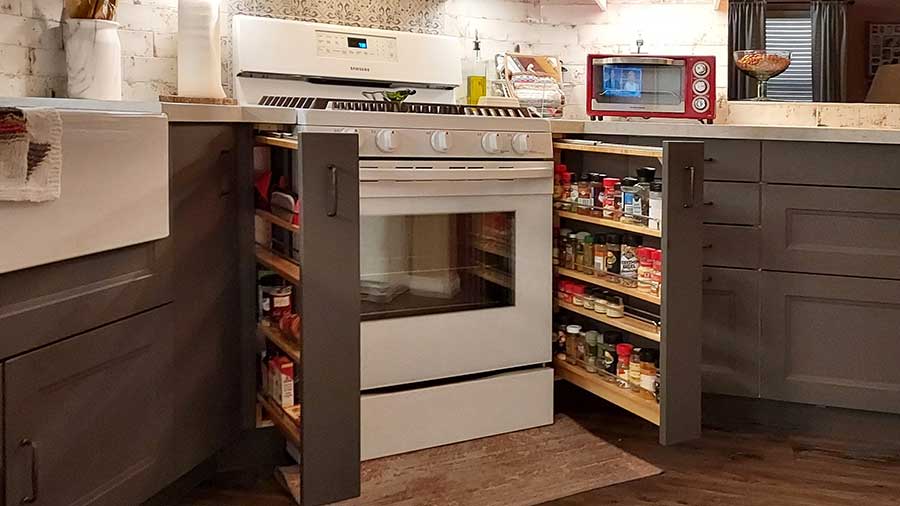 Originally she met with IKEA Kitchen Planners for design consultation, but left feeling a little underwhelmed. She wanted a more custom design than IKEA could provide. That's when she found IKD designer Meyer, who Debbie credits with translating her wishes into design ideas.With her design in place she was then able to locate a contractor/installer.
But finding them was a very real obstacle, Debbie notes.
In Las Vegas, any home project over $1,000 has to be licensed, bonded and insured, she explains.So handyman installers were not an option for her and many contractors in her area were hesitant to install a kitchen using IKEA cabinets. Although she felt stuck, she also wanted to be smart. She got three estimates after researching a list of local contractors in her area — which led her to 360 Home Services, based in Las Vegas, NV.
IKEA Farmhouse System
The goal was an L-shaped, farmhouse-style IKEA kitchen that was easy to navigate.
"I definitely wanted a farmhouse kitchen — a look that was rough around the edges and not overly 'matchy.' I wanted a 'perfectly imperfect,'comfy kitchen. I chose IKEA cabinets for their affordability and functionality. I definitely wanted IKEA cabinets," she says.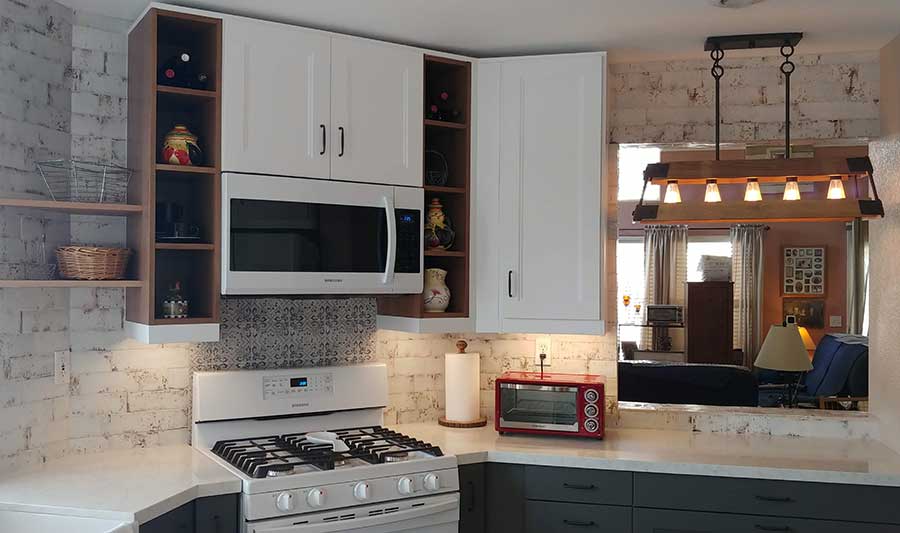 Debbie chose the IKEA AXSTAD door style after considering the IKEA BODBYN door style, but was bothered by the seams on the BODBYN door. She opted for the smooth, matte finish of the AXSTAD cabinets paired with IKEA MAXIMERA drawers and Black IKEA MOLLARP handles for the drawers and Black IKEA MOLLARP knobs for the doors.
To complement the farmhouse theme Debbie added a variety of wood elements. This included the vinyl-plank laminate flooring and the Brown/Stained Ash IKEA VADHOLMA open wood shelving found over the range and next to the microwave. This provides a very natural feel, a sense of warmth and displays decorative items such as vases and ceramic pots.
Her other must-have item was the fireclay farmhouse sink from Sinkology, complemented by an oil-rubbed bronze faucet from Lowes.
"The fireclay sink was tricky to incorporate but it looks great in the design," she says.
Other products include Matte White IKEA FORBATTRA cover panels; IKEA UTRUSTA drawer fronts as well as distressed subway tile from Mineral Tiles, which is featured on the backsplash. The contractor suggested taking the tile to the top of the 96" ceiling which adds an artistic flavor, Debbie notes. A distressed blue/gray tile from Elida Ceramica is featured behind the range as well.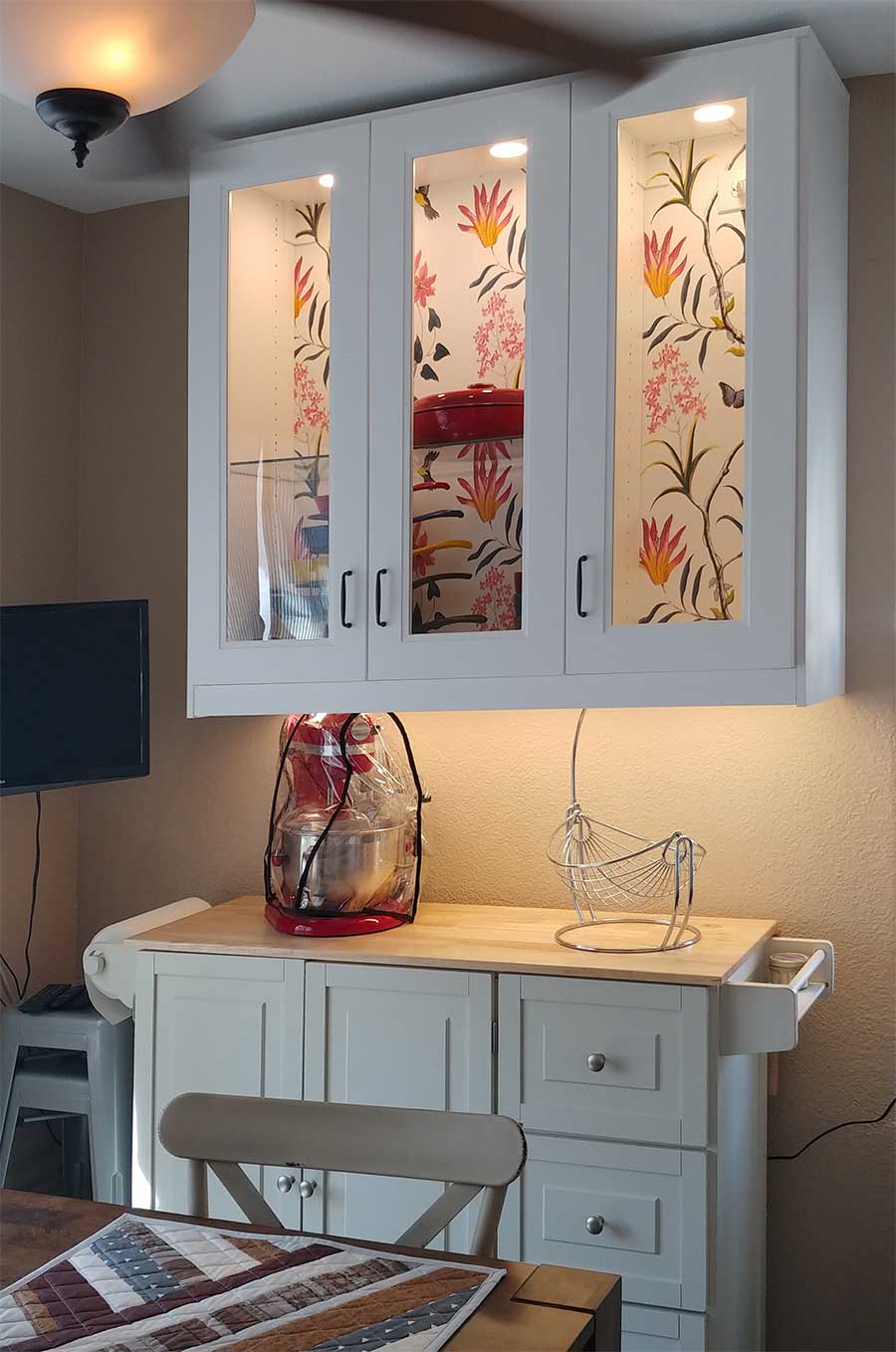 Bar None
Removing the breakfast bar from the original U-shaped space was paramount.
This peninsula island-like element — which housed the dishwasher — was originally located next to sink area and jutted out, cutting off the space. This made a small kitchen feel smaller. It also interfered with work flow for the family. With this removed the space opened up and now allows for a seamless flow for serving meals while guests sit comfortably in the open eating area.
Lighting the Way
The cabinet lighting Debbie chose is stylish and functional.
"All the cabinet lighting was from IKEA and I love it! I added a light over part of my countertop that didn't have a light. It gave me the opportunity to bring more wood into the space and more task lighting. I love sitting in my kitchen with the soft glow of the task lighting," she says.
This includes task lighting for each countertop as well as natural lighting from the large sink window and the two large windows in the eating area. She also changed out a construction-grade white ceiling fan/light for one with an oil-rubbed bronze finish and a dimmable light from Lowes, and changed a recessed can light for a distressed copper pendant light over the sink.
Floral peel-and-stick wallpaper is featured inside the glass front cupboardsand adds depth to the space.Window treatments, courtesy of Debbie's talented sister, are a relaxed roman shade made of a mattress ticking fabric.
IKEA Storage Success
Getting the most out of her space was important to Debbie.
"[Aging-in-place options] and being able to easily open and access lower cabinets as I got older was a consideration. It was important to utilize every inch of storage space," she says.
So Meyer recommended a pull-out Rev-A-Shelf internal organizer on each side of the range. This is ideal for storing spices which are now accessible when Debbie is preparing meals.
The layout also features a pullout trash recycle/cabinet and an IKEA cabinet hack pullout for storing cookie sheets and cutting boards. This is featured between the range and the farmhouse sink. She adds that the trash/recycle cabinet is a 15″-wide drawer in a drawer, with a trash receptacle on top and a recycling receptacle below. This makes food prep stress-free for her.
Debbie says her favorite part of her IKEA farmhouse style kitchen is its functionality (such as the clever storage solutions) and its adaptability. It makes her kitchen perfect for game night with family and durable enough for cooking.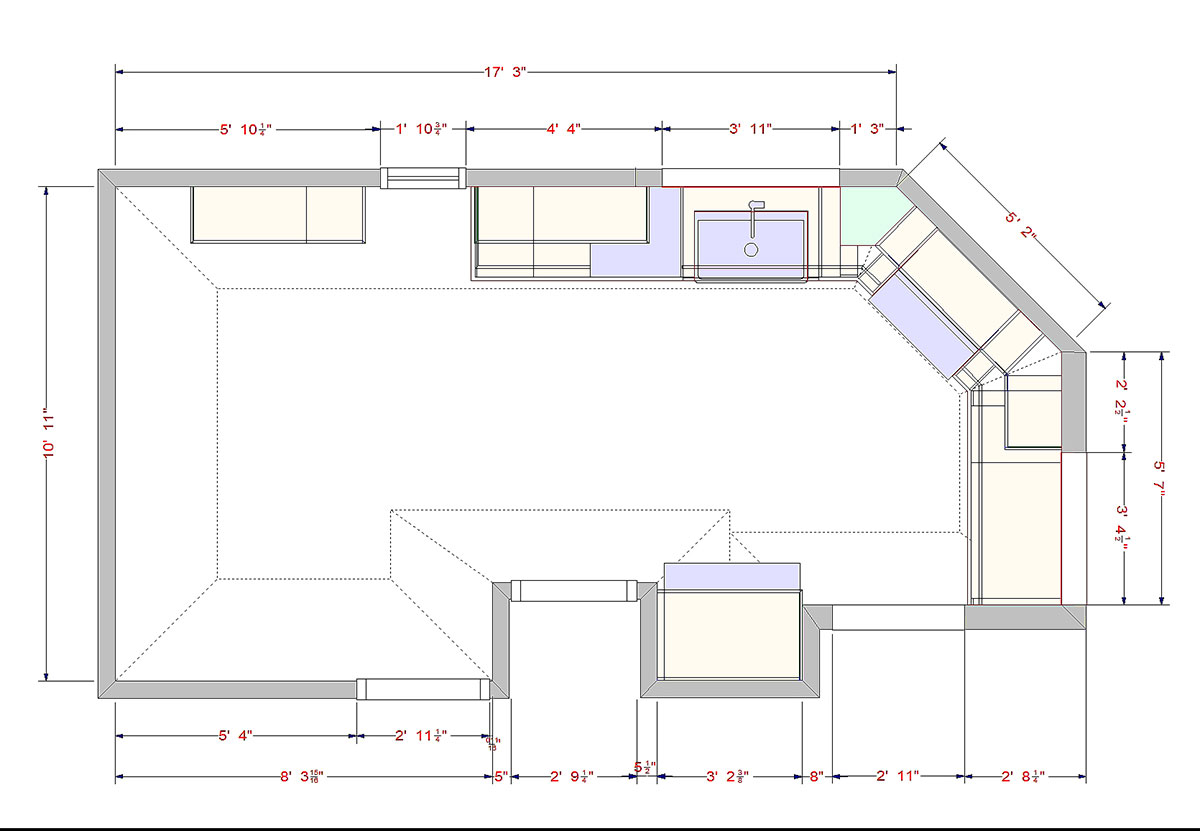 As you can see it's possible to remodel your kitchen and give it a brand new feel, just like Debbie's farmhouse design. All you need is a vision and to hire professionals who can guide you through the IKEA remodeling process.

Get a Professional IKEA Kitchen Design – All Online


Work with our certified kitchen designers to get a personalized kitchen designed around your needs and vision. If you're interested in learning more about our service, make sure to check out our IKEA Kitchen Design Services.