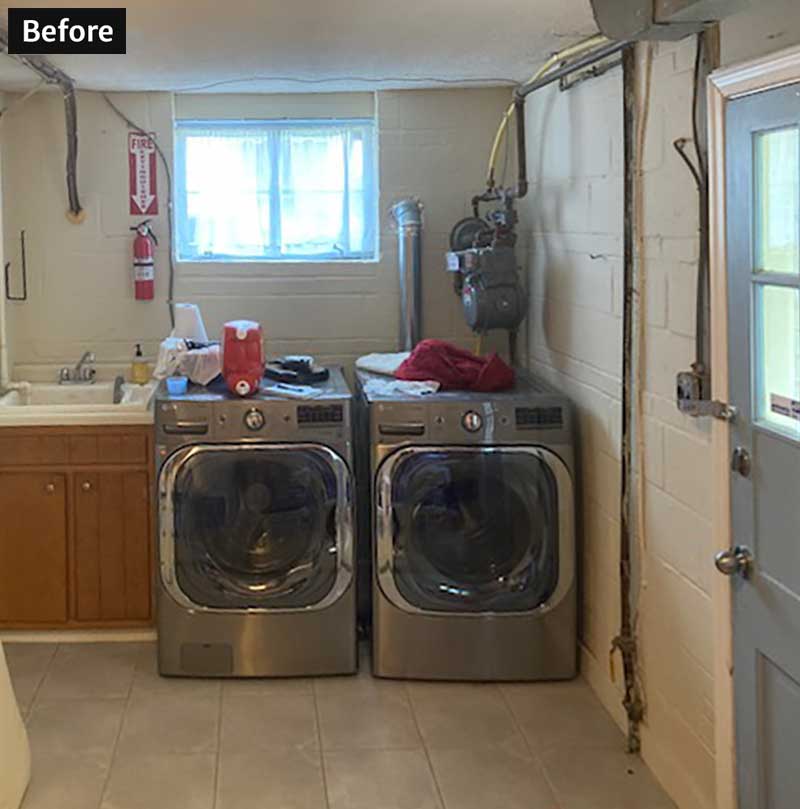 Separate multi-zone areas to fold + dry + soak + wash
Ever wish your entire laundry room was as intuitive as your washer/dryer? Lots of people do. That's because laundry area inputs are simple: Plop baskets of random dirty laundry near the washer. Easy. The output however is the real work: Soaking, washing, drying and sorting/folding the input. Holistically designed IKEA laundry rooms with multi-zone areas address those needs. This includes storage for the things needed for these tasks— think laundry baskets, ironing board, etc. — and minimizes obstacles that could really hamper the process.
"Today's IKEA laundry rooms are much more practical! These spaces are more utilitarian than ever, with multiple functions that add style and storage options to any home," says IKD designer Richard.
A recent example includes the 114 sq. ft. IKEA laundry room for Kitty from Chevy Chase, MD which features IKEA AXSTAD cabinets with matte blue doors, an IKEA NORRSJON sink, plenty of storage and enough durability to handle regular loads of dirty uniforms for her two athletic children. Or let's consider the laundry room with four distinct work zones (and some IKEA cabinet "hacks" for Danni from Lynnwood, WA.
Your IKEA laundry room should work with your needs and the following IKEA laundry rooms are examples of that.
Let's take a look!

We'll Design Your Ideal IKEA Laundry Room Easily, Affordably, and Online

Our IKEA Laundry Room Design Package is everything you need to complete your new laundry room with confidence.
Big and Blue IKEA Laundry Rooms
Kitty overcame design obstacles to establish an efficient IKEA laundry room for her growing family.
"Our pre-existing laundry area cabinets didn't go to the ceiling and were very shallow. We couldn't keep up as our kids got older, especially since they're so active! We wanted to add shelves and storage to make things easier but there were a lot of pipes to design around. It was finally time [to remodel] and we needed help badly," she says.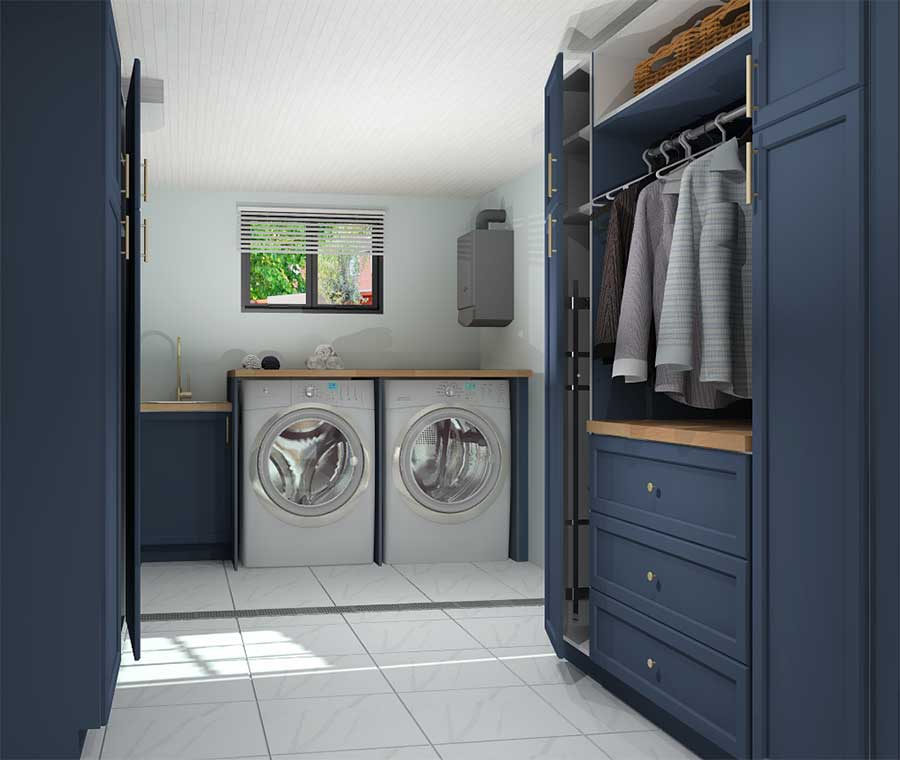 She did have a lot of available space and worked with IKD designer Javier to take advantage. Using IKEA's SEKTION kitchen system she selected tall IKEA AXSTAD cabinets with matte blue doors to the top of the 90″ ceiling. These separate IKEA UTRUSTA hanging and storage areas provide space for newly ironed items and are complemented by IKEA BAGGANAS brass handles/knobs and IKEA SALJAN 2″ thick oak effect butcher block countertops. A unique 36″ (w) x 10″ (h) x 24″ (d) open cabinet is also featured to store boxes, baskets, etc. This zone also provides storage for cleaning supplies, an ironing board, and other seasonal clothes. The adjacent zone features hanging metal racks on one side and stacked IKEA MAXIMERA pull-out drawers on the other for additional storage.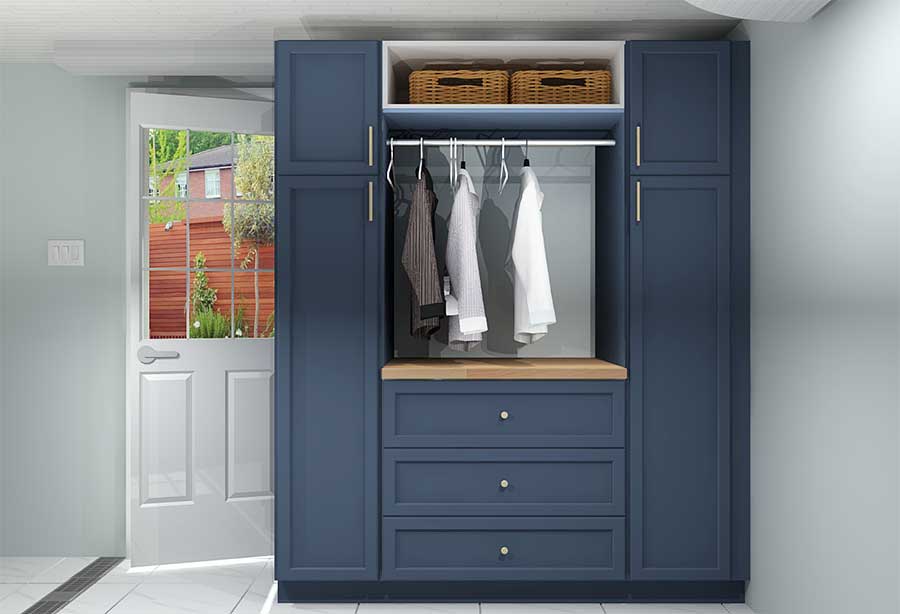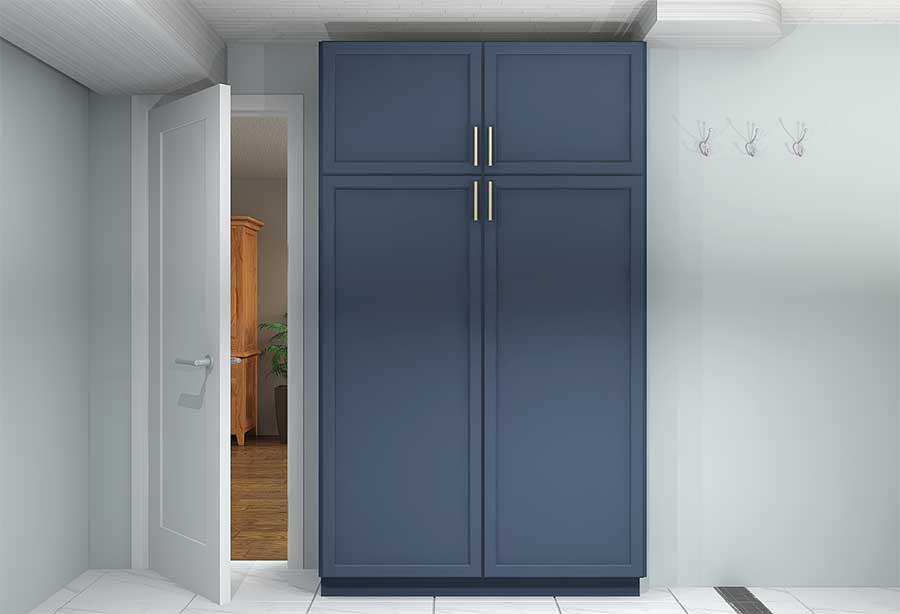 Matte blue AXSTAD base cabinets are featured next to the side-by-side washer/dryer for storage of detergents, etc. What's nice is Kitty added the same 2″ thick butcher block countertops on top for folding laundry. In total the space features seven cabinets and nine panels for a total cost (including extra items) of $4,551!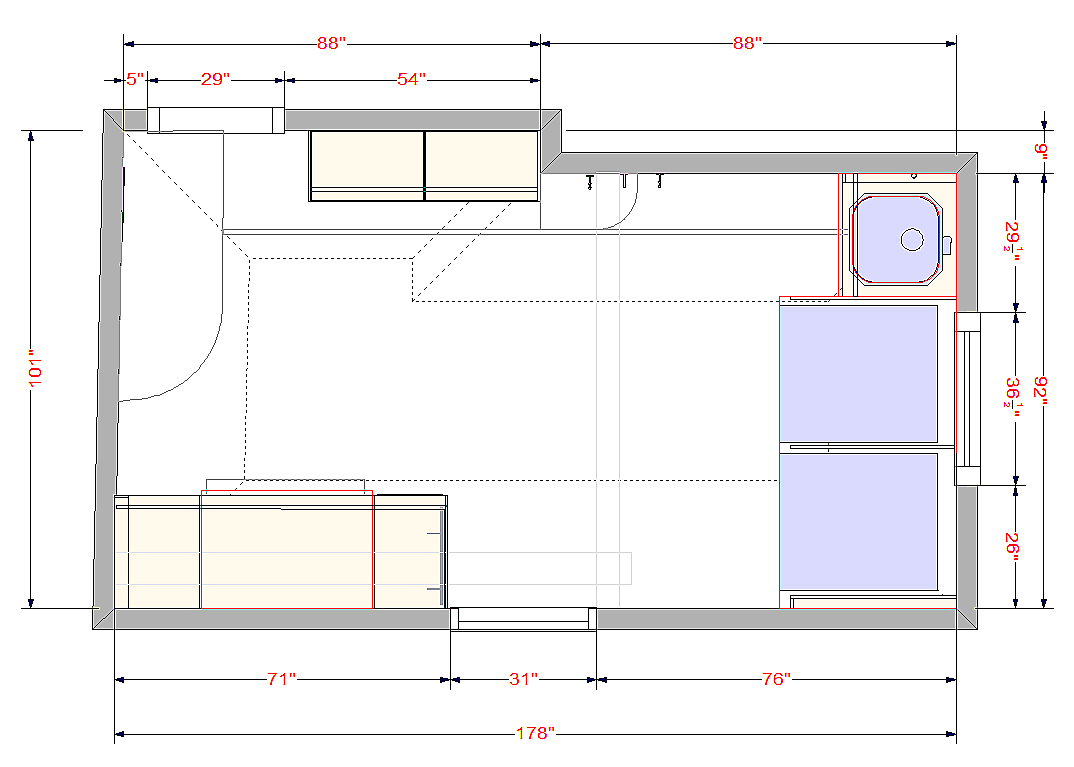 Project Numbers
| | |
| --- | --- |
| $3,148 | Total IKEA Cabinet Cost |
| $1,403 | Total Extra Items Cost |
| $4,551 | Total Project Cost |
Four-In-One Style
Danni's IKEA laundry room features multiple zones which helps keep up with her large family.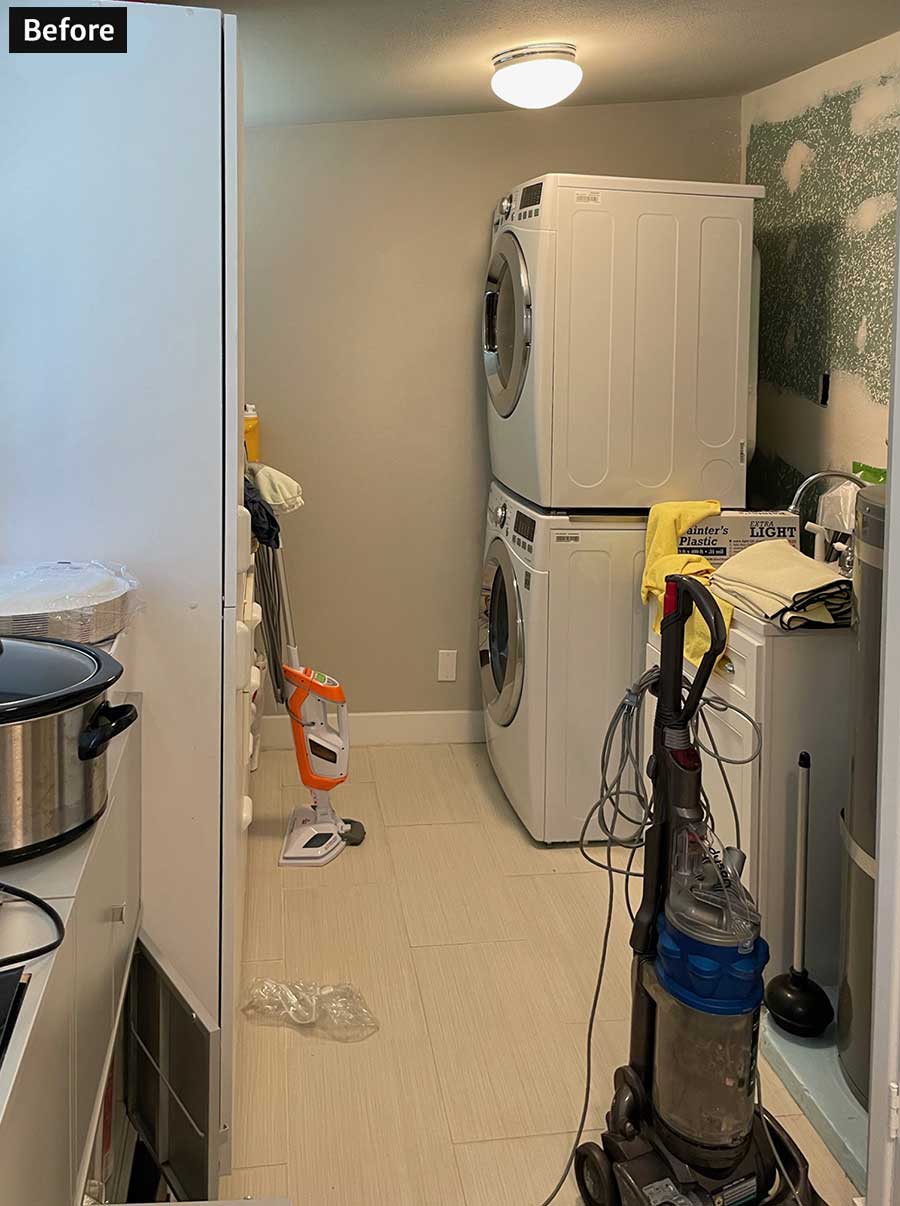 "We're a family of six so there's a lot of laundry going on constantly. We needed simple, practical storage that was expertly conceived.IKD really did a great job of translating our design wish list into an efficient layout!" she says.
This ergonomic layout works with IKEA GRIMSLOV cabinets with off-white doors and IKEA MAXIMERA drawers. IKEA ORRNAS stainless steel handles add a contemporary touch when paired with the sleek, white IKEA KASKER countertops. The space was designed around the water heater, which called for the stacked washer/dryer feature combined with an IKEA LANGUDDEN soaking sink. This required a signature IKEA cabinet "hack" where a cabinet door was custom cut from 24″ (h) to 20″ (h) above the heater. Another hack is featured in the folding zone where the ceiling height between the two windows was limited with only 80″(h) available. So another 18″ (w) x 24″ (d) x 80″ (h) tall cabinet was cut to 75″ (h).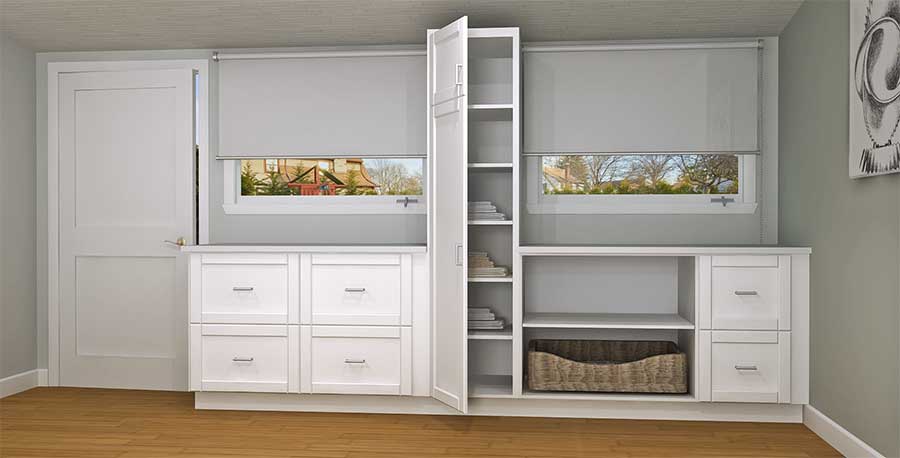 "This 112 sq. ft. IKEA laundry room features four distinct areas: A stacked washer/dryer area; a soaking area; a folding area with open cabinets below for baskets; and a small area to hang jackets and store shoes at the entrance. There's a lot of function in this space," says IKD designer Richard.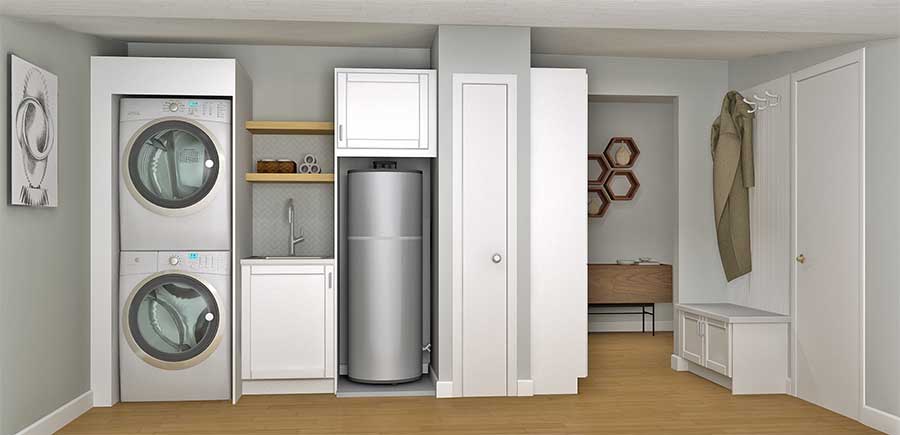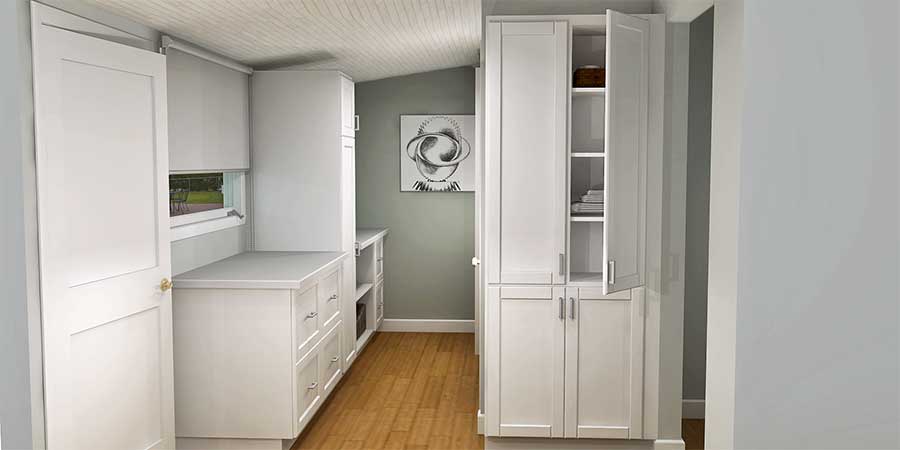 The tall 84" GRIMSLOV cabinets at the end of the folding area provide extra storage for fresh clothes, linens and towels. And the small area to hang jackets features bead board wall backing for hooks and a small 19-1/2″ (h) GRIMSLOV cabinet for shoe storage and seating. In total the design features eight cabinets and eight panels for a total project cost of $1,733!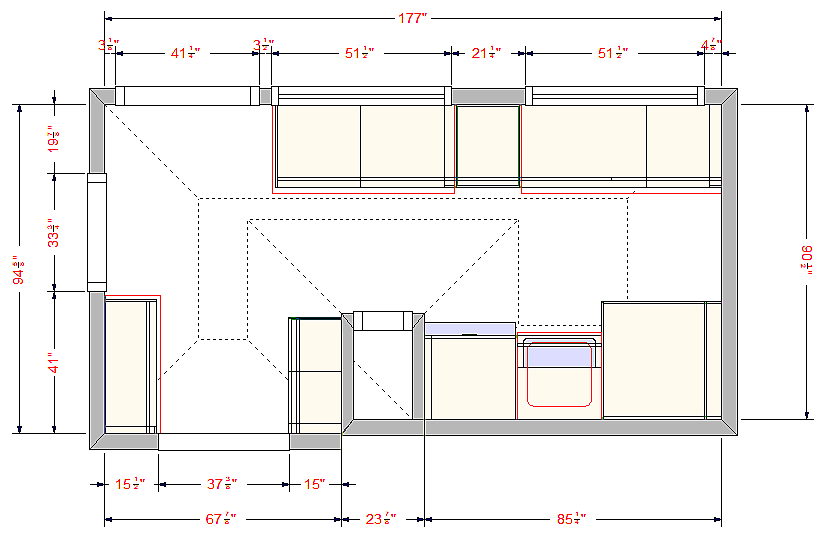 Project Numbers
| | |
| --- | --- |
| $927 | Total IKEA Cabinet and Door Cost |
| $806 | Total Extra Items Cost |
| $1,733 | Total Project Cost |

Get a Professional IKEA Laundry Room Design – All Online


Work with our certified designers to get a personalized laundry room designed around your needs and vision. If you're interested in learning more about our service, make sure to check out our IKEA Laundry Room Design Services.