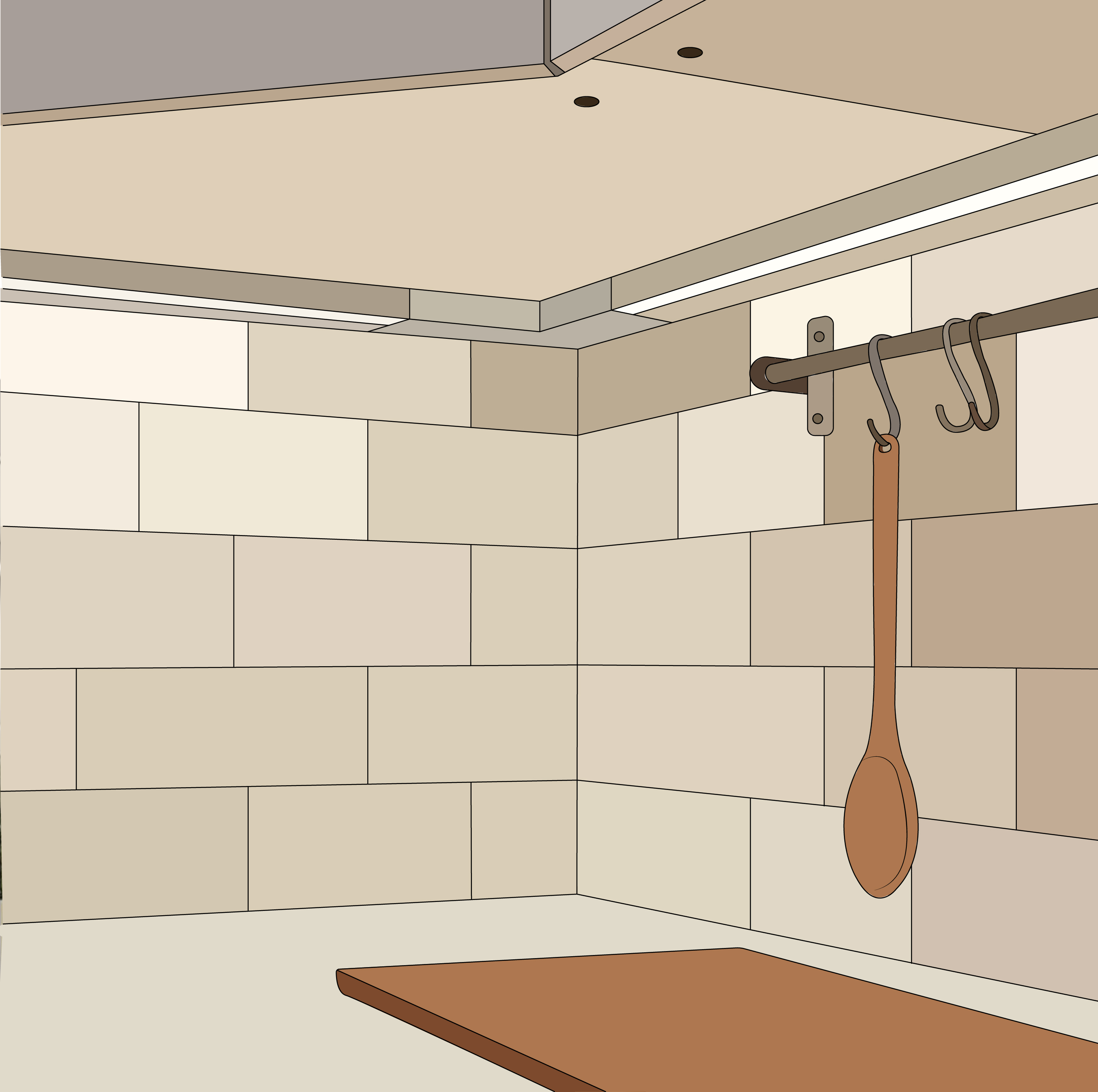 Practical Solutions for Cracking the Code of Kitchen Lighting
As professional IKEA kitchen design specialists, we know that cabinet lighting must be planned for while designing a kitchen, and never treated as an afterthought.
IKEA's cabinet lighting systems aren't as complicated as they seem. Most folks just don't understand electrical jargon and IKEA's product names.
In this article, we'll explain a few basics that will help you understand how IKEA'S cabinet lighting systems, including STRÖMLINJE and OMLOPP, work for your kitchen.
A few questions you should ask yourself include:
What's the electrical situation in your kitchen?
Big consideration: Can you add outlets or junction boxes before you install the cabinets?
To determine which IKEA lighting system you'll use, we'll need to know:
Will you be able to connect the wiring for your lights directly to an electrical junction box? A junction box is a small recessed galvanized metal box where the IKEA lighting wires connect to your house wires.
If you don't have a junction box, do you have electrical outlets on the wall above your wall cabinets? Or inside your wall cabinets?
What kitchen areas do you need lighted?
Do you need or want countertop lighting from along the bottom of all wall cabinets, or just a few?
How about lights inside your wall cabinets, and/or lights inside your base cabinet drawers?
Which IKEA lighting system is best for you?
Most IKEA customers work with either the UTRUSTA or OMLOPP lighting systems. The UTRUSTA is hardwired (connected directly to your homes' wiring). The OMLOPP system is plugged into an ordinary electrical receptacle.

We'll Design Your Ideal IKEA Kitchen Easily, Affordably, and Online


Our IKEA Kitchen Design Package is everything you need to complete your new kitchen with confidence.
Let's Consider Some Different Kitchen Scenarios:
1. Full Kitchen Remodel or New Construction
(Can add junction boxes)
Light up all your countertops and lots of wall cabinets:

Use the UTRUSTA system, direct-wired.
Locate the junction box(es), connect and install the UTRUSTA countertop light tracks along the bottom of all the wall cabinets.
Connect the OMLOPP in-cabinet spotlight cables to the UTRUSTA tracks ports. No transformers are needed.
Electrical outlets and to charge your phone:

Insert UTRUSTA's two outlet power strips within the span of your UTRUSTA countertop light tracks.
Outlets and USB ports are out-of-sight, along the back of the wall cabinets.
Designers' insights: Try to work with UTRUSTA, if possible: no ugly transformers and less wires.
2. Full Kitchen Remodel or New Construction
(Can add additional outlets)
Countertop lighting and wall cabinet lights:

Use the OMLOPP system, plugged into an outlet above your wall cabinets.
Place countertop track lights, where needed, and run each cable to a transformer sitting on the top of the wall cabinets. Run each in-cabinet spotlight cable up to that same transformer, and plug in.
Light up your drawer interiors:

Use the OMLOPP drawer light strips for the drawers you want illuminated.
Place electrical outlets in a nearby base cabinet, then connect the lighting strip cables to a transformer, and plug in.
Designers' insights: When just a few lights are needed, then OMLOPP is faster and easier.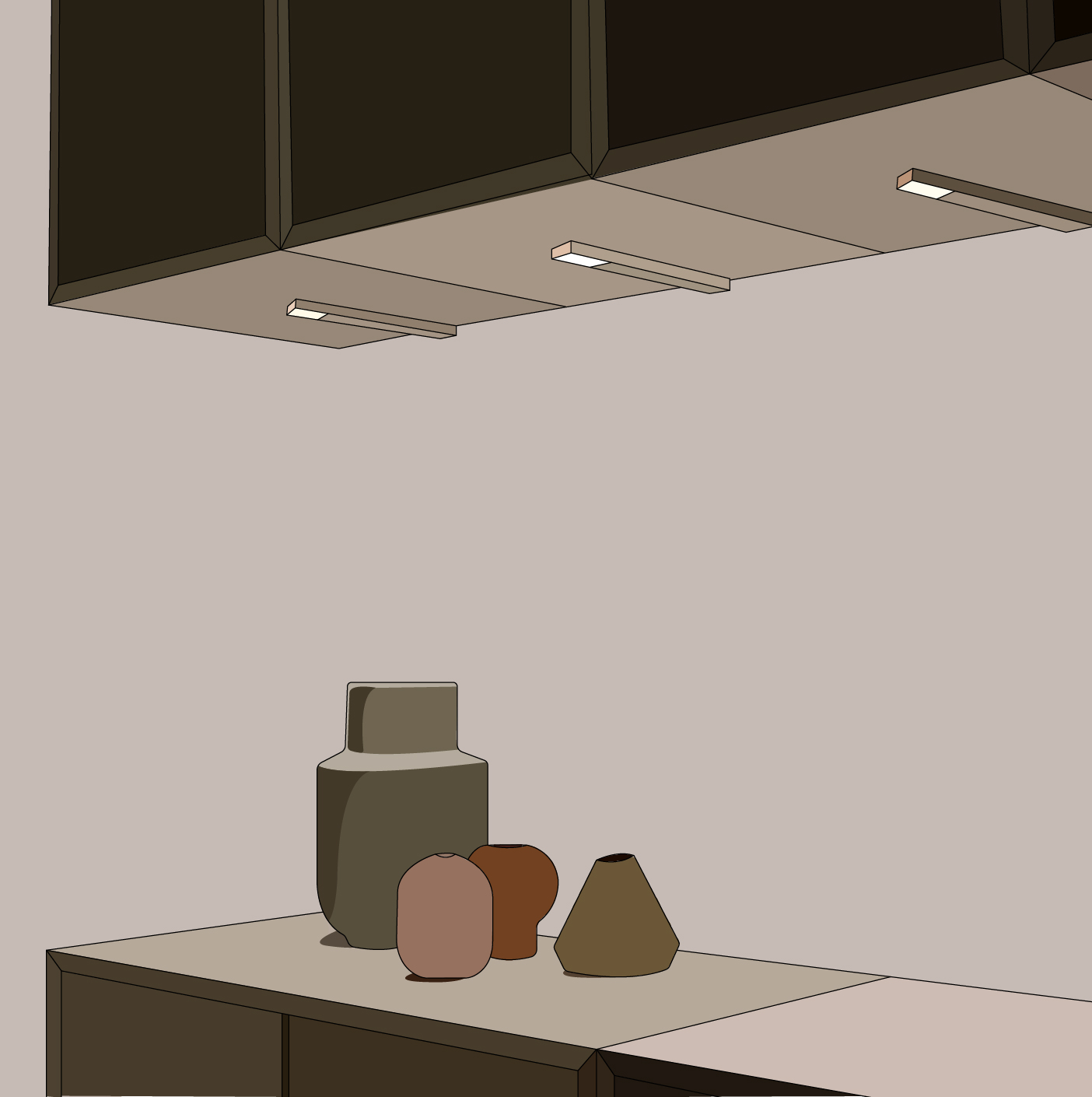 The 4 Areas for Which IKEA Sells Lights
Cabinet lighting must be considered along with the cabinet design. When designed together, you'll be able to install either electrical outlets or junction boxes at key locations.
We'll explain more about UTRUSTA and OMLAPP later, but first, let's focus on the four areas for which IKEA sells lights (IKEA's terms used):
1. Countertop Light:
Mounted below the wall cabinets. Controlled by an ANSLUTA remote control. In the case of UTRUSTA: direct-wired and connected in series. For OMLOPP: plug-in and each strip is independent, not connectable.
The IKEA MITTLED LED kitchen countertop lighting strip is another option that is easy to install and connect with other strips.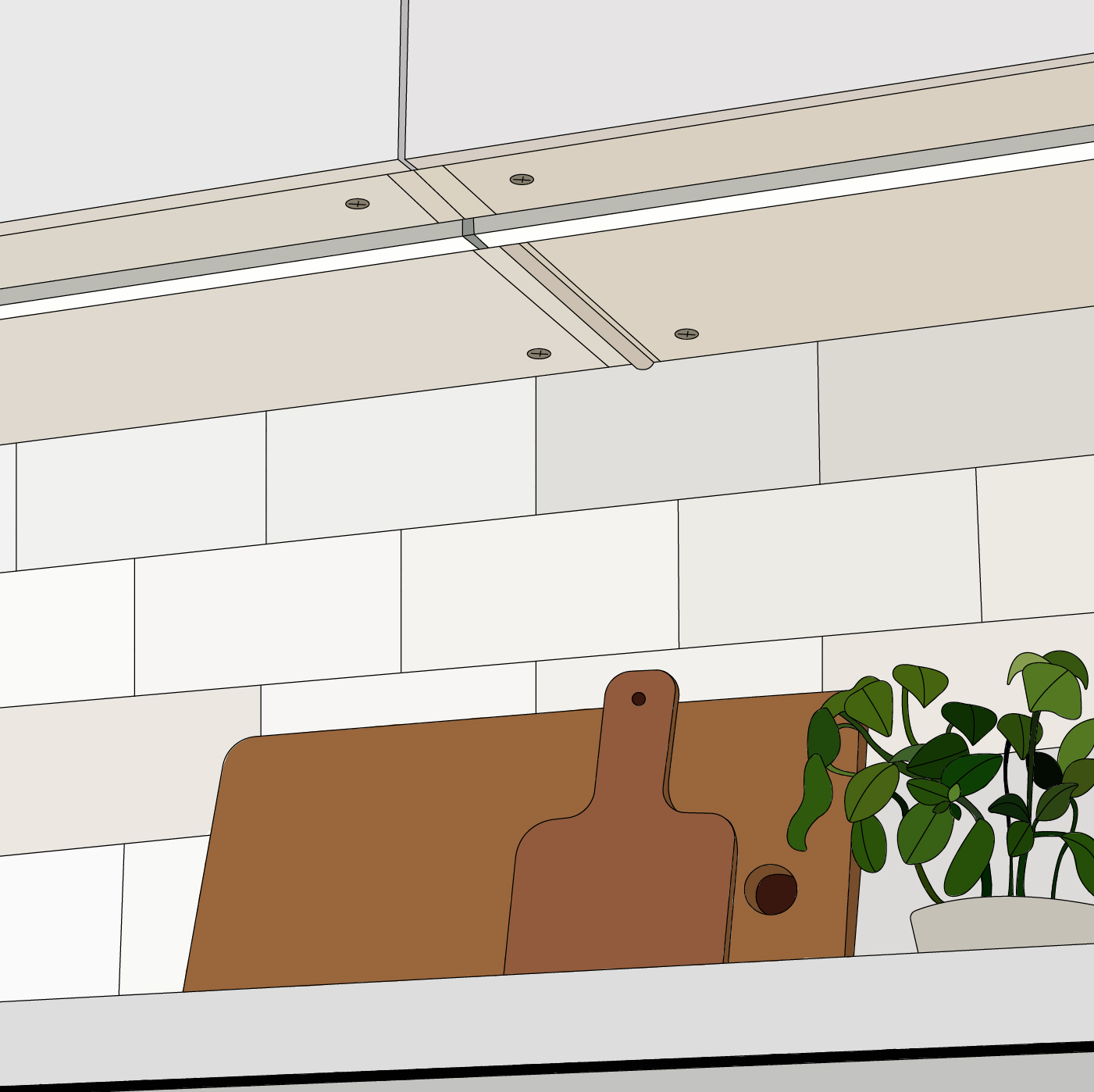 2. Cabinet Lights:
Mounted on top of the wall cabinets. Provides general kitchen and wall cabinet lighting. They can connect to either the UTRUSTA worktop lighting or the OMLOPP transformer.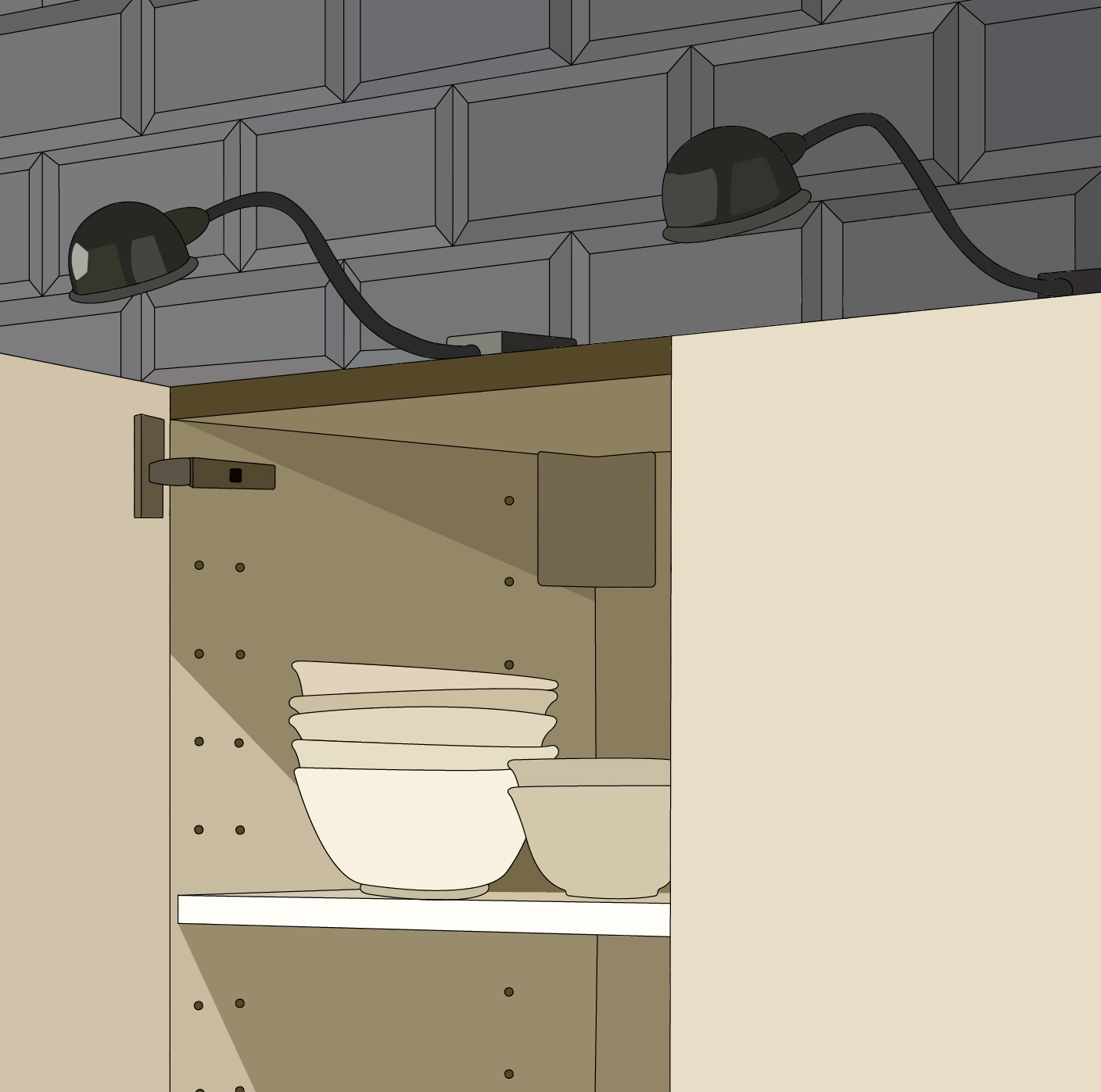 3. Spotlights:
Mounted inside wall cabinets. Attached to the bottom of shelves or the top of the interior of a wall cabinet. Provide interior cabinet lighting. They can connect to either UTRUSTA worktop lighting, or an OMLOPP transformer.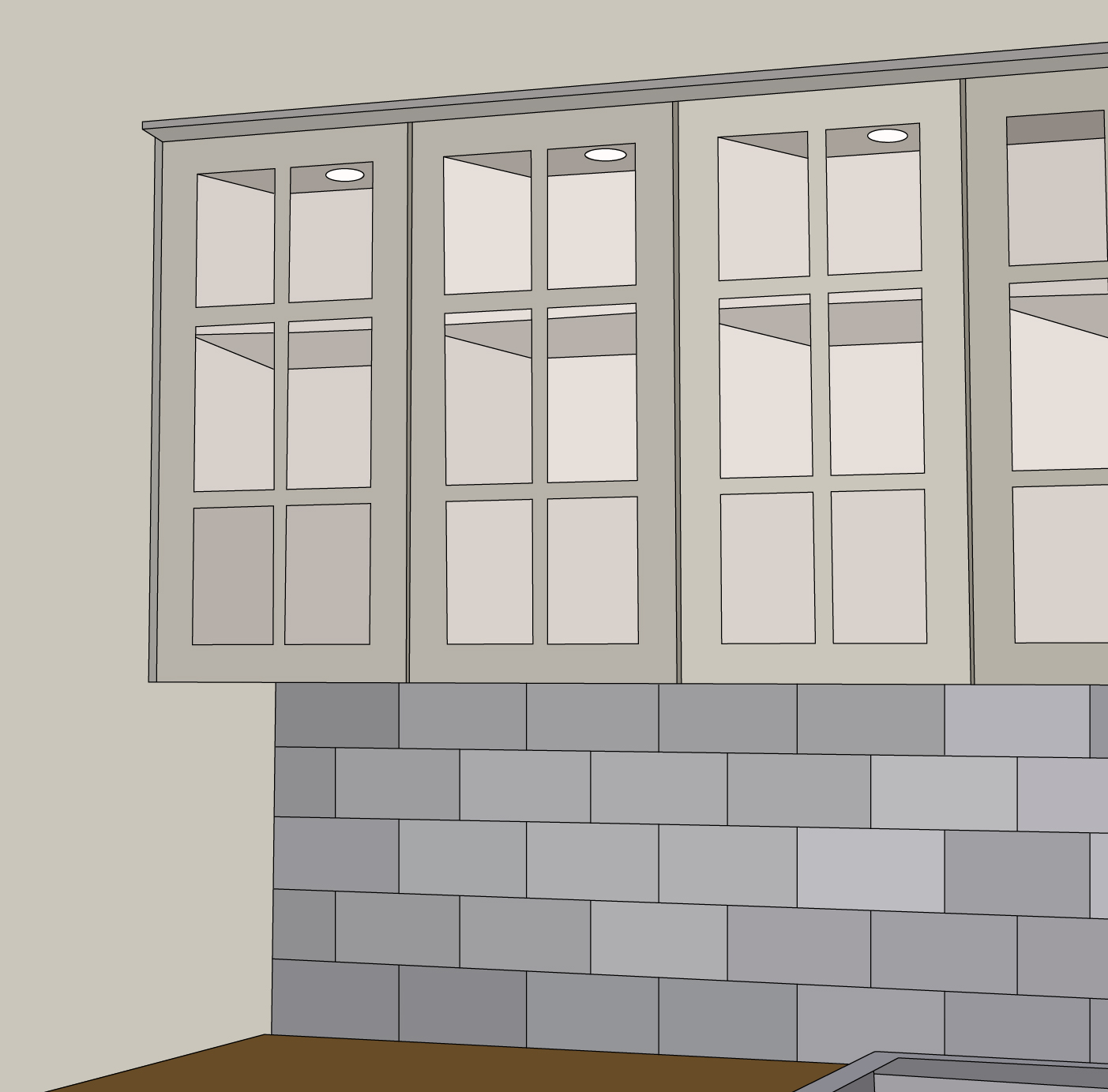 4. Lighting Strips for Drawers:
Mounted inside cabinets with drawers; either along the top front or sides. Individual drawers can be lit. Lights work with motion detectors. The cable for each strip runs to a transformer that's plugged into an electrical receptacle.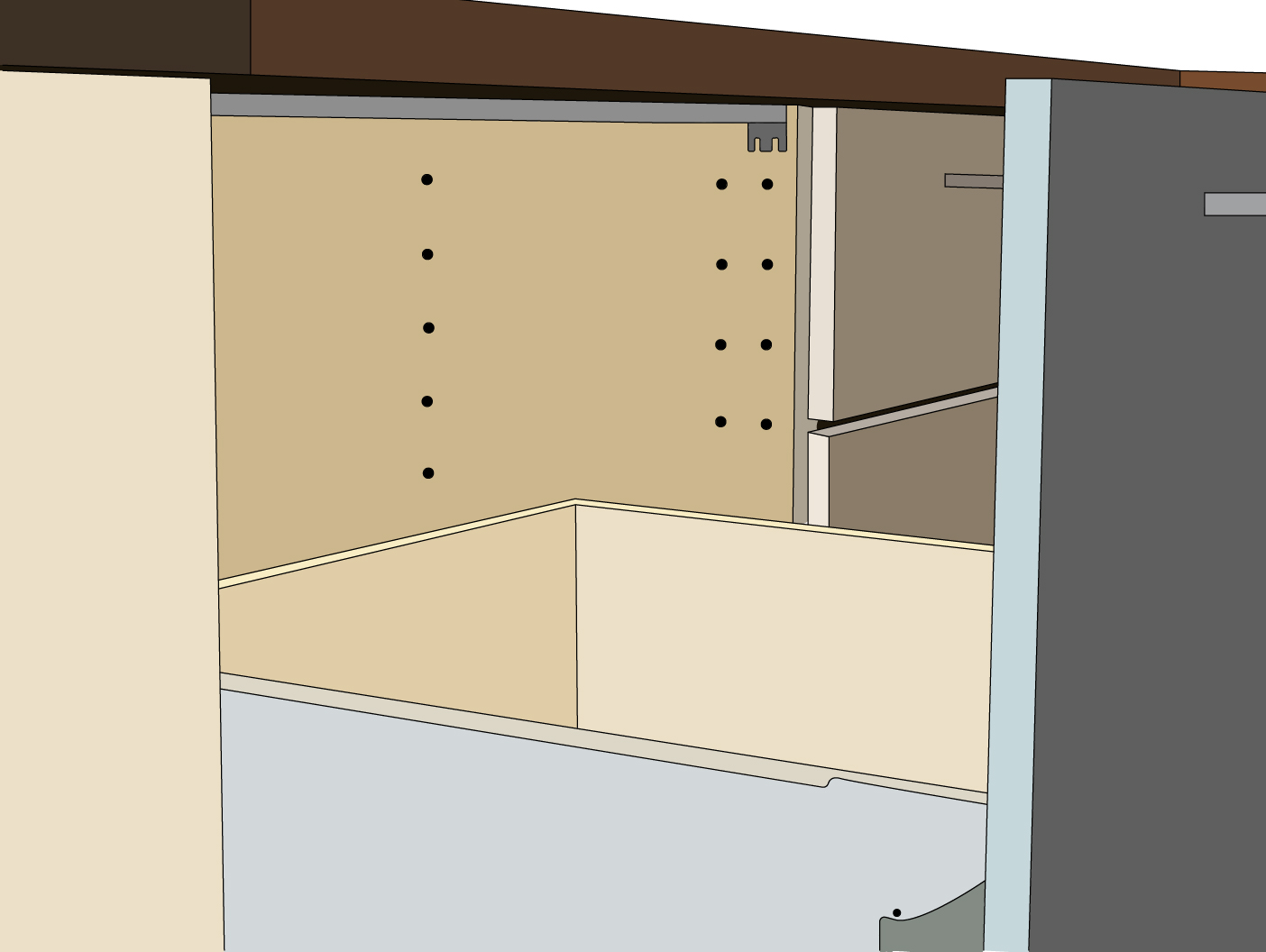 As designers we know the value of well-coordinated kitchen lighting. You're able to find stuff easier; in particular, inside the drawers.
But what we really like is the kitchen ambience with just cabinet lighting. It's so much nicer than just overhead lighting, and works with a variety of styles from modern to mid-century IKEA kitchens.
It's also worth noting that you don't have to limit yourself to installing this kind of lighting in kitchens only. Under cabinet lighting also works beautifully on IKEA cabinets for offices.
Check out our next article on under cabinet lighting, where we will explain more about IKEA's UTRUSTA lighting components, transformers, and their uses!

Get a Professional IKEA Kitchen Design – All Online


Work with our certified kitchen designers to get a personalized kitchen designed around your needs and vision. If you're interested in learning more about our service, make sure to check out our IKEA Kitchen Design Services.