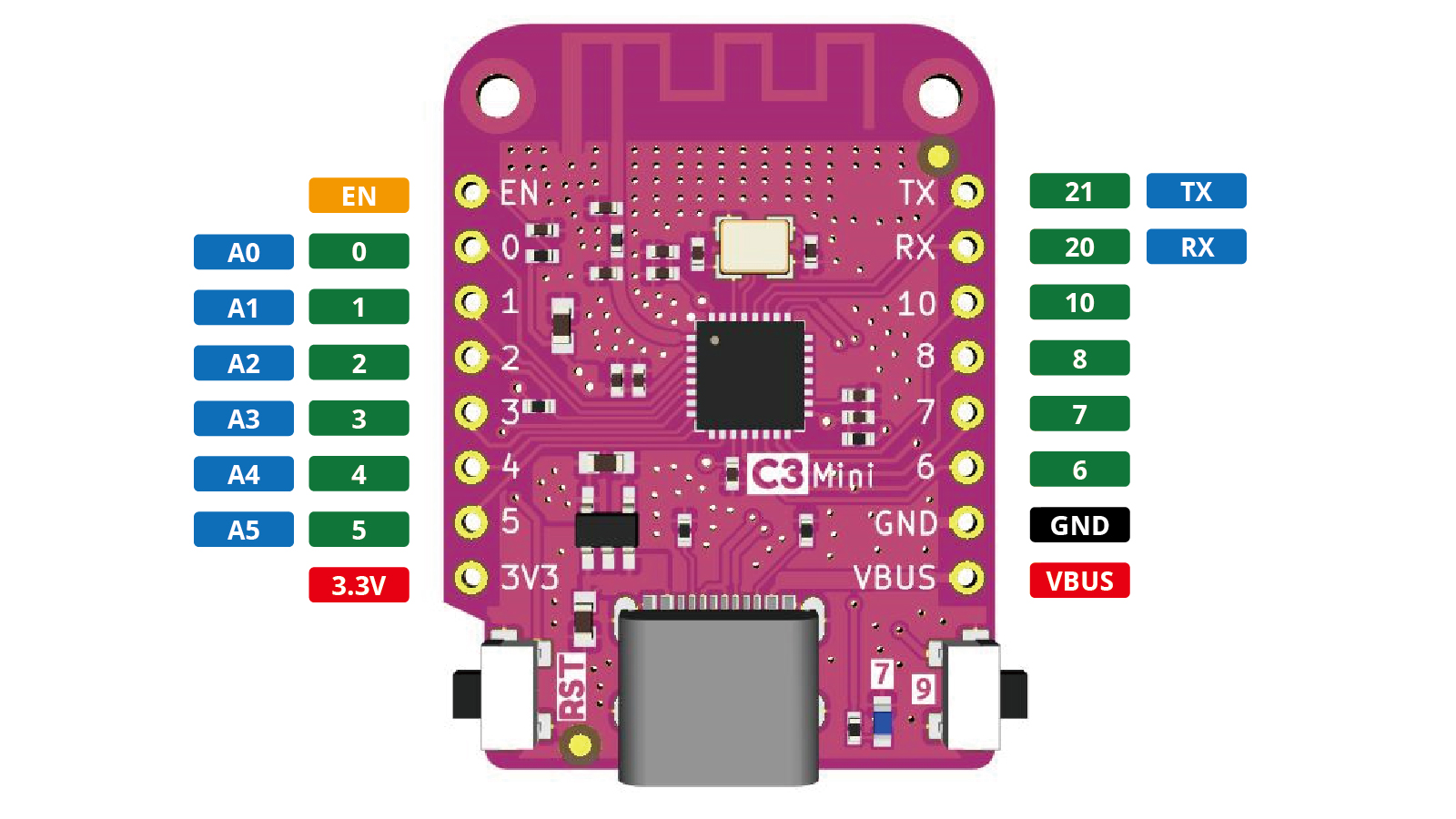 Wemos has unveiled a new development board for the LOLIN family, LOLIN C3 Mini is powered by an Espressif ESP32-C3FH4 Wi-Fi and BLE RISC-V microcontroller. The board follows the company's earlier versions of WEMOS D1 Mini (ESP8266) and LOLIN S2 Mini (ESP32-S2) form factor and is designed to work with the original stacking Wemos D1 shields.
Espressif's ESP32-C3 ultra-low-power SoC with a RISC-V single-core CPU supports a wide range of wireless connectivity with 2.4GHz Wi-Fi IEEE802.11b/g/n protocol and Bluetooth Low Energy. The 32-bit RISC-V processor core is designed for a four-stage pipeline operating at a clock frequency of up to 160MHz. The storage capacity for the ESP32-C3 SoC is 400kB SRAM and 384kB of ROM on-chip. The security features are ensured by the cryptographic hardware accelerator that supports AES-128/256, Hash, RSA, HMAC, digital signature, and secure boot.
In terms of CPU specifications, the heart of LOLIN C3 Mini, ESP32-C3 delivers a performance of 407.22 CoreMark for 1 core at 160MHz clock frequency. The SPI, dual SPI, quad SPI, and QPI interfaces allow connections to multiple external flash storage devices. For low-power management, the hardware features a power management unit with four power modes.
Specifications of the LOLIN C3 Mini:
SoC: ESP32-C3 Wi-Fi and Bluetooth LE RISC-V single-core CPU with up to 160 MHz clock frequency
Storage: 4MB flash
Memory: 400kB SRAM
Interfaces: ADC, I2C, SPI, and UART
Software: MicroPython (default firmware), Arduino and ESP-IDF
Power: USB Type-C port, 3V3 pin header
The LOLIN C3 Mini features 4MB of flash memory, a USB Type-C connector, reset and user buttons, and 12x digital I/O pins. Operating at a voltage of 3.3V, the C3 Mini is just 2.4g in weight with dimensions of 34.3 x 25.4mm. The board supports MicroPython as the default firmware and is compatible with Arduino and ESP-IDF.
Since the board lacks the extra rows of I/O headers present on the LOLIN S2 Mini, which are enabled by the additional GPIOs on the ESP32-S2 SoC, the board design is more similar to that of the Wemos/LOLIN D1 Mini. In addition, the C3 mini is the only board that supports Bluetooth (Low Energy). Furthermore, the user button on the latest version of the LOLIN D1 Mini board (V4.0.0) has been replaced with an I2C connector.
Priced at $4.10/unit, the LOLIN C3 Mini board can be purchased from AliExpress, and for more information on the board refer to the official documentation page for LOLIN C3 mini.