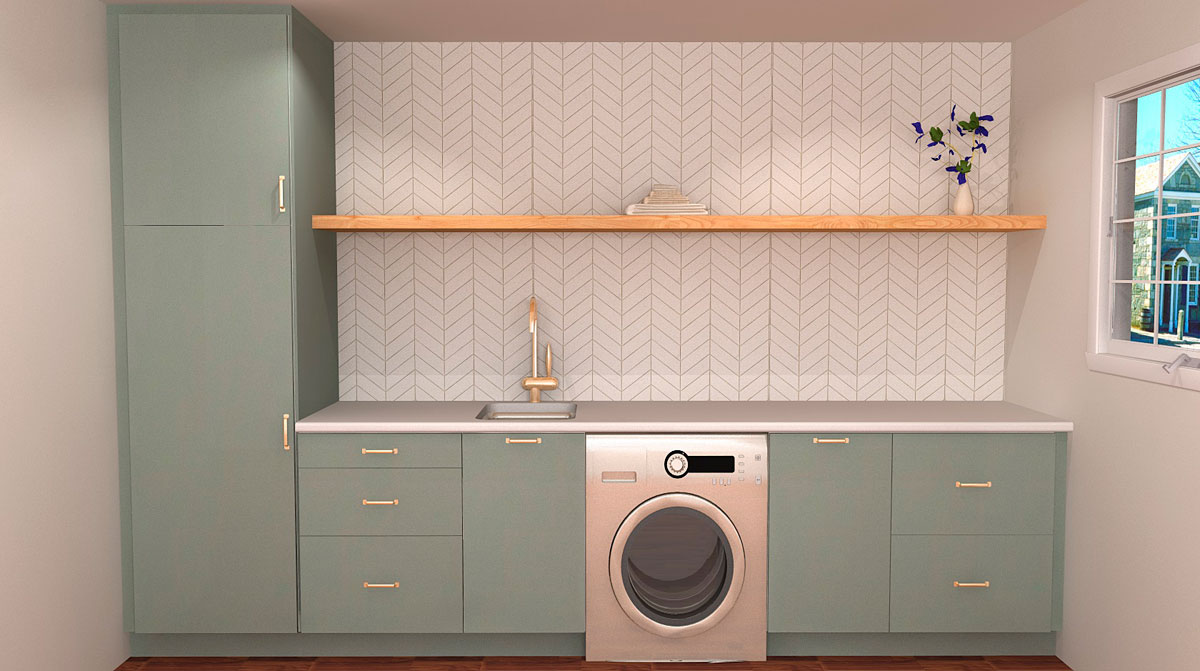 Budget-Friendly IKEA Laundry Room Design Ideas for Any Space
When an IKD customer decides to remodel a room in their home using IKEA cabinets, they want it to look fresh and attractive.
And, they don't want it to break the bank.
An IKEA laundry room is one of the best values for your design dollar, offering countless styles and functional options to make your home shine.
For instance, consider SEKTION pullouts, corner cabinets and high cabinets to provide storage for detergent, laundry, cleaning supplies, etc.
Or imagine a color coordinated laundry room using IKEA cabinets with a pullout keeping things readily at hand or a corner cabinet with a carousel for better organization.
With these ideas in mind, we'd like to share three IKEA laundry rooms we've designed that all were done for under $4000.
With that type of budget you can get a premium IKEA laundry room design regardless of size, layout or style.
Whether it's a small, elegant space, an L-shaped design with plenty of storage, or a two-toned Mid-Century Modern layout built with organization in mind, all options are possible.
So, when you come across a laundry room design that you really love and want to use IKEA cabinetry for it, remember that you won't be sacrificing savings for style.
Let's take a look at some of the laundry rooms we've done!
A Small IKEA Laundry Room that Radiates Charm
When IKD customer William came to us with his laundry room design (part of a house renovation), he wanted a customized and elegant space. William says:
"Storage was a big thing for me. I really liked the idea of floating shelves in an open layout to create a modern design theme. Especially to make the smaller laundry room appear bigger."

We'll Design Your Ideal IKEA Laundry Room Easily, Affordably, and Online

Our IKEA Laundry Room Design Package is everything you need to complete your new laundry room with confidence.
For our part, the IKD design team endeavored to maximize counter and storage space without the use of wall cabinets.
We advised William to select IKEA BODARP gray-green doors and helped him design customized floating shelves, which were sourced separately by him.
With the style set, it was equally important for the laundry room to function properly for his busy household.
That meant including an LG Compact All-In-One Front Load Washer/Dryer Combo ($1,599), and a stainless steel IKEA NORRSJON 14-5/8"X17-3/8″ under-mount utility sink ($171.50).
These were also complemented by a geometric tile backsplash and white countertop for a crisp, modern look.
Taking Advantage of Unique Angles in an L-Shaped Laundry Room
Perhaps there's no better example of the possibilities of a laundry room than this L-shaped design we recently did for Brad and Julia. Julia explains:
"We absolutely needed lots of storage space and did not want to go over our budget for IKEA cabinets and parts."
Specifically, the couple selected a Home Depot High-Efficiency White Top Load Washing Machine with Stainless Steel Basket ($428.40). They also selected a 24" IKEA HAVSEN apron front sink.
We can say that not only was this space unique for its L-shaped design and for how many products it can fit, but because it serves as both a laundry room and utility room.
It includes an area to hang clothes, tall cabinets to maximize storage and pull outs to organize cleaning supplies. It also uses a combination of wall cabinets and floating shelves to store laundry baskets.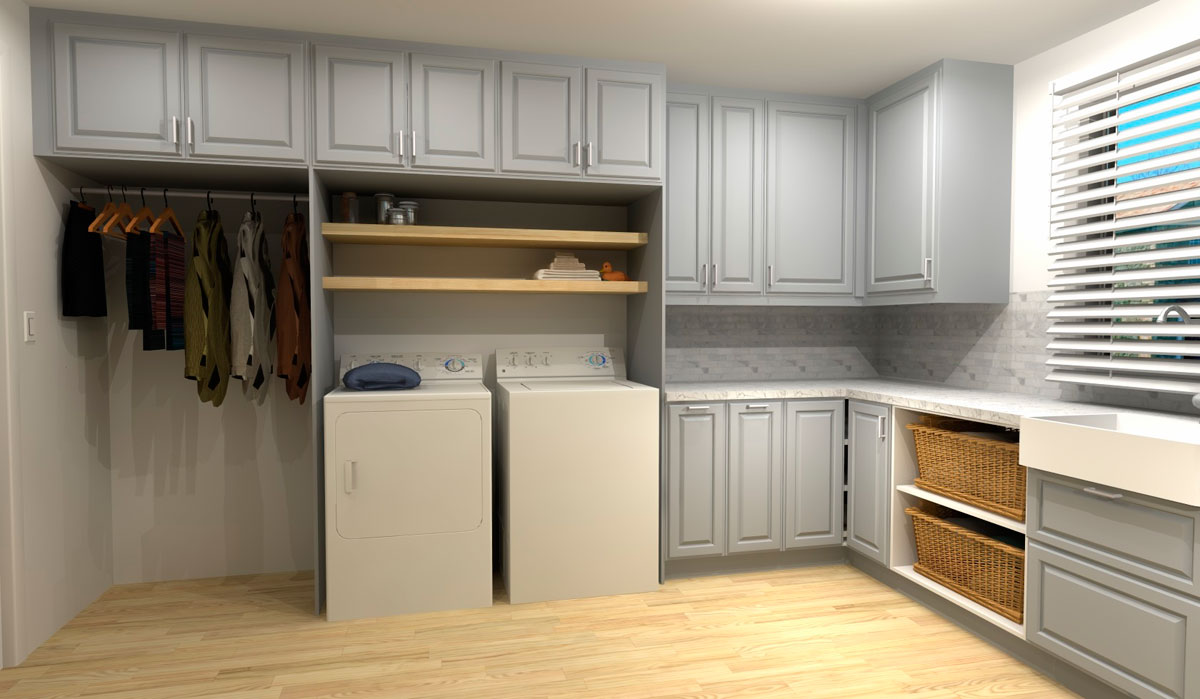 To complement the look, we recommended Brad and Julia select IKEA BODBYN gray doors for their IKEA laundry room. Brad concludes:
"We were very happy to include everything we did in this laundry room, and had room to spare in the space, and with our budget!"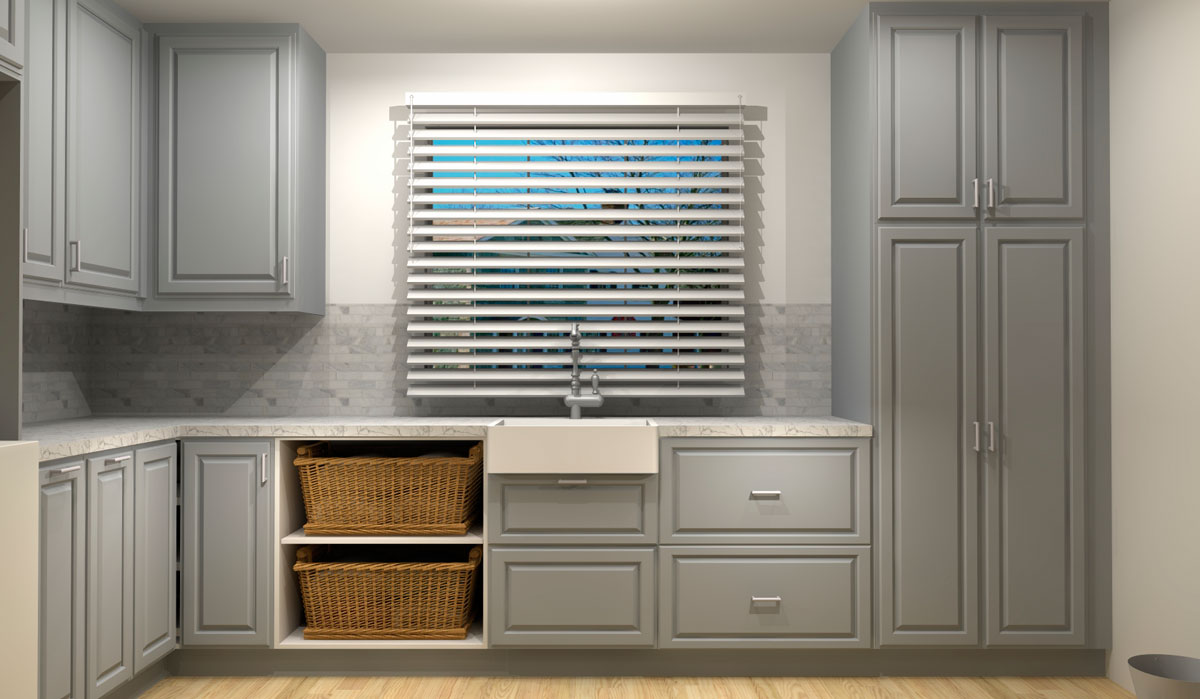 Endless Style: The Mid-Century Laundry Room Design
For this laundry room, the goal was simple: Stack style upon style.
That was the request from IKD customer Tanya from San Francisco, CA, who asked for a Mid-Century modern galley laundry room, packed with style and organization solutions.
"I loved the idea of a two-toned design theme, and IKD really hit it out of the park! I'm also very happy with the small mudroom space that was incorporated too, which gives me many storage options as well," Tanya says.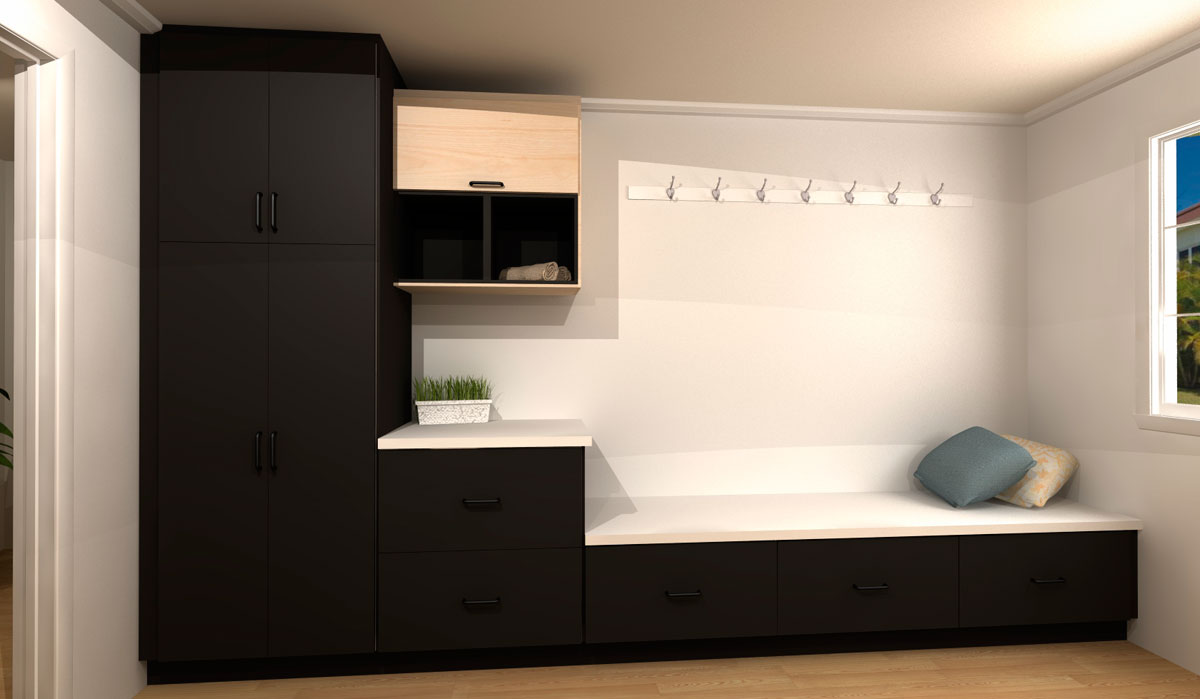 To create the two-toned look she requested, we recommended she go with IKEA ASKERSUND doors and IKEA KUNGSBACKA black stained doors for her IKEA laundry room.
To continue the eclectic look, she also selected a modern countertop sink, a white countertop and backsplash and Matte Black hardware.
But don't think this design is all style and no substance.
Not only does the Graphite Steel Front Load Washer with Cold-Wash Technology and Wi-Fi Connectivity ($809.10) make the space very efficient, it also matches well with the overall theme.
For an added unique touch, we integrated open cabinet solutions with IKEA TUTEMO in Anthracite and Ash to coordinate with the established color palette as well.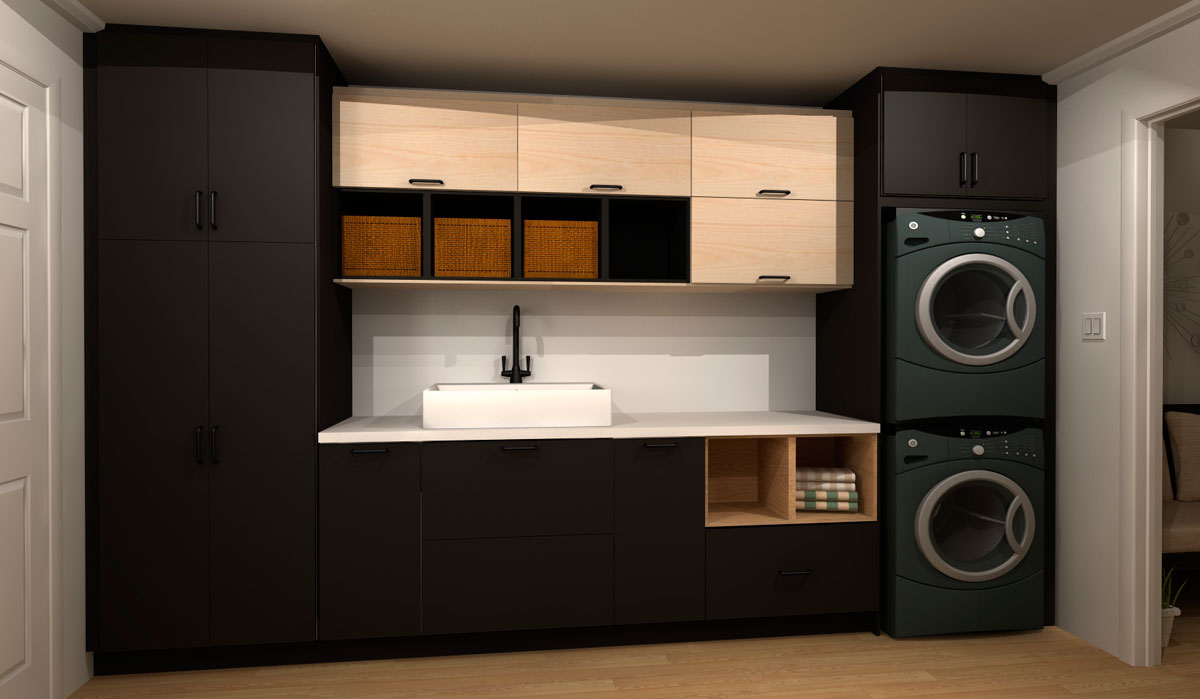 "The best part of this design really is that it makes it so easy for everyone in our family to help do the laundry. We are so pleased, especially since this project came in under budget too!"
That's our favorite part: Designs that make our customer's lives easier while saving them money.
Other Considerations when Designing an IKEA Laundry Room
Here are a few important things you want to keep in mind when planning your IKEA laundry room:
A large laundry room sink is a must (you'll thank me later!)
The IKEA Laundry Room Planner can limit your potential to design according to your specific needs
Adding an IKEA Laundry Room Sink
An important component of any laundry room design is a large sink.
Since laundry rooms are by definition functional spaces with a specific purpose, it's important that they're equipped with everything needed to take care of the laundry demands of a busy household.
While the washer can take care of larger loads, a sink is needed to handle delicate fabrics and hand-washable items.
The actual style and size of the sink depends on the room being designed, but luckily there are a number of great IKEA laundry room sinks available.
The Limitations of the IKEA Laundry Room Planner
If any of the three laundry room designs have sparked your interest, get in touch with us and we'll help you design the IKEA laundry room of your dreams.
Unfortunately, the IKEA laundry room planner is complicated to use, which is why we're here to do all of the heavy lifting for you and take the pain out of laundry room design.
So let IKD help you to get a premium IKEA laundry room with a budget-friendly cost!

Get a Professional IKEA Laundry Room Design – All Online


Work with our certified designers to get a personalized laundry room designed around your needs and vision. If you're interested in learning more about our service, make sure to check out our IKEA Laundry Room Design Services.