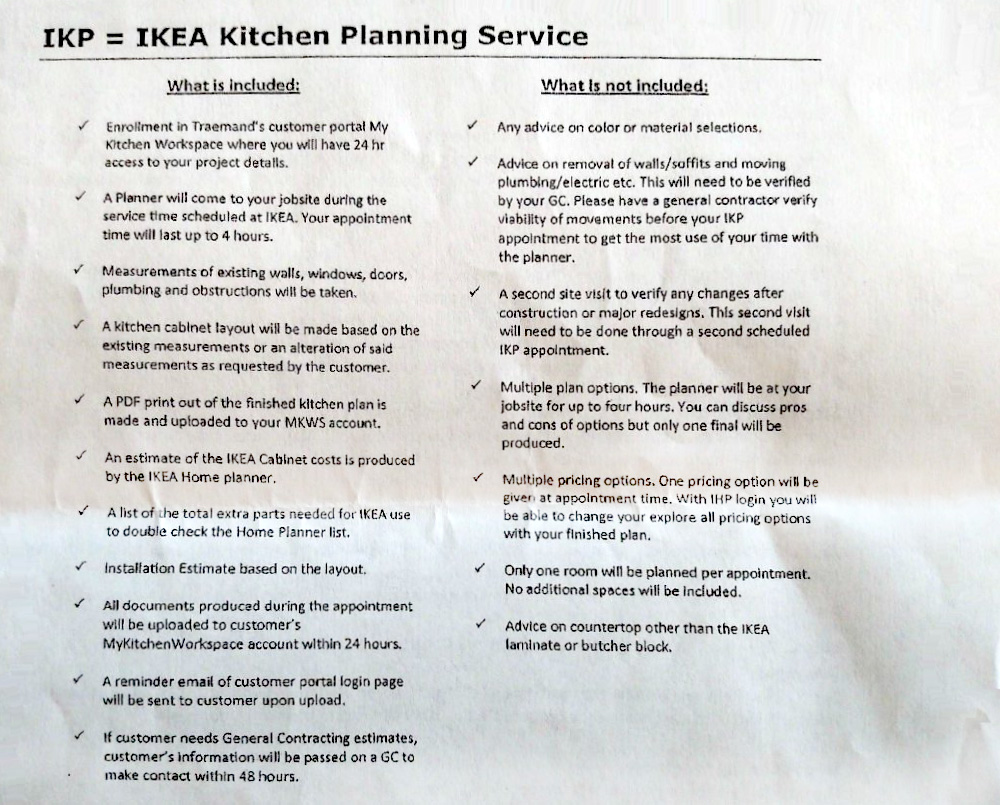 Getting the inside scoop on IKEA's kitchen planning services
Today's guest post is by Ray S.
IKEA offers a $199 in-person kitchen planning service. An IKEA kitchen planning professional visits your home, takes measurements, and spends 4 hours sitting with you to plan the kitchen you'll use for the next 20 years.
Is it really better than working with Inspired Kitchen Design online?
Our secret shopper, Ray, hired them to find out… and boy, did we learn a lot.
Before you hire IKEA to plan your kitchen, you need to read this blog post.
What's Inside the IKEA Home Planning Service?
There are three reasons why someone might choose IKEA's service over IKD's.
One-stop-shopping: IKEA handles the whole thing, soup to nuts. They measure and plan your IKEA kitchen in person and then you buy the kitchen from IKEA.
The $199 price tag: IKEA charges less for their service than the IKD design fee. 
Any mistakes are IKEA's responsibility: If IKEA's service makes an error due to incorrect measurements, they have to pay to fix the mistake.
Sounds pretty good on paper, doesn't it?
I learned 5 things when I bought IKEA's service that I thought would be good for IKD customers to know.
1. The Sale Was Right Around The Corner… But Nobody Said Anything
My "local" IKEA is an hour's drive away. I like visiting IKEA but that's about 100 miles roundtrip. I make that trip maybe a couple of times a year if I need a new bookcase or something.
Driving all that way was better than waiting on the phone with IKEA though.
I drove to IKEA about a week before the sale was announced. Even though I talked to the sales guy for a while, he never mentioned anything about theIKEA kitchen sale which was only a few days away.
Strange, given that the sale offers a 15 percent refund on kitchens that cost more than $4,000.
2. What Happens During Those Four Hours of Time with the IKEA Home Planning Service?
The IKEA staff person said the four hours of time would be spent like this:
Two hours of time to measure my kitchen
Two hours of time to plan my kitchen
My fiancee and I have a large kitchen, so two hours of measuring time sounded good. But only two hours for planning? I knew we'd have lots of questions and ideas to try out. I had thought 4fourhours would be enough time but now I wasn't so sure.
We had big decisions to make: 
Was four hours going to be enough time to design the kitchen we planned to use for the next 20 years?

We'll Design Your Ideal IKEA Kitchen Easily, Affordably, and Online


Our IKEA Kitchen Design Package is everything you need to complete your new kitchen with confidence.
3. There's Fine Print to Read… and Homework to Do
IKEA is pretty clear on what it will and won't do for your kitchen design. Notice that they don't give you a kitchen design like IKD will. They give you a "kitchen cabinet layout."There's a really big difference between those two things.
But I was surprised at how much written homework I had to do. Some of these were questions I wanted to answer with the planning guy's help, not figure out on my own.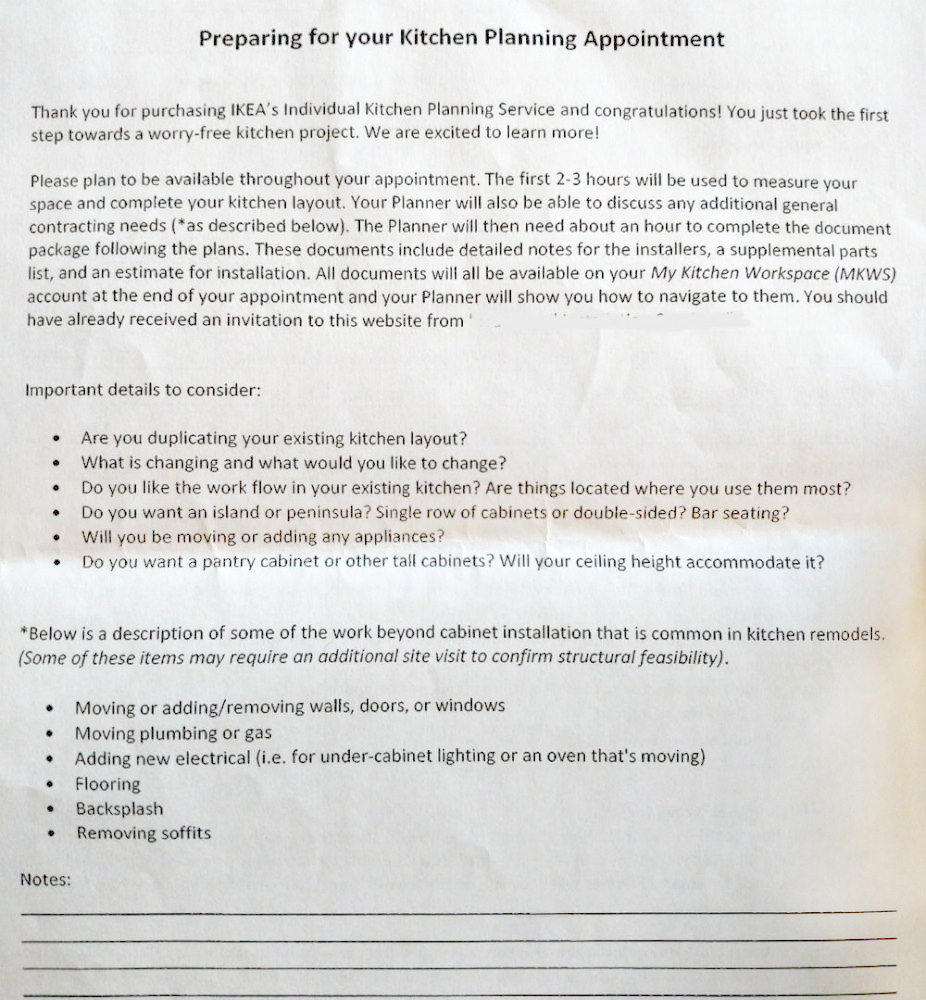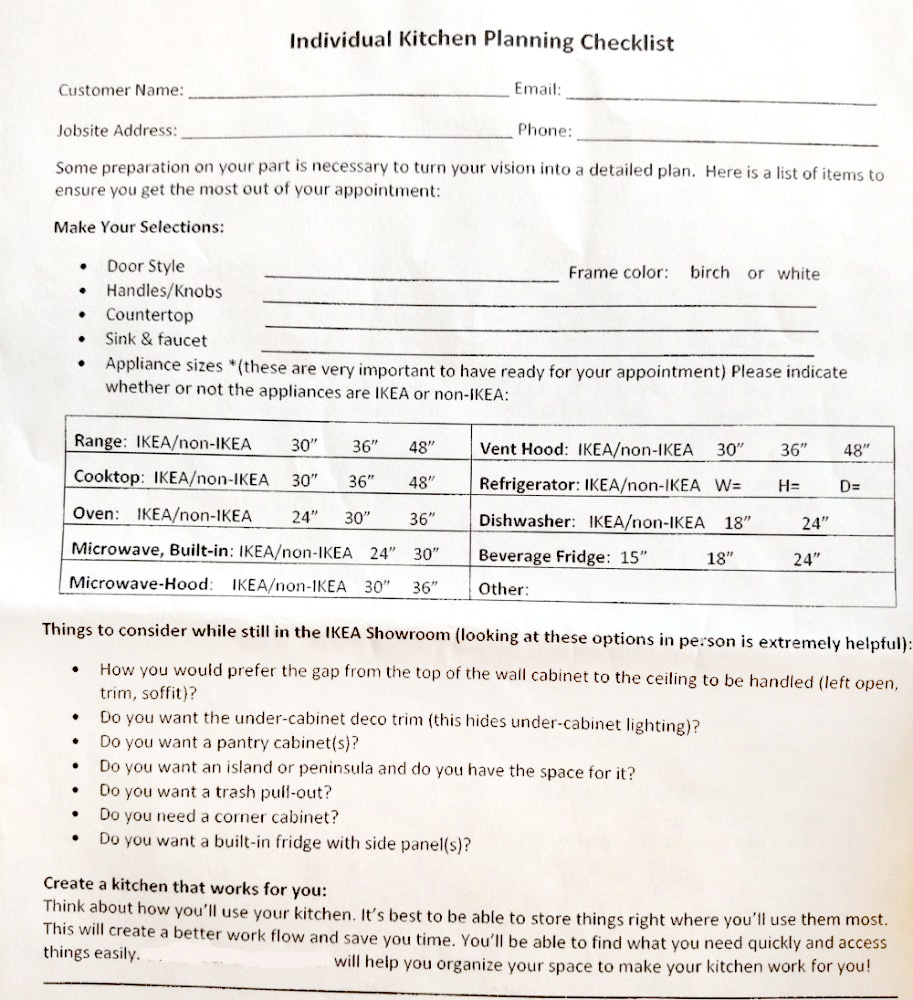 4. Wait, How Much Does the IKEA Planning Service Cost Again?
The IKEA staff person then asked for my address and informed me the charge would be $249. I thought it was $199?
The sales guy explained that the service starts at $199. Because I lived farther away, it was $249.
Of course, in IKEA's eyes, that doesn't really matter. Right now they're offering the deal that if you buy that service and then buy your kitchen before August 1, 2016, they will refund you the cost of the service. Even if it costs more than $199.
I learned at my actual appointment that IKEA makes these price determinations by zones they've set. But, the guy who came to my house actually lived close by. So why did it cost more?
5. If You Don't Have Wi-Fi, Your Kitchen Planning Will Be Done Without You
Then the sales guy asked if I would have Wi-Fi available for the home planning person to use. I said yes, but what would happen if I didn't?
The IKEA guy would come and take measurements, and then take notes on what I wanted. But then he'd have to send me my design. The only way for IKEA to design my kitchen was using the IKEA Home Planner app.
I wondered if other customers were okay with settling for that but I said it wouldn't be a problem. I set up my appointment for a week later.
In Summary – Five Things I Learned About IKEA's In-Person Home Planning Service
It sure seemed suspicious that nobody mentioned the sale. I mean doesn't the sale make people want to buy?
If two of the four planning hours are just spent on measurements, how much help are you really getting?
If you don't do your homework, you're just eating into your four hours. And there's a lot of homework to do.
I wasn't exactly thrilled that it cost me an extra $50 for the service because I live an hour away even though IKEA's service person was close by.
The Wi-Fi thing is pretty important to know. Even if you have Wi-Fi like I do, what if it's not working that day? I'd feel ripped off if I couldn't even sit next to someone.
So How Was IKEA's Planning Service?
Next week I'll write about how the service actually went. So far I wasn't impressed though. The guy I talked to was very hands-off and he didn't exactly inspire confidence.

Get a Professional IKEA Kitchen Design – All Online


Work with our certified designers to get a personalized bathroom designed around your needs and vision. If you're interested in learning more about our service, make sure to check out our IKEA Bathroom Design Services.