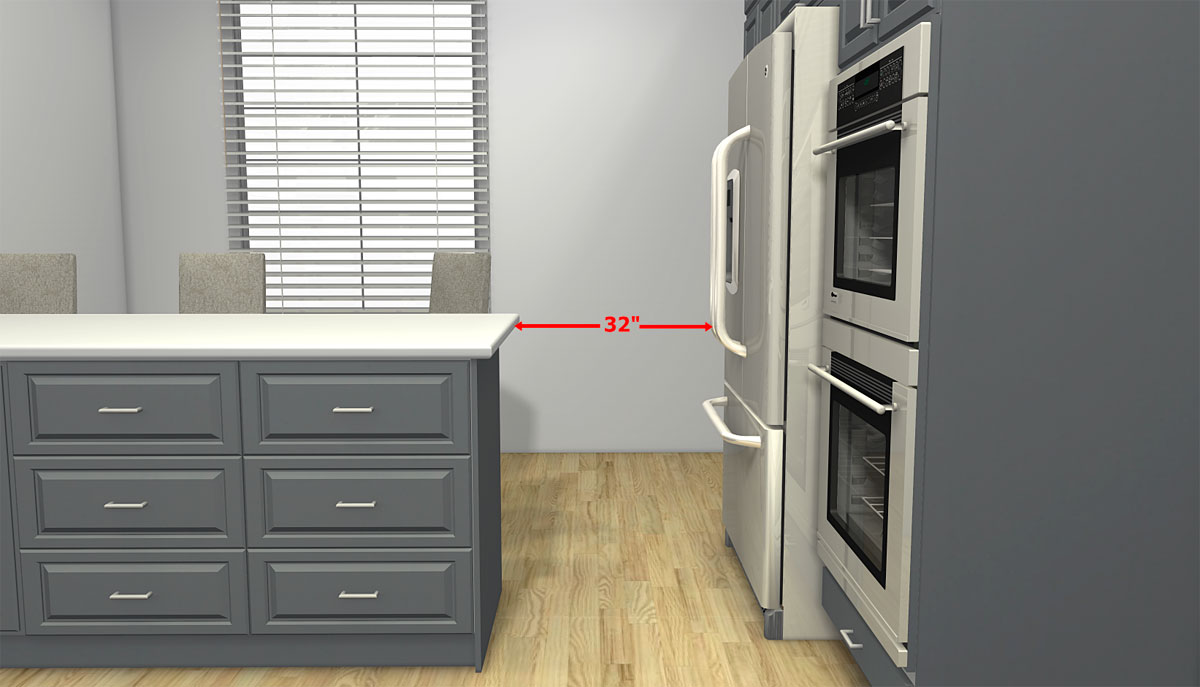 Solutions for Designing a Perfectly Measured IKEA Kitchen Island with Seating
Experienced designers know that every inch counts in an IKEA kitchen design.
That's why some of the most common design mistakes we see in IKEA kitchens by inexperienced designers revolve around not utilizing space properly.
And one of the areas where this is most evident (and damaging!) is with islands.
An island in a small kitchen, for instance, is a very common kitchen design mistake that can really limit your style and workflow options.
As Certified Kitchen Designers, we would like to provide you with a template to reference so that you can avoid some common design mistakes with your kitchen island.
Small Kitchens: How Much Space do You Need for Kitchen Islands with Seating?
Usually when we think of kitchen island designs we generally think of additional storage and an additional preparation surface in the kitchen.
But kitchen islands can take up a lot of space if they're incorporated into a design where they don't belong.
Including an island that interrupts your workflow or placing it in the wrong spot can be a disaster, especially in a smaller kitchen.
Take a look at our first example of an IKEA kitchen that's too small to house an island:
This is a bad kitchen design idea. You don't even have room to open the appliance doors!
Now, take a look at this one. This is the same island within a larger kitchen (150″x150"):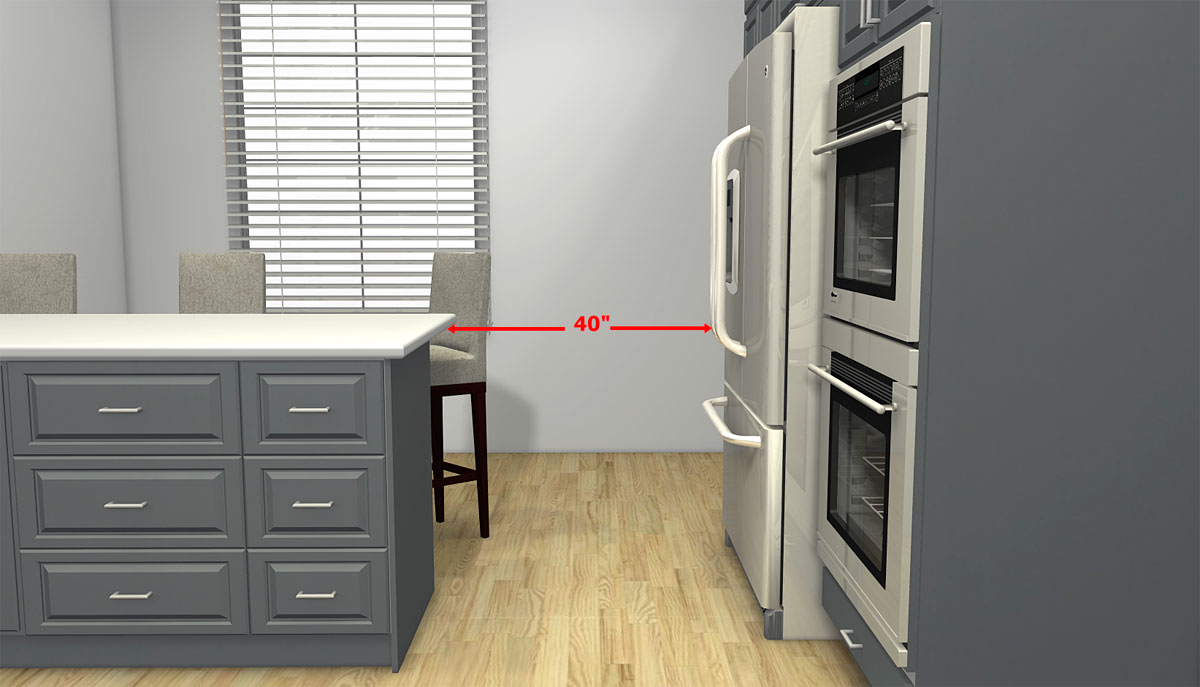 The dimensions of the kitchen are more reasonable, but realistically, the island size is still not very functional even when the space to walk around is adequate.

We'll Design Your Ideal IKEA Kitchen Easily, Affordably, and Online


Our IKEA Kitchen Design Package is everything you need to complete your new kitchen with confidence.
In reality, these would be the minimum dimensions to include a tiny island within your IKEA kitchen.
If you're dreaming of an island that can accommodate your whole family, keep in mind that you'll need a kitchen that's at least 12'-6"x15′-6″ to keep a minimum of 42″ around the area.
The IKEA kitchen is spacious, but remember that not all kitchens can have such a large island.
Design Solution: Freestanding IKEA Kitchen Islands with Seating
One solution for incorporating an island into a smaller kitchen is to include a portable IKEA kitchen island with seating such as the TORNVIKEN or VADHOLMA.
Since this range of kitchen islands comes in a number of different sizes, you can find one that works for the shape and size of your kitchen.
Freestanding IKEA kitchen islands are ideal if you want to add an island on top of flooring, since they are essentially a piece of furniture you can place anywhere you like. They're also great for combining the functionality of an island with a table look.
Ensure Your IKEA Countertop Overhangs Are an Ideal Height and Length
The takeaway here is that islands require more room than most people realize.
And if seating is provided at the island, then a very big IKEA kitchen is needed.
However, if you decide on having a smaller dining area, the countertop overhang is one of the first things to be considered. A well-informed IKEA kitchen designer can recommend how much space to leave for your countertop to achieve comfort and stability.
Our expert IKEA kitchen designer specialists recommend considering the two following points: Countertop height and countertop stability.
With countertop height, remember that the standard tabletop is about 6″ lower than a kitchen countertop height. Normal dining chairs will not work on a kitchen seating area unless the countertop drops down to tabletop height.
That's why people use stools designed for kitchen counter height (36") or for bar height (42").
A countertop is also held in place, for the most part, by gravity. Therefore, an overhang for an island seating area needs to be properly supported.
The standard countertop overhang is 12″. This is the least expensive choice because it requires no additional support and it will provide enough space for dinner.
Keep in mind that a 12" overhang will either need to have brackets supporting it, or have 24" of countertop space resting securely on cabinets behind it. Without correct support, a countertop could be unstable and might even tip if someone were to sit on it.
You can see how it works in these examples: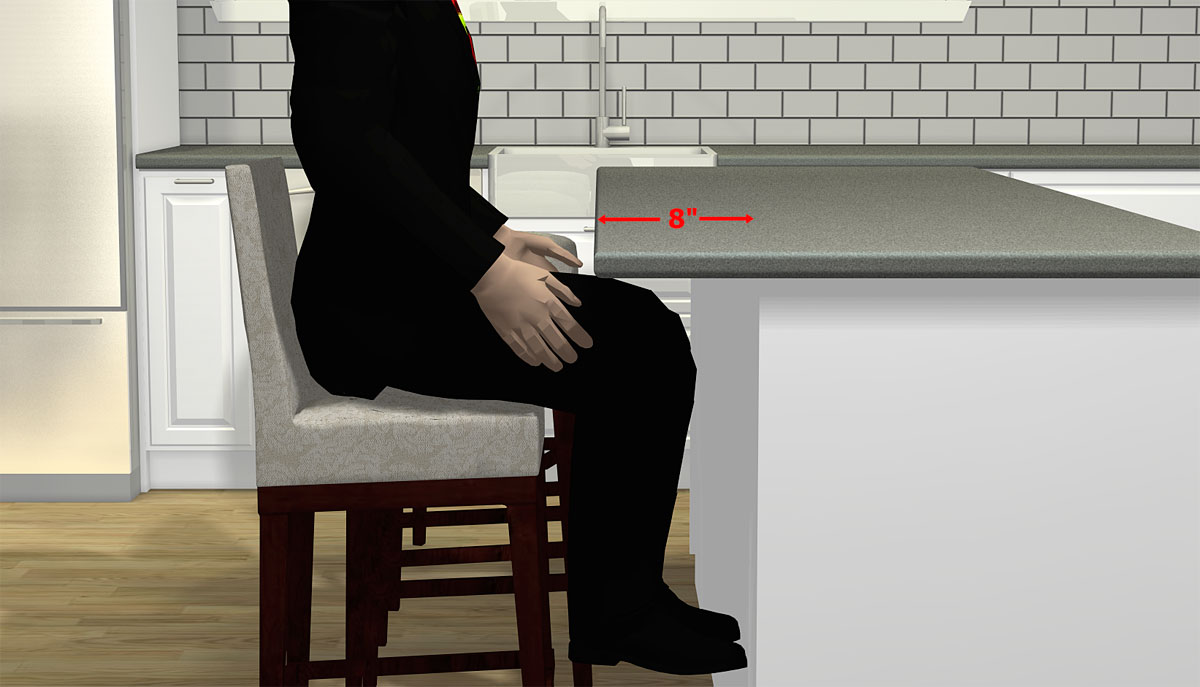 TOO SHORT: Guests will have to hunch to reach out for food that's 10″ away and plates will barely fit here.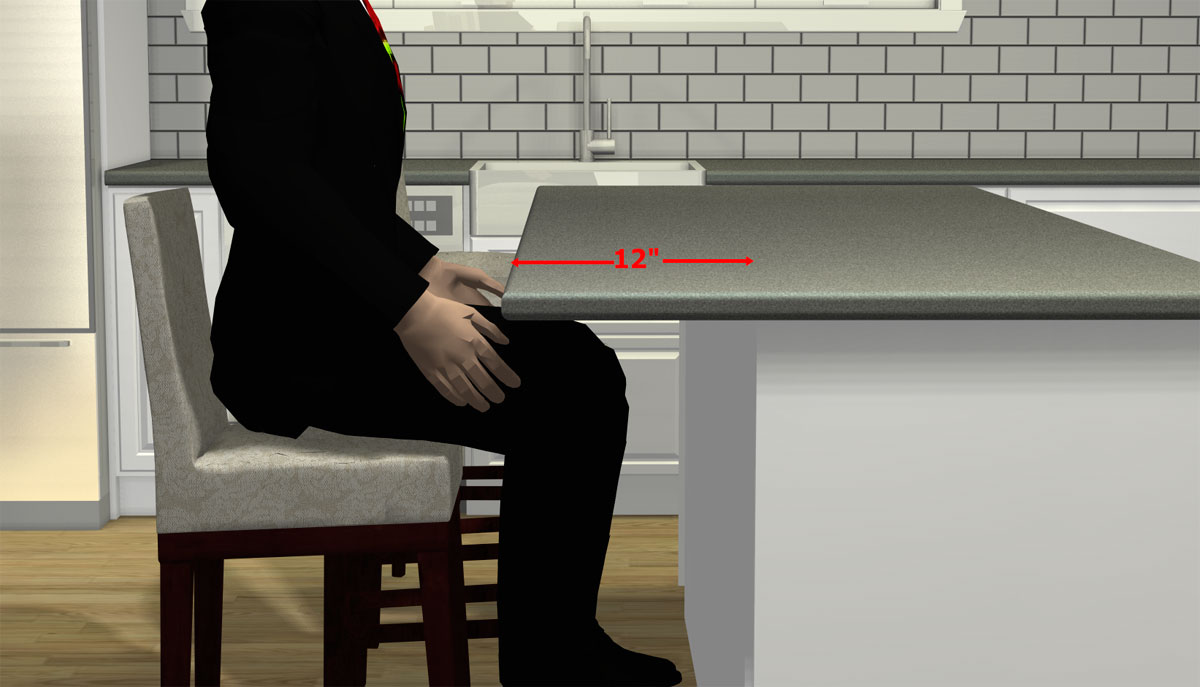 IDEAL: This length is perfect both for guests and host. There's enough space and it's easy to reach out for dinner here.
Leave Space for Movement and Functionality
Along the same line, we see too many examples of kitchen designs where designers forget to leave enough circulation space between cabinets, and between cabinets and appliances.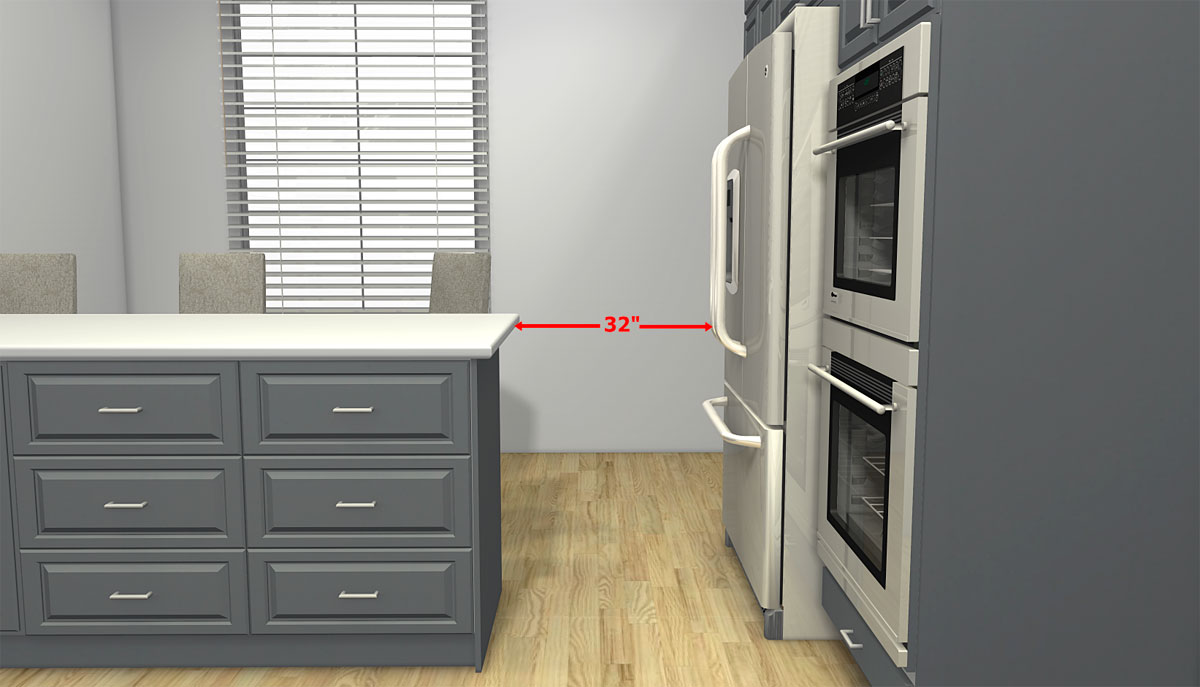 As shown above, any refrigerator is inaccessible when there's only 32" of free space.
Our IKEA designers weren't thrilled about placing a refrigerator perpendicular to the end of a peninsula – but the client insisted.
The only remedy was to increase the opening space from 32" to 40" to at least leave space to access and remove food.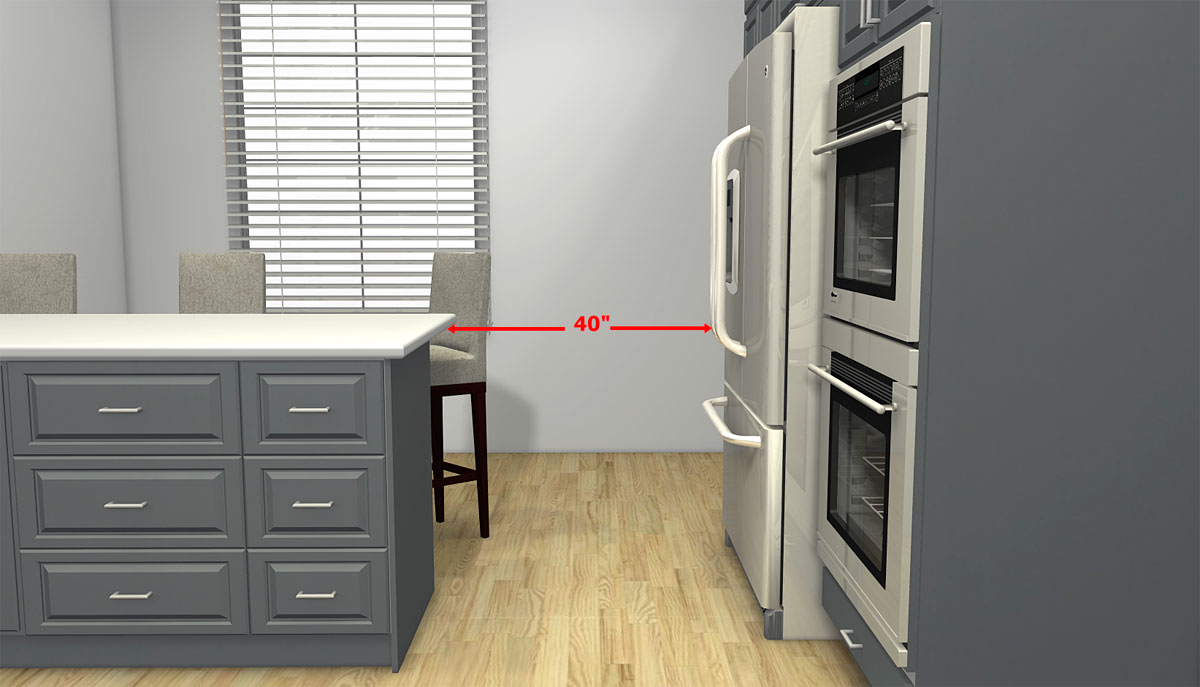 So, remember that just as a penny saved is a penny earned, the same holds true for every inch in your IKEA kitchen. And knowing when to – and when not to include an island – will make all the difference.

Get a Professional IKEA Kitchen Design – All Online


Work with our certified designers to get a personalized bathroom designed around your needs and vision. If you're interested in learning more about our service, make sure to check out our IKEA Bathroom Design Services.