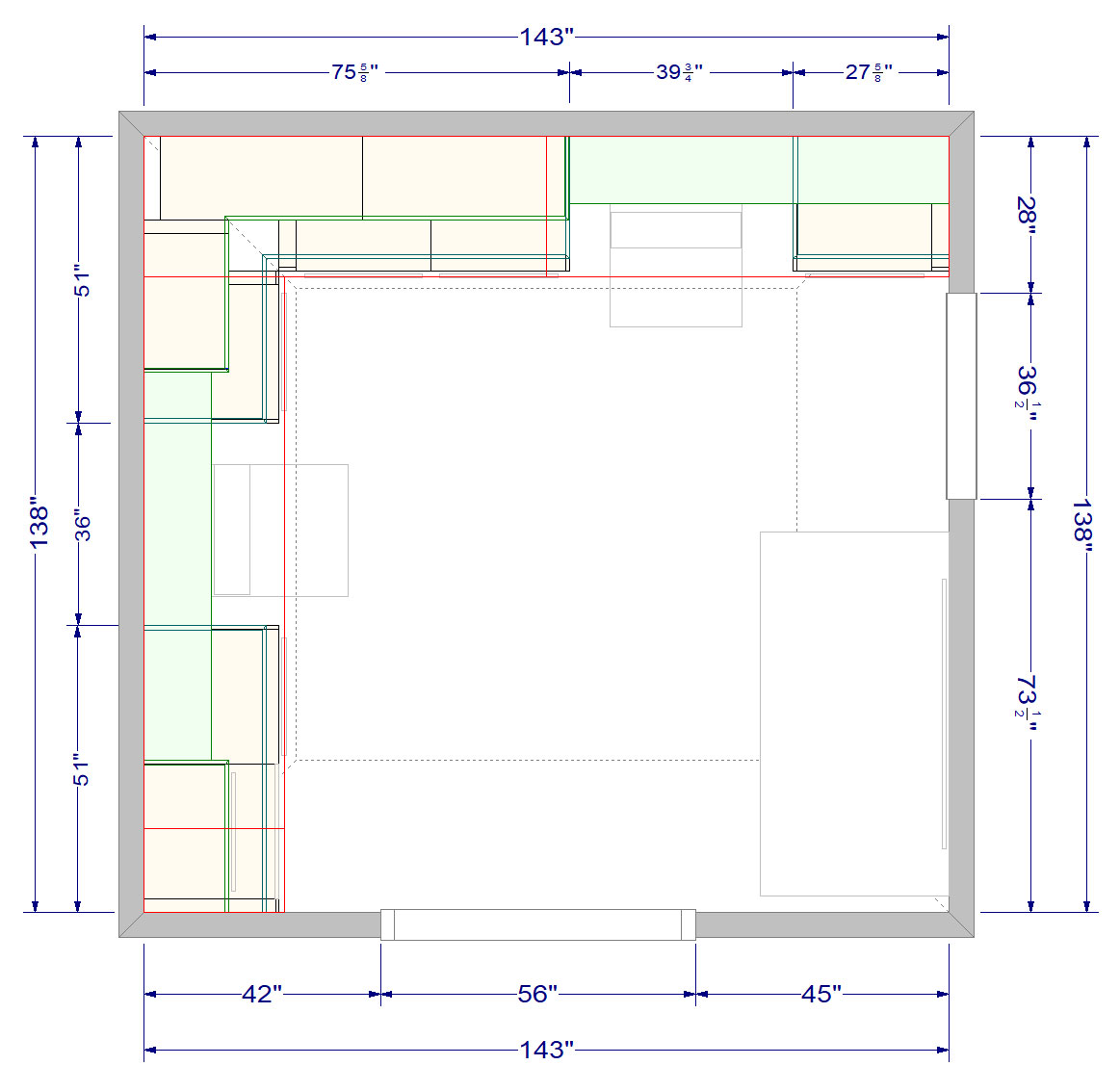 Designing Home Offices is as detailed as Kitchen Designs
Home is where the heart is, and an IKEA home office is where the work gets done!
According to our design team, a home office project is an ideal area for IKEA customers to boost their productivity while adding style and efficiency to their home (and potentially adding resale value as well). That said, there are two recent IKEA home office projects we've completed — one for IKD customers Nicholas and Javier from Portland, OR; and the other for customer Ken from Tenafly, NJ, which combine IKEA SEKTION cabinetry framework with IKEA cabinets to create stylish, functional and cost-effective home office designs.
Javier explains: "Ours was a new build home that we'd been planning for a long, long time. Both my husband and I work from home and have for years. We desperately wanted our new design to provide more space with a large desk area for each of us — mainly so we would get along better!" So, IKD designer Merari took advantage of the home's tall 10' ceilings and recommended IKEA's SEKTION cabinetry framework with IKEA's high-gloss RINGHULT cabinet doors for the upper cabinets along with custom base cabinets to house (and conceal) the printer. This was complemented with plenty of counter space to create adjacent — and clearly defined — work spaces.
Likewise, our job for IKD customer Ken was to re-envision and organize his existing 84-square foot home office space with IKEA cabinets and make it an appealing area for him to work in again. Ken's home office features white IKEA AXSTAD cabinets for the upper and base cabinets to establish a sturdy and open area for his standing desk unit. This desk unit which includes a simple door and drawer fronts and a file cabinet drawer with matte brass cabinet pulls. "I can finally enjoy my home work area again and find everything that I need without feeling overwhelmed," Ken notes. And, this was accomplished for well under $3,000!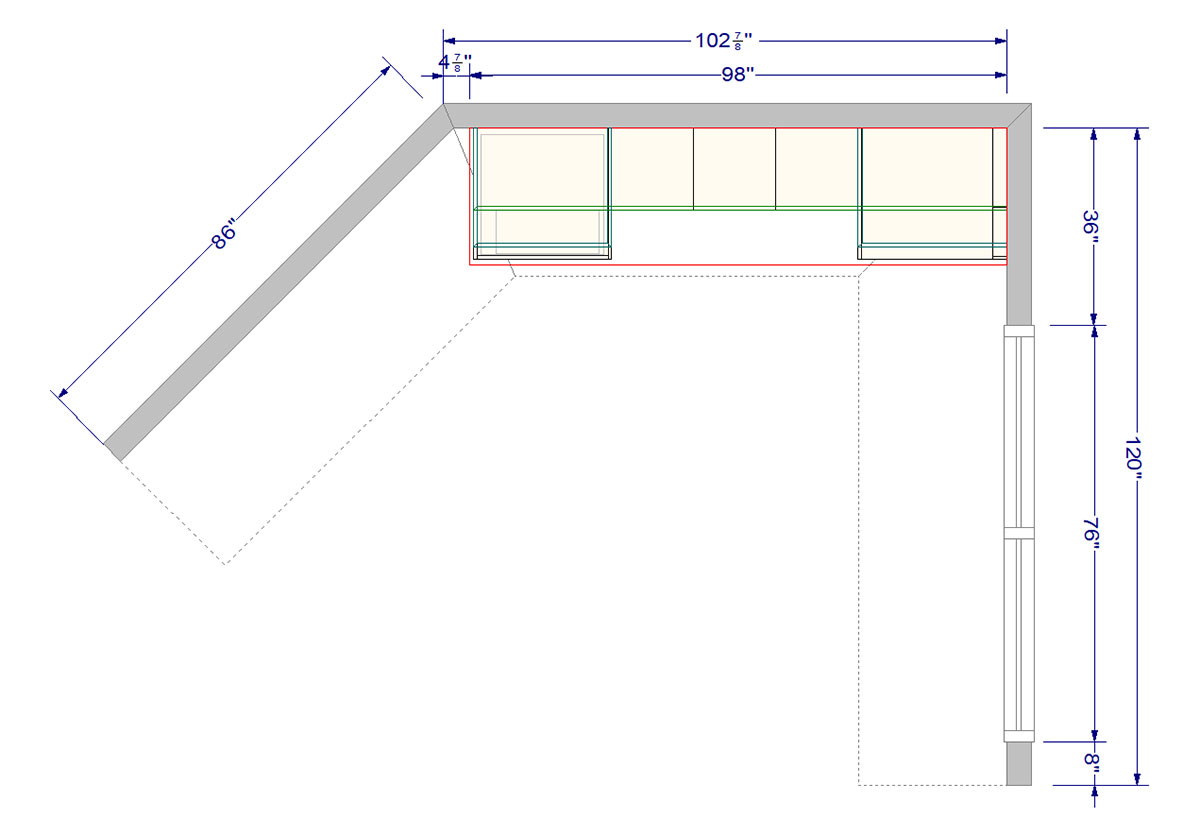 That said, these two home office projects truly reflect the stylish and cost-effective possibilities available with IKEA cabinets in other room applications. IKEA cabinets are not just for kitchens! So, IKEA customers who've been researching examples of home office designs on design Web sites like HOUZZ and Pinterest will definitely find added inspiration for their home office project here.
Let's take a look!
Decluttering the Space
When you work from home full-time, you want a home office that is intuitive and stress free.
This was the definitely case for IKD customers Nicholas and Javier who embarked on an IKEA home office as part of their new build home project — and they had a very specific vision. "Our past home was too cluttered with too much dark wood, which gave our home office a dungeon-like feeling. Our new home office has 10′ ceilings so that opened and brightened up the space," Javier says, adding that he and his husband requested minimalistic and clean lines.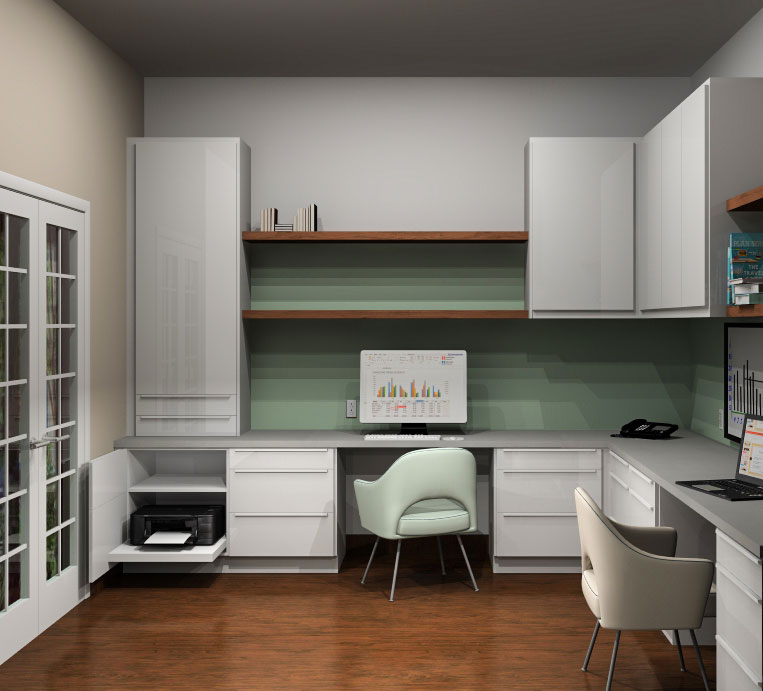 Taking advantage of the ceilings, they paired IKEA's SEKTION cabinetry framework with IKEA's High Gloss RINGHULT doors for the upper cabinets along with custom base cabinets and walnut-toned floating shelves. The wall cabinets feature Push-to-Open openers and IKEA BILLSBORO white cabinet pulls. "We wanted plenty of white in the layout but also wanted to offset it with some natural wood tones on the countertops (ideal for placing colorful decorative, large vases where possible). Regarding the custom base cabinets, Merari notes: "They wanted a 30″ high working surface, so all six base cabinets were reduced from standard 30″(H)x24″(D)x24″(W) to just 25″(H) then added in Toe Kick and countertop. We custom configured and stacked 30″(H)x15″(D)x30″(W) and 30″(H)x15″(D)x40″(H) wall cabinets into a single 70″ tall cabinet to sit atop the countertop with a single door. This is complemented by two drawers at the bottom as well. An easy to implement IKEA cabinet hack." Overall, 11 cabinets and seven panels were used to complete this home office. In total, IKEA's cabinets cost $3,286, all the extras $1,669 and the countertops costed $977, for a total of $5,932 — well below the couple's original budget of $8,000!
To address the need for an open, uncluttered feel, the design called for "stealing" space (about 137 square feet) from the adjacent living room. This turned out to as a perfect amount to fit a small sofa to be comfortable sitting for long ZOOM meetings. Javier adds: "Uncluttered countertops were a must and we didn't want to see a clunky printer on it. So we asked IKD's designer to place our large printer in a base cabinet on an internal roll-out drawer, completely concealed with a door."
Javier does note that the couple had one other concern when the project began. "We didn't want our home office to look like a kitchen. We wanted an open feel, so we nixed the idea of too many wall cabinets. To that end, they selected IKEA's BARKABODA Walnut wood countertops (lengths of 74″ and 98″ respectively), including a 1″ countertop thickness and 4″ toe kick area.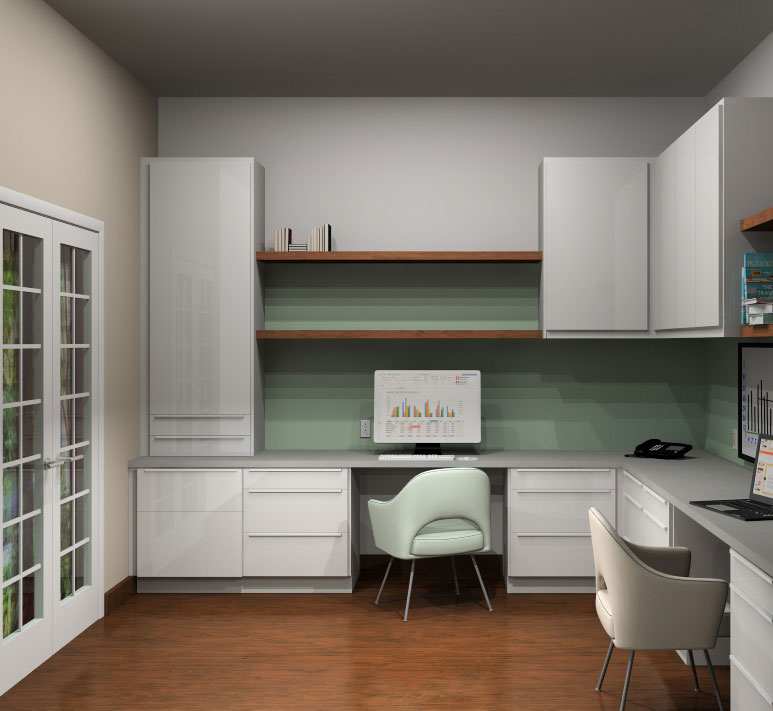 He concludes: "We couldn't be happier with the results of our IKEA home office. Despite our initial concerns, IKEA's SEKTION cabinets really are ideal for home offices and the best part is they are customizable! Thank you IKD for helping a couple who works full-time at home to become more productive and happy!"
Work Smarter, Not Harder
Simplicity was the key for IKD customer Ken's IKEA home office.
He explains: "My original home office area had become unbearable. As a sales rep, there were piles of product samples on shelves and floor and my standing desk unit was about to topple over. I felt like I was working in my company's supply room — which kind of defeated the purpose." So after finding IKD online, Ken began working with designer Richard and selected IKEA SEKTION cabinetry framework with IKEA AXSTAD cabinets with white doors for the upper and base cabinets along with a Karby Walnut wood work surface to create a natural warmth in the space.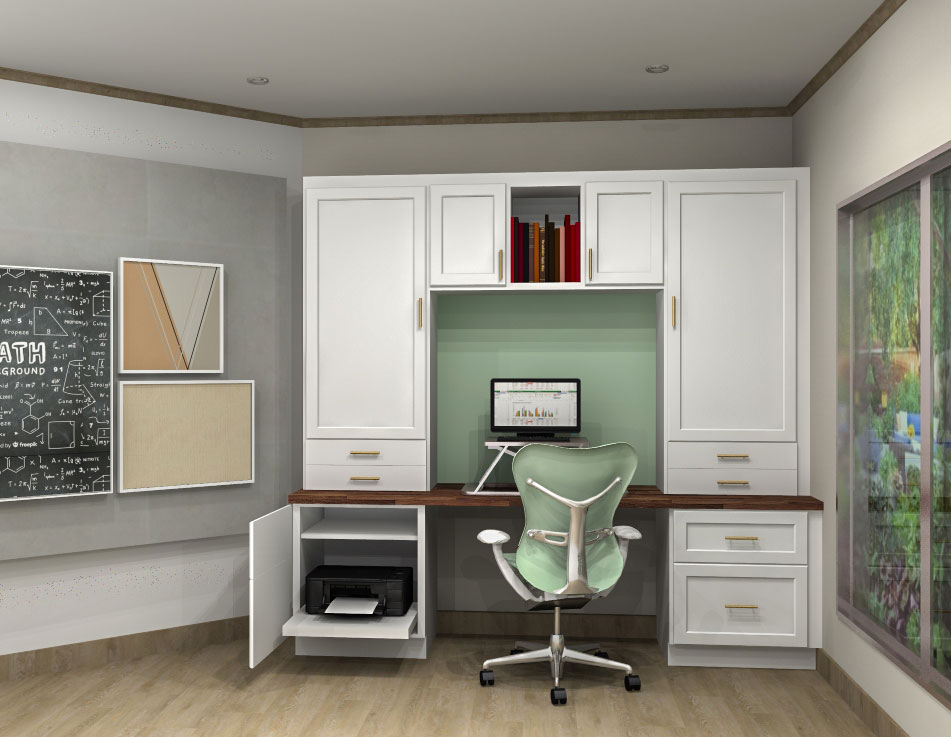 Specifically, Richard designed a 98″ long wood countertop with two 24″ wall cabinet towers placed atop. This left 50″ of open space for the standing desk unit. "We then created a 'bridge' connecting the towers, which is ideal extra storage for laptops, files office supplies and other electronic devices the client may need," he explains. In fact, the towers were custom configurations, 24″(W)x60″(H), with a single 50″ door and two 5″ drawers at the bottom. "We achieved this by stacking two 30″(H) cabinets; placing the two 5″ drawers inside and adding 60″(H)x15″9D) panels on each side. In addition, we designed a pull-out drawer to accommodate storage for Ken's printer and hid it behind a door in the base cabinets," Richard adds. In fact, each of the two base cabinets were reduced from standard 30″(H)x24″(D)x24″(W) to just 25″(H) with the final 31″ height including a 1″ countertop thickness and 4″ toe kick area. To put finishing touches on the design, Richard also placed some LED units on top of the 91″ tall tower cabinets, highlighting the 108″ high ceiling and highlighting below the bridge cabinets.
Overall, there were only nine cabinets in the entire design, with a cost of $1,153 for the cabinets and $1,399 for all extras needed to create the unique configurations, hacks and eight panels. Impressively, the total cost for this IKEA home office was only $2,552 — well below Ken's original budget of $3,000!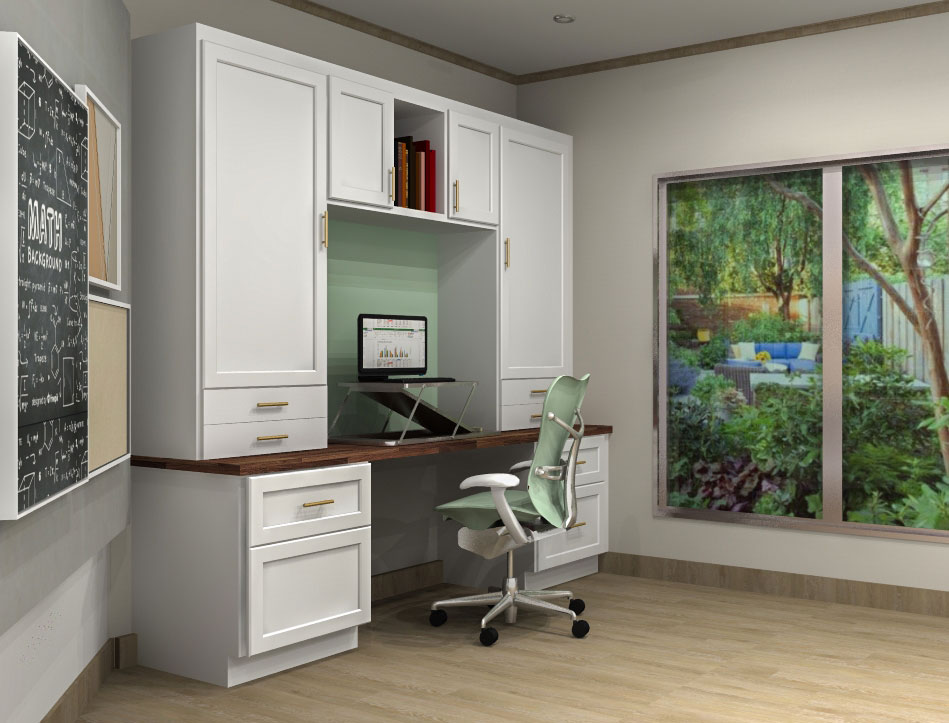 As you can see, it's very possible to add IKEA cabinets in unique ways for (almost) any room in the home. Our designers are here to guide you through the design process and to make sure that whichever space you want to remodel, it'll work for you!
IKD's Summary: These two home office projects both used IKEA cabinets and custom base cabinet configurations to create efficient and affordable spaces. Combining the clean looks of IKEA's RINGHULT and IKEA's AXSTAD cabinets with walnut countertops created a balance and warmth without compromising on storage possibilities.
Learn more about how we can design your IKEA kitchen, bath, laundry room and other rooms at inspiredkitchendesign.com.