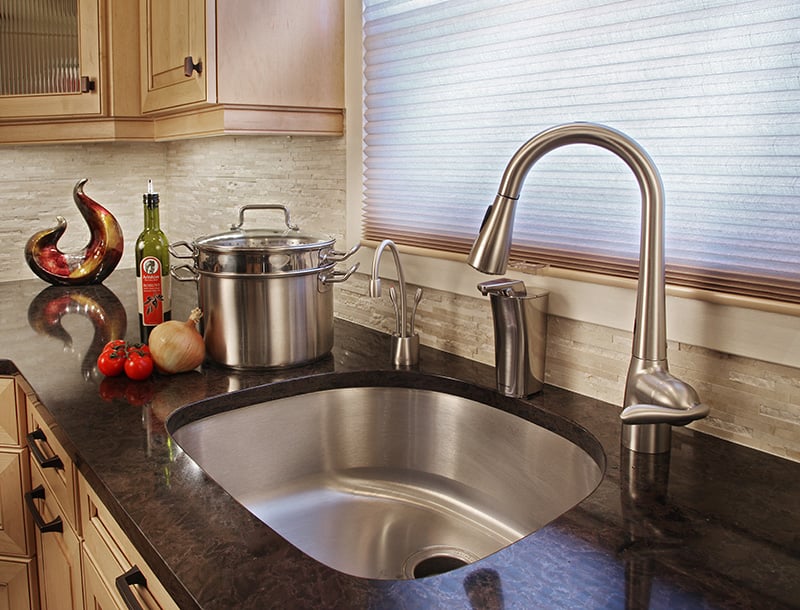 Stainless steel sinks have served as workhorses in the contemporary kitchen design world for over a century now. And, while they'll always be a timeless feature – especially for those on a budget or who need a sink that can stand the test of time – some homeowners are bypassing stainless steel and looking towards the latest trends in kitchen sinks. 
Now, don't get us wrong. We're not saying stainless steel sinks are going out of style; they're similar to white kitchens – a.k.a. "always in style." But, based on some of our customers' recent choices, those that choose to pass on stainless sink options seem to prefer innovative alternatives that add a little more color to their kitchen design.
Scouring Different Sink Options for Your Kitchen Remodel
Here, we take a look at some trends that go beyond stainless steel and into alternative materials, as well as finishes, that can add a little something extra to your kitchen sink.
Farmhouse Sinks
Farmhouse sinks continue to trend because they really are versatile – working with both traditional and modern design styles. Plus their big, open container-like basins can accommodate dishes from even the busiest kitchens. Until recently, farmhouse sinks were largely available in either stainless steel or white porcelain. Now, they're offered in a range of finishes, including fired clay, natural stone, copper and even wood!
Textured Apron Fronts


While we're on the subject of farmhouse sink variety, we can't ignore the increase in textured "apron fronts," which are the facing section of the farmhouse sink exposed in the front of the countertop.
Most are part of the permanent sink design, but we appreciate the Elkay Crosstown Kitchen Sink Apron Cover for an interchangeable apron option. Stainless Steel Farmhouse Sink with Interchangeable Apron. Now you can have the best of all worlds, including apron fronts that reflect fluctuating kitchen design trends.
Work Station Sinks & Accessories
Workstation sinks enhance the function of any kitchen and are particularly beneficial in smaller spaces and accessible kitchen designs. Slide-over cutting boards, drainboards and colander inserts not only optimize  functionality but also help to keep kitchen messes to a minimum. Accompanying racks can also keep food items or metal cook/dishware off the surface of the sink, which makes it easier to preserve the brand-new look of porcelain or other light-colored sink finishes.
Stone Finish Sinks
Speaking of different finishes, that leads us to granite sinks. While these aren't actually made entirely of granite, composite sink options do include flecks and crystals from granite and other natural stones. As a result, homeowners can enjoy a non-porous (meaning more hygienic) sink in just about any shade and finish they desire, including natural stone looks.
Many homeowners who choose granite or quartz slabs appreciate the fact that their sink can blend seamlessly with their countertop. Another benefit of granite and quartz sinks? They can work in almost any space, making them extremely functional and available in unique styles and shapes.  
Seamless Sink Integration
While traditional kitchen designs embrace more textures, decorative elements and a bit of eclectic "mix and matching" or "intentional imperfections," devoted modernists and some homeowners simply prefer kitchens that are as seamless as possible. 
If this is the case for you, go beyond the sink options you may know, and look to seamless sink integration. From a health-conscious standpoint, countertop and sink joints, or seams, are places where grime, food debris, moisture and mold/mildew can collect. So, we give kudos to DuPont for mastering the integrated Corian solid surface sink concept.
Ready for a Change?
If you like stainless steel sinks, we're here for it. And, if stainless finishes aren't your cup of tea, Kitchen Magic has plenty of other options to choose from. Our experts are here to help you make the most out of your kitchen remodel – no matter how big or small the project. Explore how you can change the way your kitchen looks and functions with a free design consultation. It's fun, informative and completely free! Just give us a call at 866-525-7999, or click here to schedule your free design consultation with us today!