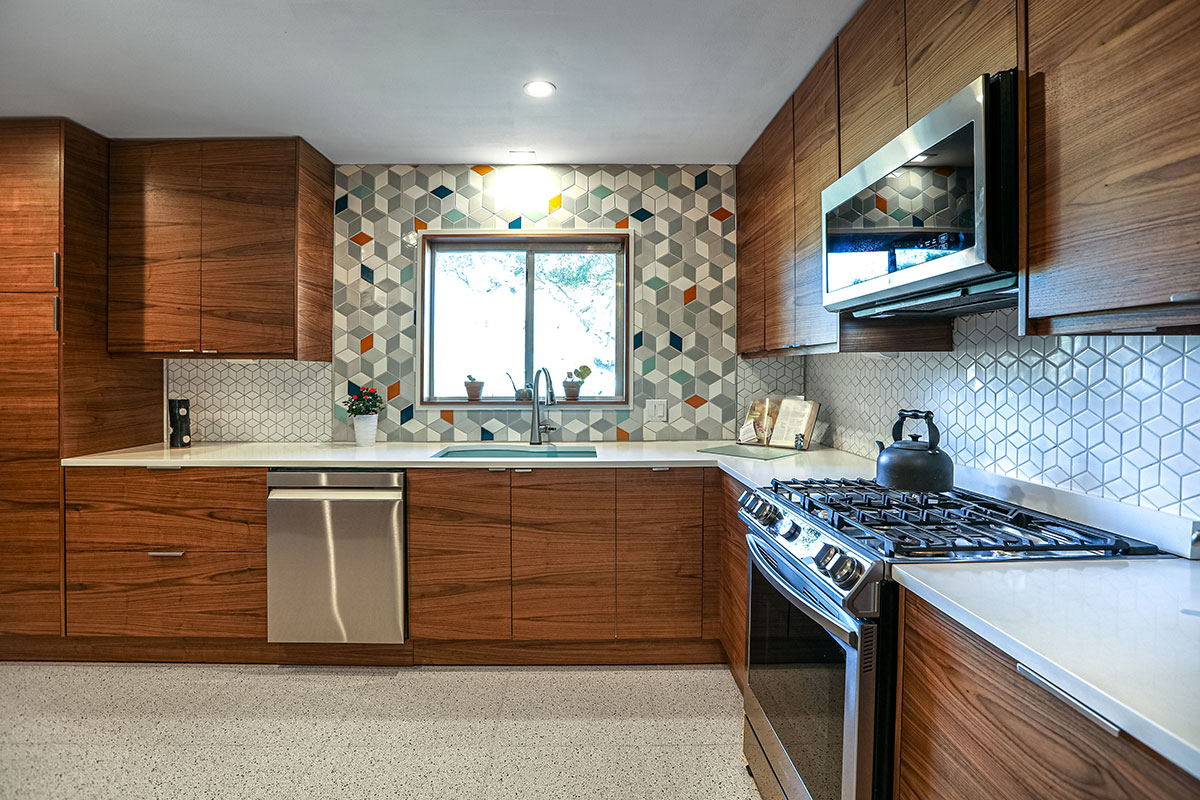 Reviewing how a DIY kitchen remodel can create a retro look
For IKD customer John his IKEA kitchen remodel wasn't just big on style, it was Texas-sized style.
"We're based in a suburb of Houston that is trying to preserve Mid-Century Modern houses from the 1950's and 60's. We really wanted a modern design with retro touches and we had a strong preference for wood doors. From a functional standpoint, we wanted an appliance garage [to house] our toaster oven, toaster and coffee maker. We were able to achieve all these goals with IKEA cabinets which were upgraded with Semihandmade doors," he explains.
In fact,it was while researching custom cabinets from Semihandmade (SHM) that John was referred to IKD's design services. With guidance from IKD designer Alonzo he enhanced the sprawling footprint of his original kitchen (the kitchen connects to the adjacent living room) by combining IKEA's SEKTION cabinetry framework with SHM cabinets in horizontal Classic Walnut. The look is complemented by IKEA quartz countertops featured around the perimeter of the kitchen; IKEA's MAXIMERA drawersin the base cabinets and IKEA's UTRUSTA push open doors as well.The kitchen also features several stainless steel appliances from Samsung, including a Linear Wash 39 dBA Dishwasher; an Over-The-Range Microwave; a Front Control Slide-in Gas Range with Smart Dial & Air Fry and a 23 cu. Ft. Capacity Counter-Depth, 4-Door Refrigerator. And impressively, the entire project was completed for less than $30,000; comfortably under John's budget."We were actually close to [our budget] number, which I think is good considering the kitchen is large, and we splurged on a few items like the horizontal walnut doors and the custom tile around the sink," he says.(Note: IKD has been referenced by Martha Stewart Living as experts on how to reduce kitchen renovation costs.)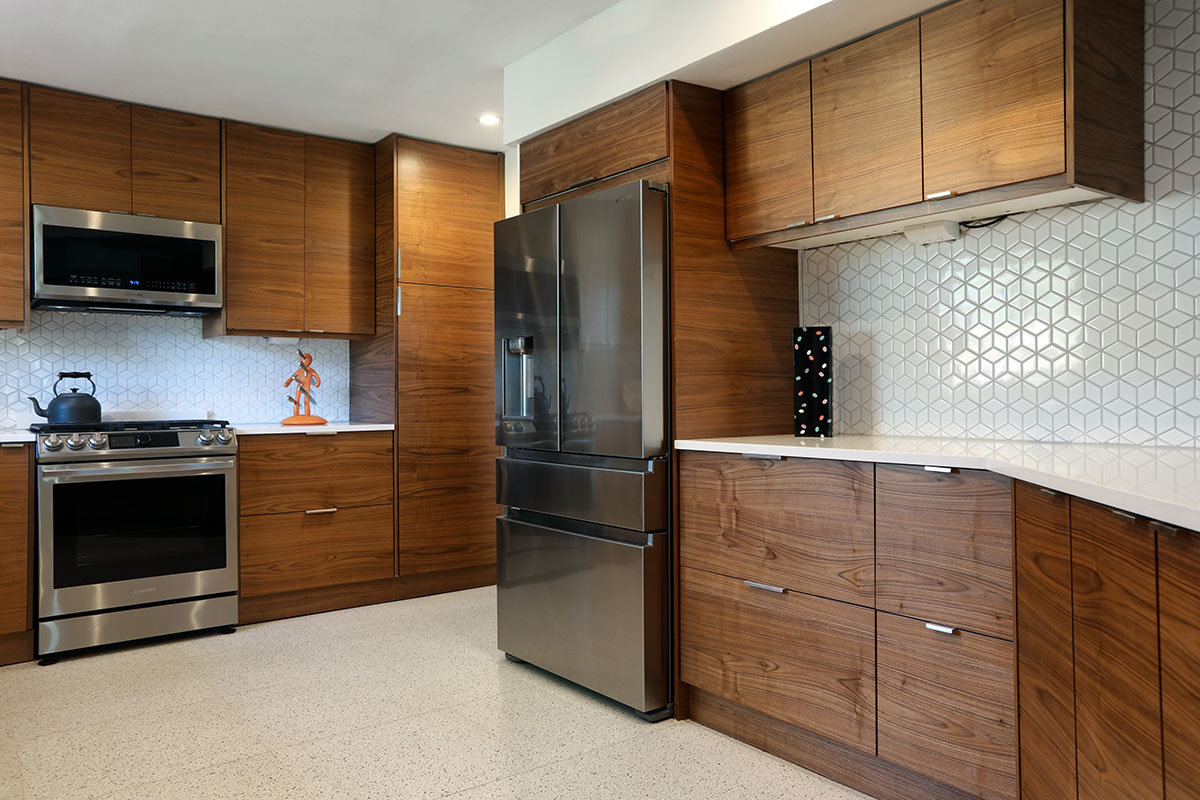 Even more impressive is that John installed the cabinets himself.He explains: "We worked within the boundaries of the existing kitchen, so the existing flow did not change much. I even wired the kitchen for undercounter lighting.We updated the space with custom tile from Mercury Mosaics for the backsplash and — for a unique touch — used extra wood panels from the cabinet kick panel for the window frame."The result is a warm and natural, Mid-Century Modern design befitting the character of his Texas town.
Let's see how John's IKEA kitchen came together!
Custom Retro Style Cabinets
John's IKEA cabinet choices reflected his retro and modern sensibilities.
He explains: "I read an article on HOUZZ about upgrading IKEA cabinets with customized doors. I liked the idea of installing the kitchen myself, but wanted good quality materials.We purchased the doors from Semihandmade because they sell more varieties of colors and wood grain than IKEA's options." Specifically, there are two tall floor-to-ceiling cabinets in the space — one is a pantry, and the other is the appliance garage, plus additional storage.The two tall cabinets are found on each end of the kitchen perimeter, with upper and base cabinets located throughout, such as on either side of the dishwasher, below the kitchen sink and past the gas range and microwave. This creates a clean, seamless look while providing storage for plates, cutlery, non-perishable food items and glassware, among others.There is also plenty of counter surface for food prep and additional room for a coffee maker, cookbooks and cooking wines.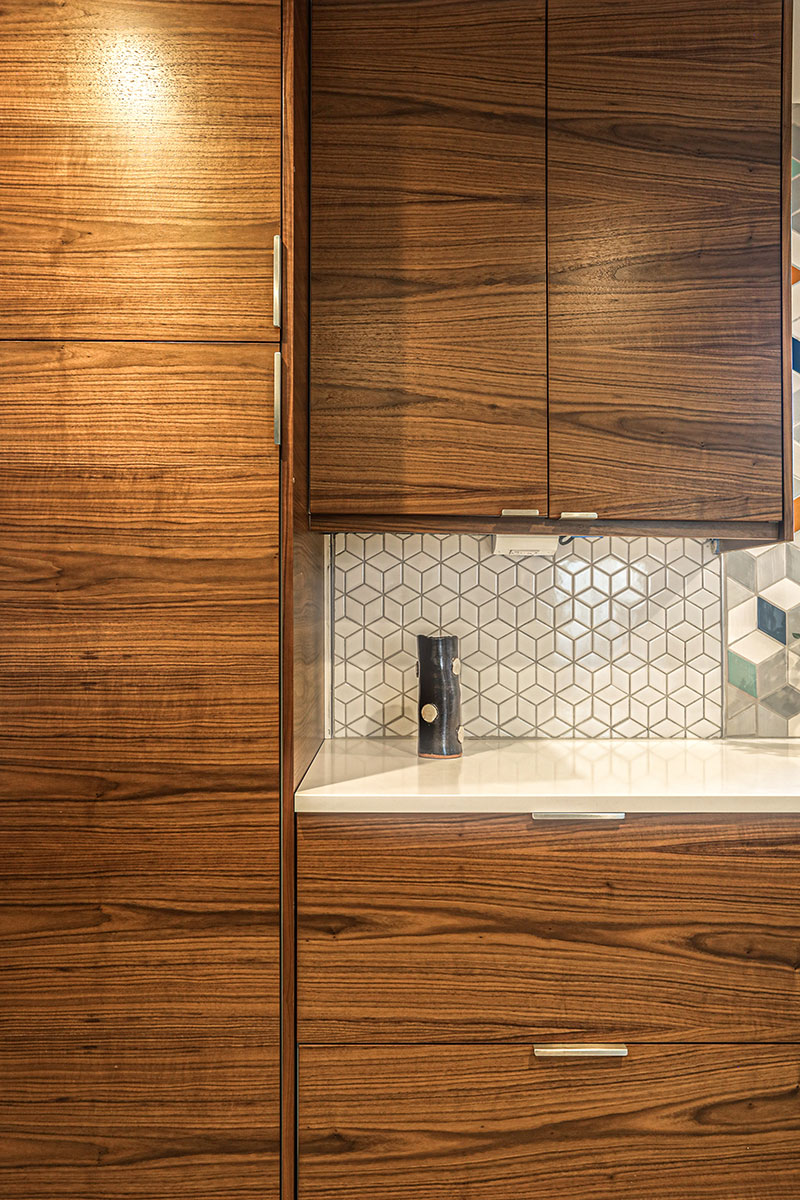 "We were also excited to have a kitchen window, which became the 'feature' of the kitchen," he notes, citing the abundance of natural light as well as the unique custom tile design with isometric blocks that surrounds the kitchen window over the sink.Notably, all of the IKEA cabinets and the extra items (such as the IKEA FORBATTRA toekick and SEKTION legs) only costed a total of $4,109.62.
He concludes: "This kitchen is sleek with minimal embellishments. We wanted horizontal wood grain to complement the horizontal stone and windows of the house. We also utilized IKEA's drawer within a drawer to minimize the number of cabinet door panels. The cabinet door pulls are low profile to keep the look clean as well."
Working Out The Kitchen Remodel Layout
Another unique aspect of this IKEA kitchen remodel was also one of its most challenging.
John explains: "The biggest obstacle was working with an angled bar that connects the living room and kitchen areas."Instead of removing the bar, John opted to further incorporate it into the design, adding more base cabinet drawers with Classic Walnut fronts which are complemented by the IKEA quartz countertops as well as natural stone that is featured on the bar as well. The base cabinet drawers run from the bar area to the stainless steel refrigerator (and above it as well), providing additional storage options and making the work triangle much more efficient as well.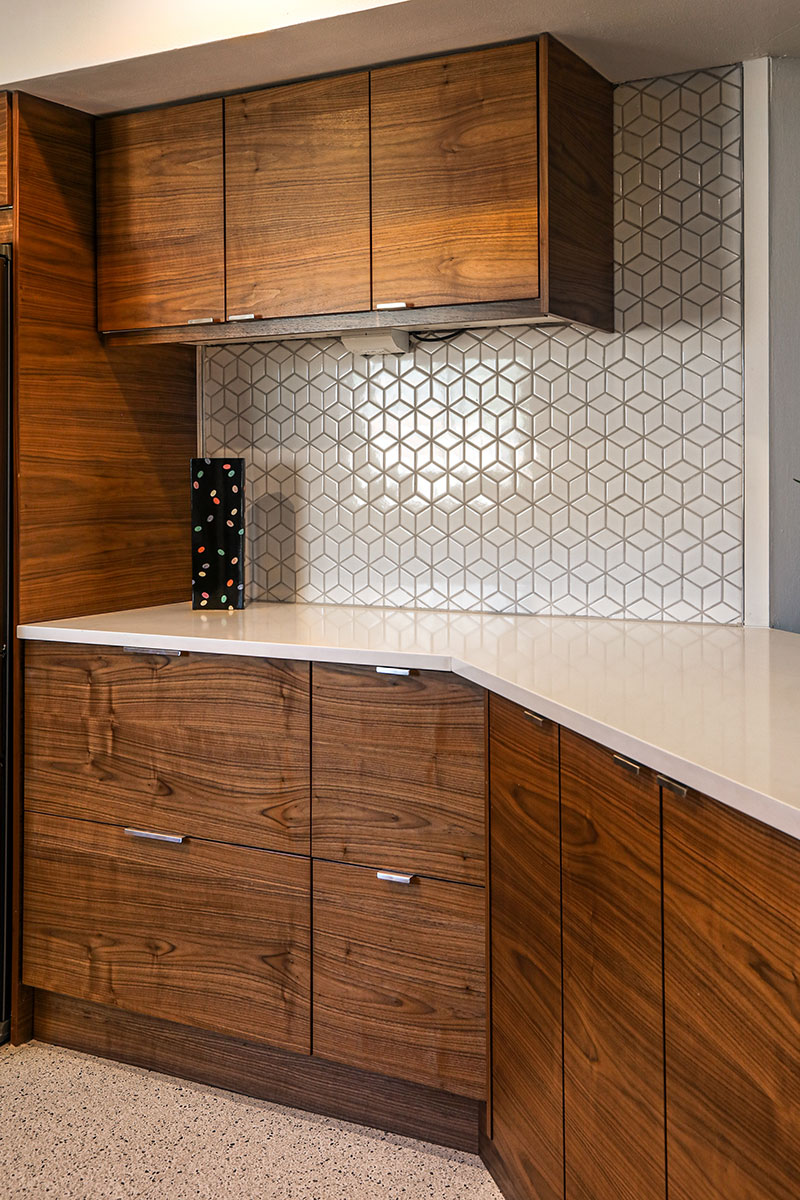 He concludes: "The new kitchen has great storage. Most of the lower base cabinets are drawers and utilization of lower pullout drawers is a huge improvement over using lower cabinets with shelves [which we considered]."
IKEA DIY Advice
After his successful DIY project, John offered to share some practical advice for other IKEA DIYers.
He explains: "A finishing nail gun was a great help for this project. It saved a lot of time with the back panel of cabinets and trim. Also, when in doubt go to YouTube. There are some great videos to support your project."
John says that working with kitchen design professionals, like IKD, made a huge difference in his kitchen project. "I'm very happy that I used IKD. It gave me confidence that we had a good design."In fact, he says it motivated him to remove a few cabinets to open up space around the sink and window rather than cover every wall space with cabinets. "Also, the purchase [Extra Items] list that IKD provides got me everything I needed, without having to second guess the order at all [which made installing the kitchen easier]," he concludes.
Learn more about how we can design your IKEA kitchen, bath, laundry room and other rooms at inspiredkitchendesign.com.