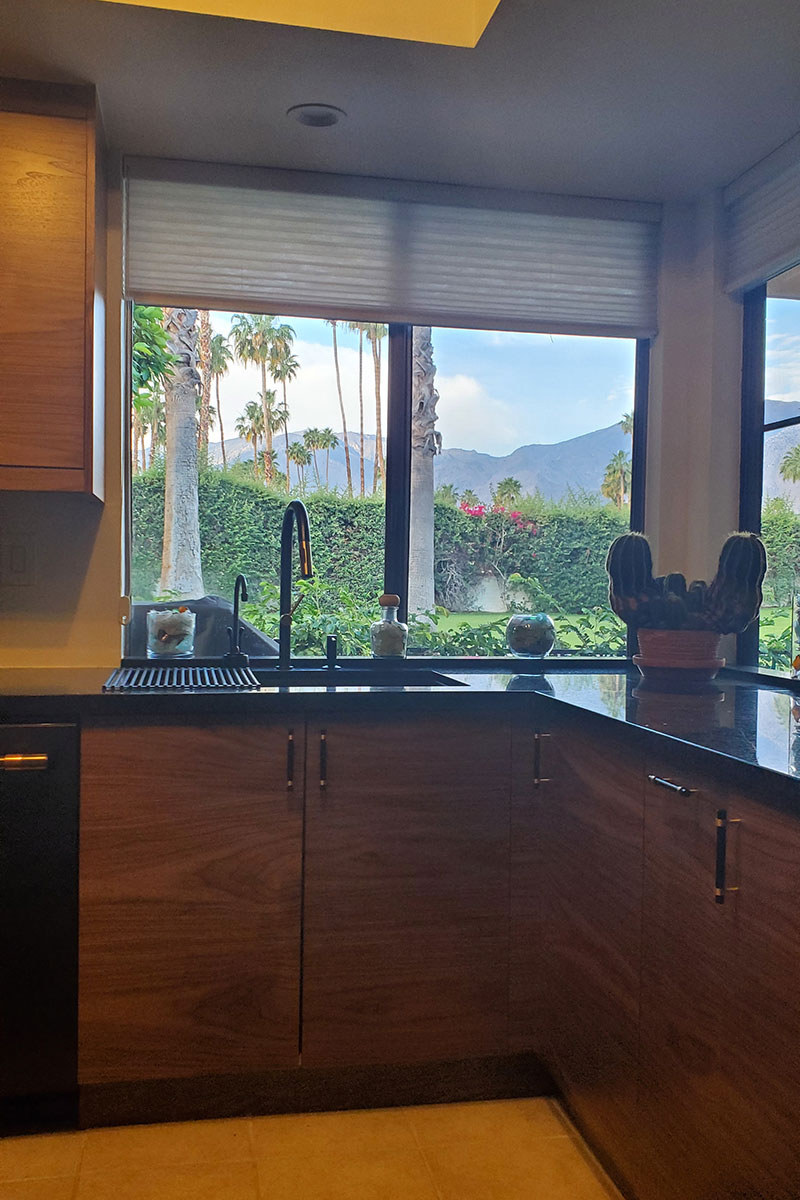 A review of an IKEA kitchen featuring Semihandmade custom doors.
Some IKEA kitchens simply raise the bar. This was definitely the case for this Mid-Century Modern IKEA kitchen and bar area recently designed for IKD customer Barbara from Palm Springs, CA.
She explains: "We wanted a classic look that would fit in with the design of [our] condo and not feel too trendy or something I would grow tired of. I know Mid Century can almost sound cliché today, but in Palm Springs it's a classic look that never goes out of style!"
So, after finding IKD online and with a budget of $45,000, Barbara worked with IKD designer Richard to combine IKEA's SEKTION cabinetry framework with Semihandmade (SHM) Walnut veneer fronts for the upper and base cabinets in the kitchen. The walnut doors were also featured in the base cabinets in the adjoining bar area as well. She offers: "We had a Semihandmade store in Palm Springs and I always admired their designs. I was fascinated with how beautiful their projects came out using IKEA SEKTION bases [and] I was determined to use them when I had a project." The overall look is complemented with a selection of GE appliances, including a Café Black Matte Stainless Interior Built-In Dishwasher with Hidden Controls; as well as dark granite countertops from Floor and Décor around the perimeter to create a warm, inviting feel.
Accomplishing these results though required following some strict guidelines, including staying true to the original layout. This meant not moving the location of the stove and fridge. "The kitchen is small and the location of the stove seemed logical. We accomplished this and didn't have to move any plumbing," she says. Likewise, Barbara requested that the kitchen contain some eye-catching elements, such as the unique black-and-white floor tiling and floating shelves featured in the bar area as well. Most impressively, the kitchen and bar area were completed for less than $10,000 — well below her original budget. (Note: We've been referenced by Martha Stewart Living as experts on how to reduce kitchen renovation costs).
Barbara concludes: "I really love the entire kitchen. It has a wow factor when you walk into it — it really looks like a custom cabinet job! When I tell people that they are IKEA base cabinets, they are shocked, in a very good way."
Glad to hear it Barbara.
Let's see how Barbara's modern IKEA kitchen and bar project came together!
Working Together on a Modern IKEA Kitchen
Despite having a clear vision of what she wanted her kitchen to look like, Barbara knew she'd need professional design and installation assistance for her remodel.
"Initially, I had IKEA come and measure the space and was going to use their design services. However, they did not seem very familiar with Semihandmade products and I was not happy with the design they gave me. I then searched for an alternative and found IKD, using an online search. I contacted them and had an initial meeting to discuss my goals," she describes. "We reached a good understanding of what I was looking for and Richard came up with a great design for my kitchen and bar at a very reasonable price."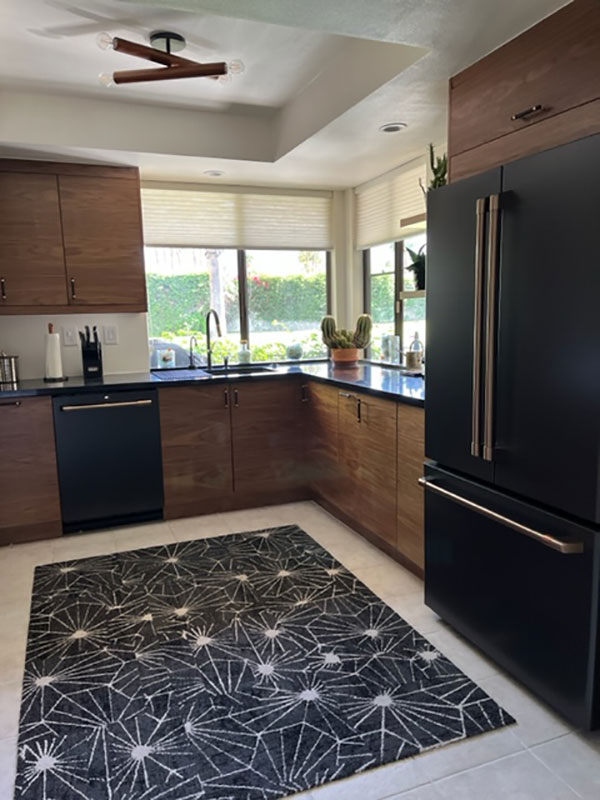 She then hired a professional installer who was familiar with IKEA products. "We had one person install the cabinets, tiles and appliance, with the help of my partner who put in a lot of hours helping with the IKEA bases. It seemed like thousands of pieces that had to go together — it almost felt like a huge 3D jigsaw puzzle at times!" She continues: "We were also doing this kitchen project during COVID when there were a lot of supply issues."
In fact, she says, many IKEA parts were not readily available, so she had to keep checking IKEA's inventory every day. (She also points out that the Semihandmade fronts were manufactured in the U.S and delivered on time). To reduce any confusion, she did coordinate and speak with IKD, Semihandmade and IKEA a number of times. "I really can't stress this enough, but when you start your IKEA kitchen remodel hire someone who has experience designing and installing IKEA cabinets.," she says.
Custom Cabinets
Barbara and her partner preferred a modern look for the project; one that fit in with the Palm Springs' aesthetic. "We decided on a clean, simple walnut slab look and Semihandmade had just come out with a real walnut veneer option which I was admiring," she says.
Indeed, the kitchen features Semihandmade's walnut cabinet fronts for the tall ceiling cabinets and base cabinets near the GE Café 30" Slide-In Front Control Gas Convection Range with Warming Drawer and Café 30" Wall-Mount Glass Canopy Chimney Hood; around the upper and base cabinets near the built-in dishwasher, and continuing around to the GE Café Energy Star 23.1 Cu. Ft. Counter-Depth French-Door Refrigerator. Upper cabinets also featuring the walnut veneer are found above the refrigerator as well, perfect for additional accessible storage that is integrated seamlessly into the layout. The dark granite countertops again provide balance to the design theme while establishing ample counter space for food prep.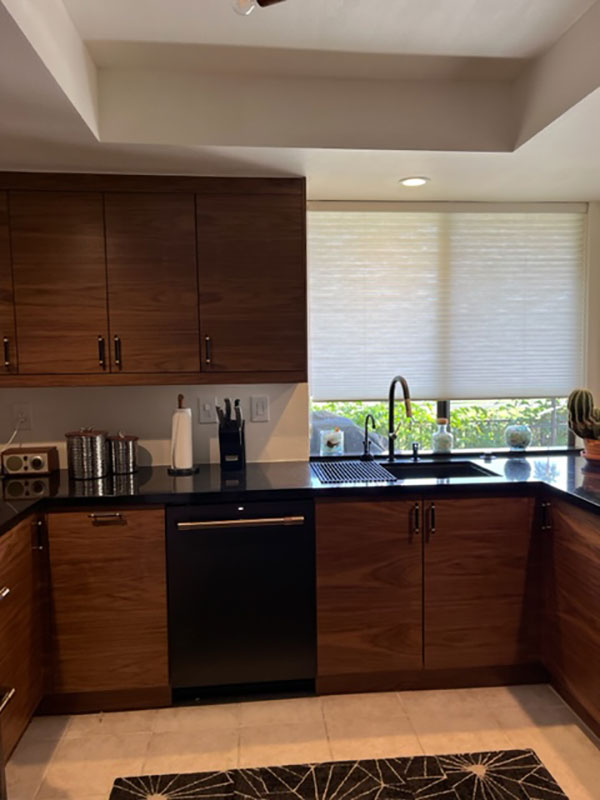 Raising the Bar
One of the unique elements of the project is the bar area featured in a nook near the adjoining dining room. "We wanted to have a classic look which ties the bar and kitchen together. IDK did a great job using the same design elements for both the kitchen and the bar," Barbara says.
Specifically, the bar area features three SHM walnut veneer push-open fronts (24"Wx20"Hx24"D) on the base cabinets along with IKEA MAXIMERA drawers — again paired with the granite countertops. Here as well are open floating shelving above the sink area, ideal for tumbler and martini glasses and for stocking a variety of spirits.
"The floating cabinets had a great look but I also wanted to add a wine cooler inside so I extended the cabinets down to the floor to accommodate the cooler," she notes. The space is complemented by the eye-catching, black-and-white flooring and unique white backsplash.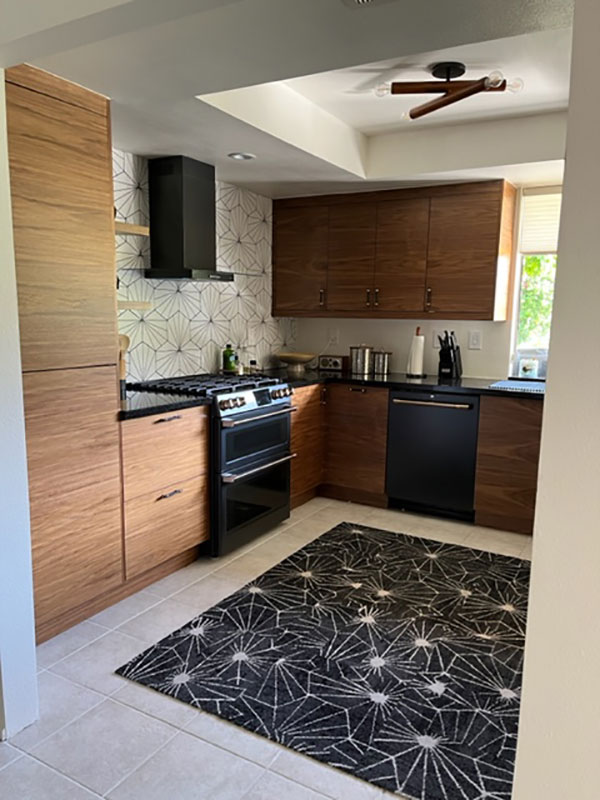 Featured here as well is the eye-catching, black-and-white floor tiling which creates a celestial look here as well.
Words of Wisdom
With the success of her modern IKEA kitchen project, Barbara shared some words of wisdom for future IKEA kitchen remodelers.
"[Kitchen remodeling] is not for the faint of heart. You have to have patience with all of the pieces involved. The [nice thing is] IKEA SEKTION bases provide you with a lot of flexibility. With so many beautiful fronts and finishes available, you can obtain a custom look for your design," she notes. She concludes: "I'm actually planning on doing a bathroom remodel using the same process in the near future — so stay tuned!"
Learn more about how we can design your IKEA kitchen, bath, laundry room and other rooms at https://inspiredkitchendesign.com/.
.fusion-body .fusion-builder-column-0{width:100% !important;margin-top : 0px;margin-bottom : 0px;}.fusion-builder-column-0 > .fusion-column-wrapper {padding-top : 0px !important;padding-right : 0px !important;margin-right : 1.92%;padding-bottom : 0px !important;padding-left : 0px !important;margin-left : 1.92%;}@media only screen and (max-width:1024px) {.fusion-body .fusion-builder-column-0{width:100% !important;}.fusion-builder-column-0 > .fusion-column-wrapper {margin-right : 1.92%;margin-left : 1.92%;}}@media only screen and (max-width:600px) {.fusion-body .fusion-builder-column-0{width:100% !important;}.fusion-builder-column-0 > .fusion-column-wrapper {margin-right : 1.92%;margin-left : 1.92%;}}
.fusion-body .fusion-flex-container.fusion-builder-row-1{ padding-top : 0px;margin-top : 0px;padding-right : 0px;padding-bottom : 0px;margin-bottom : 0px;padding-left : 0px;}