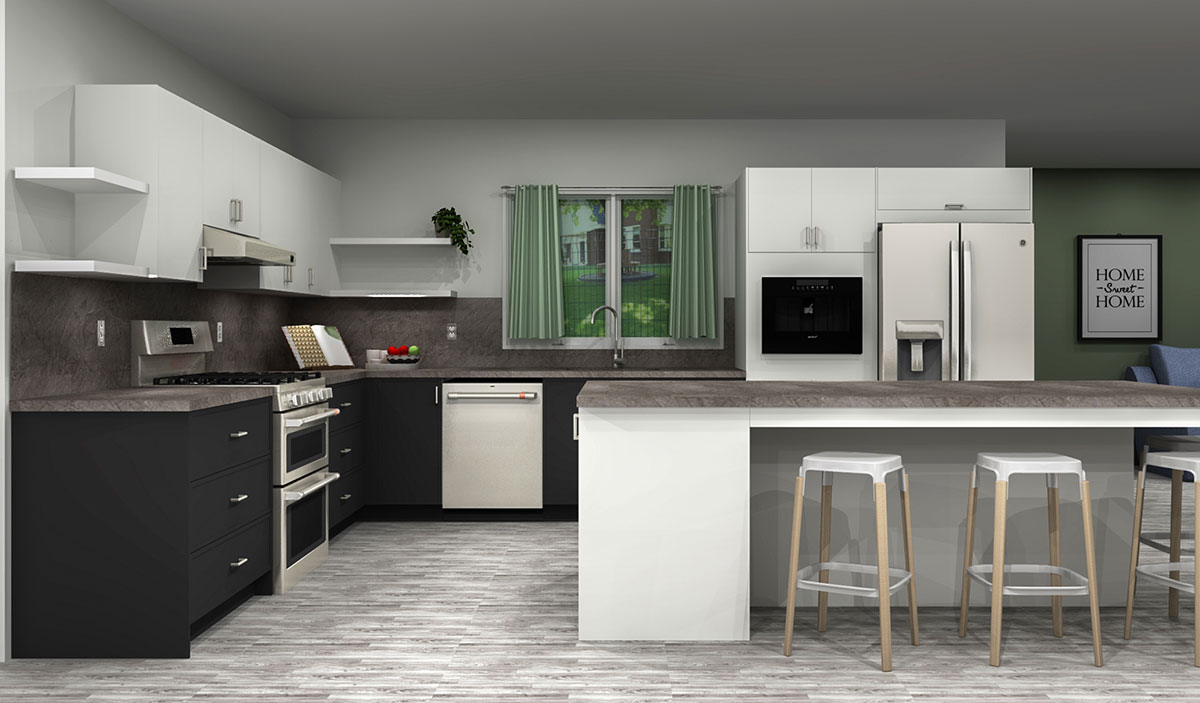 IKEA customers share practical tips from their own DIY projects
Just because you're beginning a DIY IKEA kitchen (or other room) project doesn't mean you have to go it alone. In fact, there are plenty of IKEA customers who've navigated their own DIY project and learned a few things along the way.
Therefore, we at IKD would like to share some of those tips with you now. As you'll see, these customer tips are suitable for any style IKEA kitchen, as they are practical, cost-effective and universal. For instance, there's IKD customer Darlene, who used savvy research to build her modern IKEA kitchen while sticking to a tight budget; IKD customer Ben — an experienced DIYer — who shares how he installed his modern IKEA kitchenette by himself; IKD customer Jen, who worked closely with IKD to ensure her design process was flawless; IKD customer Aly who relied on her IKD layout to help her complete her IKEA kitchen; and IKD customers Danielle and DJ who overcame several structural obstacles in their transitional-style IKEA kitchen by making big decisions.
Overall, these tips will help you feel more prepared as you begin your IKEA kitchen, and give you a starting point to focus on for your own IKEA project. They will save you time, money and — perhaps best of all — stress. With these projects as examples, you'll have the confidence that when you're done, you'll have a fully-realized IKEA kitchen that functions as well as it looks.
Let's take a look!
Do Your Online Research
The best way to get inspiration for your IKEA kitchen is to do your own research. Design Web sites like Pinterest and HOUZZ (as well as IKD's past project gallery!) are all good places to start.
This is how IKD customer Darlene from Clinton, MD, was able to remodel her previously small space into a modern kitchen which combined IKEA SEKTION cabinetry framework and IKEA GRIMSLOV cabinets with a large center island suitable to seat a family of four — while still sticking to a budget of $10,000.
"We were really influenced by Pinterest," she says. "We had pinned so many different wonderful kitchen items," adding that she calls her kitchen a 'Mod Podge of our Pinterest'. IKD really took into account our wishes and incorporated each element we really liked from our Pinterest board into our design — even down to the coloring." She concludes: "A DIY installation is definitely a learning process, but overall it went pretty smoothly."
Assemble Ahead to Stay on Track
Once you begin, a great way to ensure your project stays on track is to work ahead.
So says IKD customer Ben from Dane, WI, who while already an experienced DIYer, had yet to tackle an IKEA kitchen layout when he decided install a new kitchenette into his home so he and his wife could entertain family and friends.
Ben, who chose IKEA VOXTORP doors in Walnut for the upper and base cabinets, offers: "My recommendation would be to build the boxes ahead of time, if possible, which could limit downtime – especially if you are replacing old cabinets. The overall experience of building the boxes was straight forward. Once you get the hang of doing one, they almost all go together about the same. It was a rewarding experience seeing everything come together."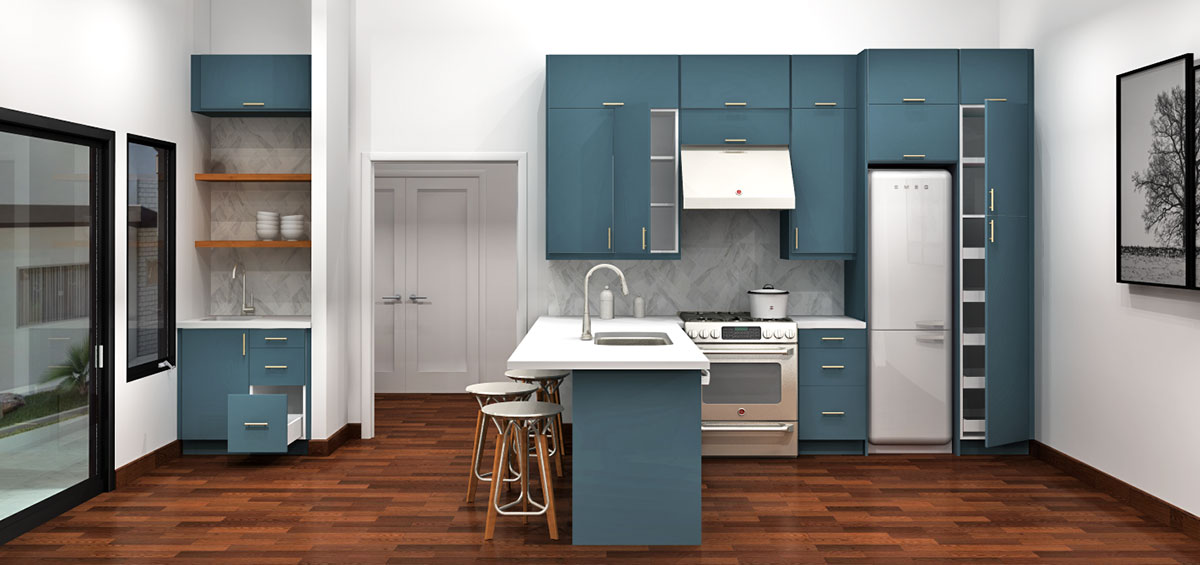 Overall, he points out that the entire experience was great and something he'd do again. "In fact, I'm already thinking about the next IKEA project!" he concludes.
Take Advantage of IKD's Expertise
Even if some DIYers are experienced, like Ben was, it still requires taking advantage of the expertise certified design professionals — like IKD — provide.
This was the case for IKD customer Jen and her husband from Salt Lake City, UT, who — as big DIYers themselves — had initially planned to go it alone. But, they quickly found out how challenging the IKEA Home Planner could be. "We also had no experience designing kitchens and had trouble utilizing the space we had and creating the open, workable kitchen we wanted," she describes. Enter IKD's design team, who worked with the couple through the design and product selection process. As she notes, not only did the design process go smoothly, but she took advantage of downtime during delivery delays to demolish the original kitchen, move the water line for the refrigerator; and move the power for the electric wall oven.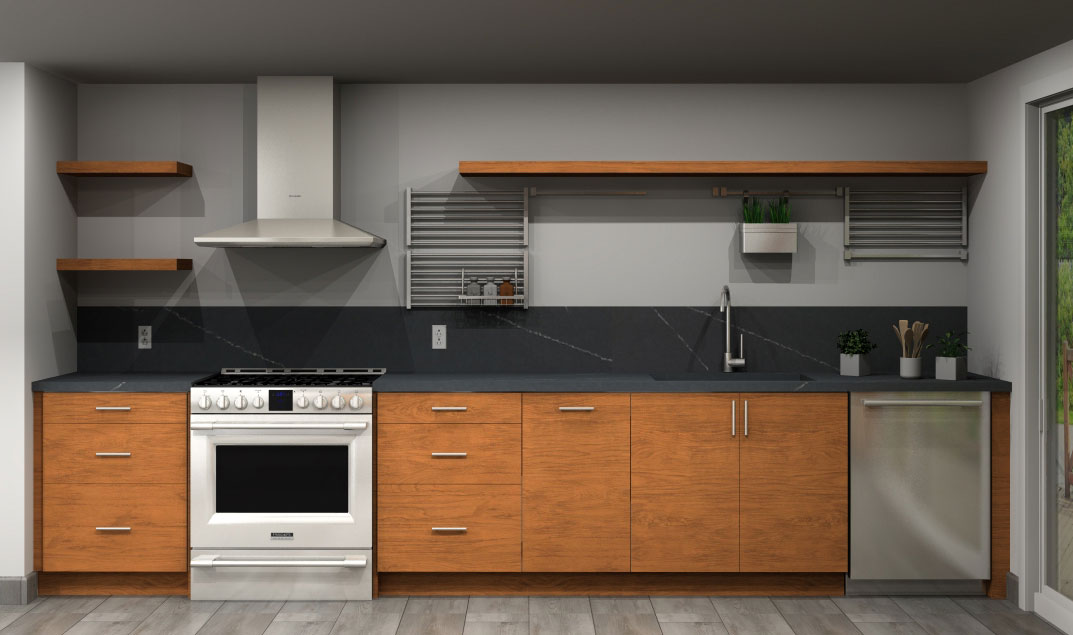 She adds: "[Everything] went great. I was warned about the millions of boxes [I could expect] and was ready to organize everything. I'm a stay-at-home mom so I'd put together the cabinets during the day and we'd hang them together at night and on the weekends."
She concludes: "I loved working with IKD. They´re very helpful with answering what I'd need through the online chat. This was much more effective than the time we struggled with installation door fronts and spent an hour on hold with IKEA customer service."
Pick the Right Layout
To that end, a strong layout will go a long way in overcoming any challenges in the space as well.
Such was the case for IKD customer Aly from Grants Pass, OR, who needed her corner flat front sink to work with her black IKEA KUNGSBACKA cabinets while also maximizing the cabinet functionality as she didn't want any upper cabinets. "My biggest advice is getting the layout right. I wouldn't have been able to say that before I did the project. You can put in beautiful cabinets, but if the layout doesn't work, it's not going to be the best kitchen it can be. Any combo of cabinets from IKEA will look good, but layout makes good go to great," she says. To that end, she relied on IKD's design guidance about base cabinet options and referred to the layout when she was unsure of what to do. "We needed IKD's help to work this situation out. We just looked at the layout pictures and figured it out from there!" she concludes.'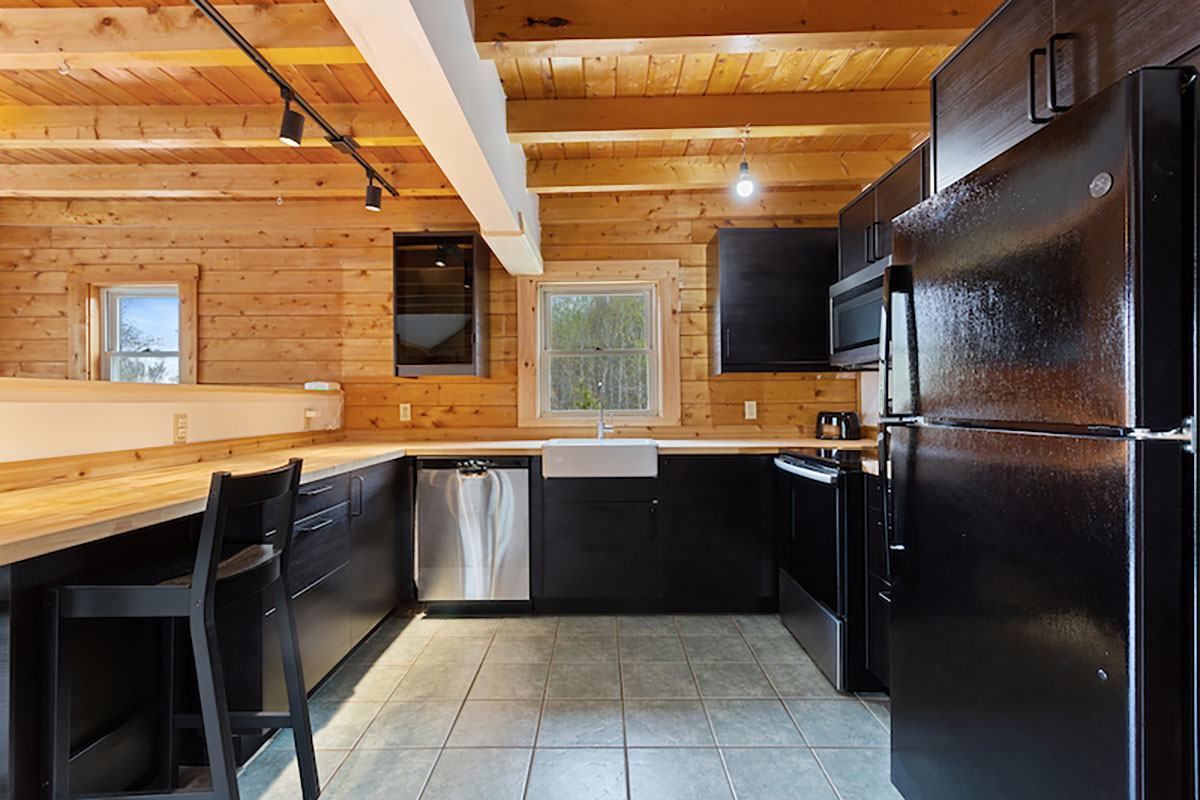 Don't Be Afraid to Make Changes
Lastly, for IKD customers DJ and Danielle, the key was staying flexible. And that meant being willing to make changes along the way.
"As you begin to install, don't be afraid to change some elements if you think they aren't how you wanted. That's how we installed our project and we absolutely love our IKEA kitchen!" she says. The couple, who had a small budget, remodeled their original space into a masterful modern kitchen. However, they faced issues with the teardown — such as dealing with boards that took a lot of grunt work to remove — which required them to make big decisions, including moving the doorway and the electrical to accommodate their wish for an island. Impressively, aside from hiring IKD for the design, and countertop installers for the island, the couple did the entire project themselves. "IKD really helped with a lot of the little details in the design. My design would have looked fine, but not functioned as well at all," she concludes.
As you can see, whether you're a new IKEA customer or even an experienced DIYer there are many useful tips from those who have "been there and done that," to help you start your project. Remember, our design team is here too and will guide you through our online design process so that your IKEA kitchen comes out exactly how you want. Let's get started!
Learn more about how we can design your IKEA storage solutions, kitchen, bath, laundry room and closet at https://inspiredkitchendesign.com.